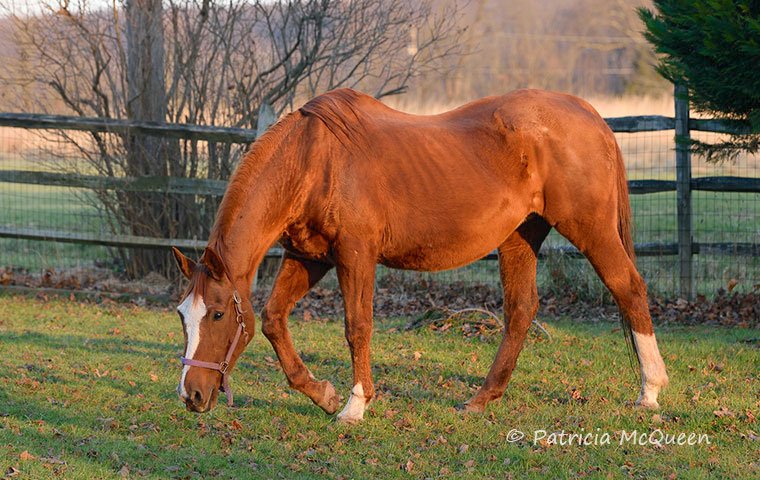 There's nothing like good company for the holidays, and the 2018 holiday season will forever be extra special for Secretariat fans. It was in late November that Bev Dee's Bright Futures Farm acquired then 29-year-old Trusted Company, a recently discovered daughter of Secretariat who had been living quietly on a New Jersey farm for years.

"When I first heard that there may be another daughter of Secretariat alive, I was thrilled," said Dee. "And I feel strongly there are others, but will we ever know about them? Finding 'Company' was a fluke – a good fluke. Had she not needed a home, we'd have never known about her."
Trusted Company is the third foal of the Tom Gentry-bred Star Snoop, a mare by Stage Door Johnny out of Nosey Body, by Tom Fool. Purchased in 1981 for $100,000 as a yearling by John Oxley, Star Snoop became a stakes-placed winner of three of 17 starts under the tutelage of trainer John Ward, earning $24,094.
Born on Valentine's Day
The mare was sold, carrying Trusted Company in utero, at the Ryehill Farm dispersal at Keeneland in November 1988. The buyer at $110,000 was Brookvale Farm. On February 14, 1989 (making tomorrow her actual 30th birthday), the chestnut mare produced a flashy chestnut filly with a big white blaze and two white feet. Born in New York, the breeder of record was Stone Ridge I.
Interestingly, Star Snoop's best foal by earnings was Stars All Around, a 1990 filly by Secretariat's son Risen Star (guess where her name came from!) She was a sturdy sort, winning nine of 84 starts over six years.
As a yearling, Secretariat's daughter was sold at the Keeneland July sale for $52,000; consigned by Brookvale, the filly was purchased by Ken L. Wright.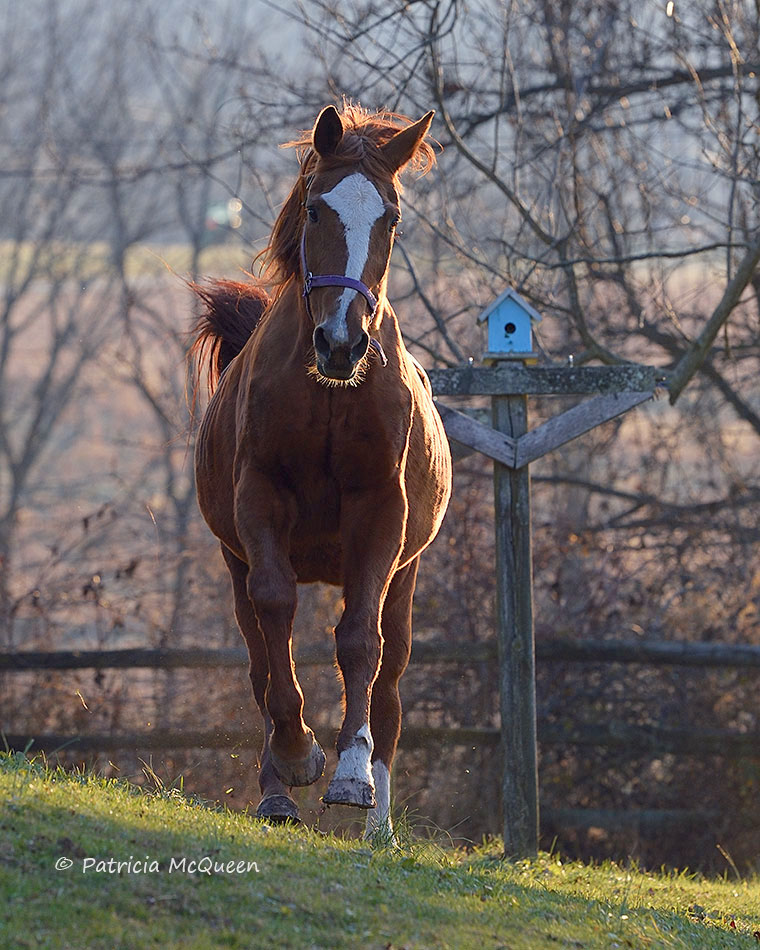 Unlike her three-quarter sister Stars All Around, Trusted Company was a failure at the races. She made her one and only start at Birmingham Race Course as a 4-year-old on July 28, 1993. She was the 3/1 second choice in a six-furlong maiden special weight for owner James Schumann and trainer Kevin Wright. Breaking last, she showed little and finished tenth of 12. That was it and she was off to the breeding shed.
Her life as a broodmare began in Kentucky. Her first foal, born in 1995, was Haydad, a colt by Septieme Ciel who was unraced. As it turned out, that was the only colt among her nine registered foals; the rest were all fillies. Her 1996 filly by Septieme Ciel was unplaced in one start, but her third foal, a 1997 filly by Northern Park named Cot Dot Sue, earned $51,208 while winning nine of 45 starts in Illinois and Ohio.
At some point after that, Company was sold privately to New York breeder John Michelotti, who bred her last six foals. She gained a little local fame in October 2007, when an article in the Middletown (New York) Times-Herald Record showcased Thoroughbred breeders in the county, including Michelotti. The author, Nathan Mayberg, likened Company's appearance to that of her famous sire. He noted that the owner was mostly a commercial breeder, but would keep those that gave him a "special feeling" – and Company, "whom he bought because she reminded him of Secretariat," wrote Mayberg, was one of those.
The mare's first foal for Michelotti ended up being her best runner, a 2000 gray filly by Smoke Glacken named Shesasmokin, bankrolling almost $100,000. Although she only won one of 25 starts, she did earn black type, finishing third in the Maid of the Mist, a New York-bred stakes at Belmont Park. As a broodmare, she produced the multiple stakes-placed runner Uncle Smokey, an earner of $153,136.
Company had five more registered foals, the last in 2008. The first three were unraced; Michelotti raced the last two but neither would win at the races. She had some back luck as a broodmare; two additional foals were born dead and her final foal also died shortly after birth.
The easy life
After that, Michelotti retired the mare from his broodmare band and sent her to his niece Michele in New Jersey – he wanted to keep Company in the family and Michele had bought a small farm herself not long before. Years earlier, Michele had helped her uncle with the horses on the farm and was likely there for some of Company's foals – she remembers the gray filly Shesasmokin in particular.
"Company has a very sweet disposition; she would follow me around just like a dog – I'd call her and she'd come." The mare loved racing in the field with the other horses – perhaps she found the competition much easier in retirement than she did in her one start as a racehorse. "She was always ahead because her stride was so long," said Michele, noting that most of her stock were Quarter Horses.
A pony named Turbo was Company's best friend during her years with Michele. She laughs when she described how Company would stand next to the gate and seemingly teach Turbo how to change leads. "She would go in a circle, changing her leads, showing that pony what to do. It was amazing." Occasionally Turbo would magically open the gate and get into the field with Company, where her mothering instincts would really surface. "She would guard him as if he was her baby, and wouldn't let any other horse go near him."
Even as she got older, Company still loved to just take off in the field, running and bucking. "She really enjoyed herself and loved it here."
Unfortunately, circumstances ultimately dictated that Michele sell the farm and find homes for her horses and other animals. The owner had been working on that throughout the past year, but it's especially difficult to rehome an elderly horse, and, at age 29, Trusted Company was at risk if a suitable home wasn't found. Enter Denise Gonsiewski, a local animal welfare advocate, who had a passing acquaintance with Michele through a local trail riding club.
Gonsiewski had learned of Michele's predicament and spread the word that she was available to help with the animals. Then, one day last fall, who did she find at the local feed store but Michele? They struck up a conversation, and before long Gonsiewski started the process of finding homes for some of the few animals that remained. Michele had mentioned that one was a daughter of Secretariat. That didn't matter to Gonsiewski, who doesn't really follow Thoroughbred racing. She just wanted to find a good home for the old mare.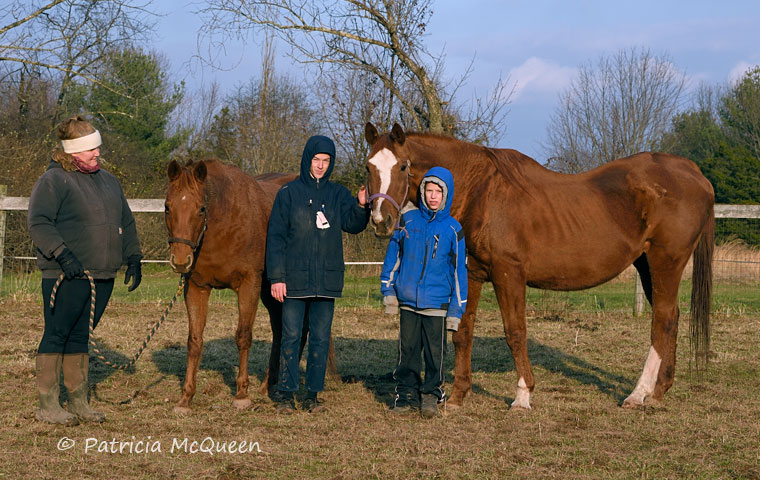 She started by looking up 'Secretariat's daughter' online, and she read about this author's work. She reached out and eventually we made the connection with Bev Dee. Like any good welfare advocate, Gonsiewski investigated Dee through her rescue network, and heard nothing but good things. Paperwork-transferring ownership to Bright Futures was prepared.
Dee knew she'd be able to get some financial support for Company as she has the other horses at Bright Futures. "That makes it easier to say yes to taking on another very senior horse in the middle of winter. They are so expensive to care for."
There was one remaining challenge. Dee had no room at her farm in Western Pennsylvania, so Company needed to be boarded. Gonsiewski and Michele tried to find a suitable farm in the local New Jersey area, but were coming up empty – they had very high standards, which no one could meet. Plan B was for Gonsiewski to board the mare herself, and Company arrived at her farm on November 29.
"She's in good hands; I trust Denise," said Michele. "I was very fortunate."
A new chapter
On her arrival at Gonsiewski's farm, Company was scared and nervous. "She didn't know where she was and just looked lost. It was really sad." She didn't want to confine the mare in an unfamiliar stall right away, so, for the first couple of nights, Company stayed just outside the barn in a covered area. She was able to touch noses with a pony through a little door on the side of the barn. "Company and my pony Clover were nibbling each others' faces for the longest time," said Gonsiewski. "It was very cute, and he was very comforting to her."
On the second day, the Arabian mare Enya started taking an interest in the new arrival. Gonsiewski's competitive trail riding horse, Enya had a history of taking on an equine 'project', so it wasn't surprising that she quickly replaced Clover as Company's four-legged companion. Enya would hang out on the other side of fence, and, at feeding time, Company would take a bite, then look around to make sure Enya was there. She'd take another bite, and look around again.
Gonsiewski knew Company was used to being with other horses, so, with good weather that second day, it was time to turn her out in the field with Enya for a while. "She was lost and needed someone to show her what to do. So wherever Enya walked, Company followed. She was glued to Enya's side."
The old mare showed signs of stress on the second night and Gonsiewski was up all night checking on her. But she got over it and was fine the next day. Out with Enya again, the two haven't been separated since.

Gonsiewski's other horse, the gelding Doc, was also introduced to Company. Enya was very protective that first week, not allowing Doc to get close to the newcomer. In the ensuing weeks Company and Doc have become a little more friendly and the small herd – which includes Clover and a donkey named Nacho (who also came from Michele's farm) – has settled into a nice routine, with Enya and Company the dominant pair.
One of the first signs that Company would be fine in her new home came a little more than a week after she arrived. On the day of my visit, she mostly just wandered around the field, never venturing too far from Enya. But, when turned out to a different area on the farm, she and Enya both spontaneously exploded and ran off. Company was thoroughly enjoying herself and maybe showing off a little for the camera. "That made me so happy," said Gonsiewski. "That showed how good she was feeling; she would never have done that [otherwise]."
In great shape
After a few weeks, Company appears to have gained a little weight. A dental exam found some loose molars, worth monitoring but not addressing at this time. Because of that, though, she does not respond well to hard treats. Overall she seems to be in great shape for her 30 years.
The mare has proven to be a "sweet, friendly horse" but one who "doesn't like to be fussed with much". That said, as she grows to trust her caretaker more every day, she seems to gradually want more attention. She also does well with the two local boys who volunteer to help around the farm. "They really saved the day when I first got Company," she said, explaining that she had spent so much time helping the mare adjust that she was exhausted.
The boys, Marcus and Erik, enjoy horses; they had both been to the farm because Gonsiewski is Marcus's piano teacher. They had seen the Secretariat movie and were very interested in helping with such a historically significant horse when they learned Company was coming.
Gonsiewski is also thrilled – the mare's famous sire may not have been the reason she got involved in the first place, but, as a true animal advocate, she knows the importance of a high-profile horse in the overall scheme of things. "I love that I'm a part of this, because one day I really would like to open up a rescue of my own."
Meanwhile, she is enjoying Company, who has a habit when drinking water that amuses her no end. "She laps water like a dog. Horses don't usually do that."
Footnote
Bright Futures Farm, an accredited Thoroughbred Aftercare Alliance facility and 501(c)(3) charity, is looking for sponsors to help pay for Trusted Company's board and expenses. Click here for more information.
Previous articles in Patricia McQueen's series on Secretariat's offspring
PLUS