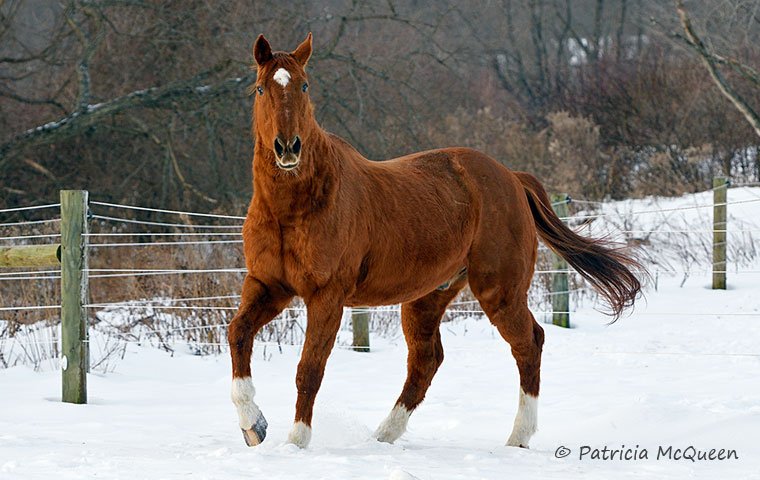 Some of Secretariat's best offspring lived long lives – Terlingua and D'Accord to the ripe old age of 32, General Assembly to 29, and 27-year-old Tinners Way is still hanging out at Old Friends in Kentucky. That longevity is also evident in a couple of not-so-notable sons still enjoying life more than 27 years after their sire succumbed from laminitis at the age of 19.

I recently wrote about Innkeeper, a (now) 29-year-old son of Secretariat living at Virginia Tech's MARE Center. Remarkably, an even older son – the stakes winner Fast Market – is currently thriving in Western Pennsylvania. The chestnut gelding celebrated his 31st birthday yesterday, having been born February 4, 1986.
These two horses' paths to old age couldn't have been any more different, but they share one big thing in common – people who care and who made sure they live out their days happy and healthy.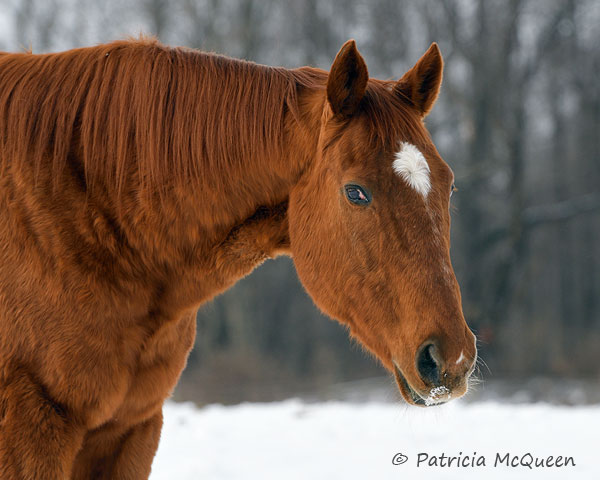 Fast Market, aka Markie, isn't a household name – far from it. His lone stakes win doesn't even qualify for black type, but he does lead Secretariat's offspring in most starts (144) and most years raced (ten). Because of that long racing career, he came close to being the very last Secretariat runner when he retired at the end of 1998, but that distinction goes to Time Alert. Coincidentally, Time Alert, a foal of 1989, was bred by Ontario's Kinghaven Farm, which also bred Fast Market.
Kinghaven bought the Cyane mare Tina's Ten, in foal to Secretariat, at the 1985 Keeneland November sale for $625,000. She won the G2 Astarita at two; as a broodmare, she produced only two foals.
The first was Fast Market, who made his racing debut at three in a 4½-furlong maiden special weight at the old Greenwood Raceway in Ontario, finishing seventh on April 1, 1989. Dropped into the claiming ranks, where he stayed for almost his entire career, he was claimed in his next start for $16,000 when finishing fifth as the favorite. He then won his first race – a $30,000 maiden claiming at Woodbine – on July 22. He earned $9,720 for that victory, which would be the biggest payday of his career.
He spent the next year racing at Greenwood and Woodbine, failing to place in ten starts while dropping down in class. He was sent to Fort Erie for the first time in the summer of 1990; most of his success came at that picturesque track.
Popular at Fort Erie
On July 23, 1990, at Fort Erie, Fast Market won for the second time, racing for a $3,000 tag and winning by 1½ lengths as the favorite over six furlongs. He finished a close second in his next race, then reeled off two straight wins going 1 1/16 miles, but he failed to win again that year.
He got the winter off, and returned in April 1991. That September, he launched the longest winning streak of his career, taking a 1 1/16 mile claiming race at Fort Erie by a neck, coming from far back while racing for $6,250. He followed that with three straight wins in starter allowance company, showing some versatility – two sprints on dirt and his first turf win going seven furlongs.
In total, he tallied six wins in 18 starts in 1991. After another winter break, he again returned the next April, and again it took him a few starts to regain winning form. From June to early August, he won four of five starts (four on turf) from seven furlongs to 1 3/8 miles. That set him up for his first try in a stakes race.
Stakes success
It seemed fitting it was the Puss n Boots Stakes at Fort Erie. The race was named for a horse that decided the track's infield lakes were more appealing than the stretch run, giving up the lead (and his jockey) when he turned left to take a plunge into the water. Early in his career, Fast Market was known for dumping a few riders of his own.
In the Puss n Boots on August 15, Markie was favored as part of an entry under jockey Paul Souter. He broke slowly in the 1 1/16 mile turf event but was never far back. He rallied around the turn and led through the stretch, just holding off the second-finisher Campy by a nose in a driving finish. He earned $6,660 for his effort.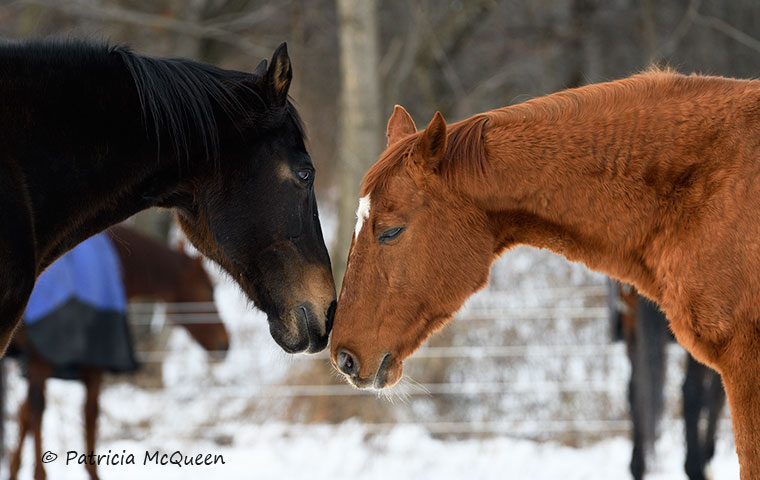 He won once in seven more starts in 1992, again ending the year with six wins in 18 starts. He banked $45,903, the most he ever earned in a single year.
Fast Market won only one race in 14 starts at age seven in 1993. He continued to race competitively at age eight, winning or hitting the board in five of 16 starts. Near the end of 1994, he found a new home at Mountaineer Park in West Virginia.
The stretch run
At age nine in 1995, he started 15 times, winning two and placing in two more. By now he was racing mostly in sprints on both turf and dirt, for claiming tags of $2,000 to $2,500. In September, he was acquired by trainer Louie Gallo in a most unusual manner.
Gallo was standing in the checkout line at a grocery story when Eugene Molnar, for whom Fast Market had been racing, came up and introduced himself.
"He knew I was a Secretariat nut," recalled Gallo. "I've always loved Secretariat; he died on my birthday actually. He said he had a son of Secretariat, and I could have him for $1,500."
Gallo thought he meant he had a horse by a SON of Secretariat, but was quickly corrected. "So I asked him if the horse could even walk, and he said there wasn't a pimple on him." He just hadn't been doing well and Molnar thought Gallo might do better with him. "So right there I bought him sight unseen for $1,000" – after talking the price down.
When he went to pick him up, Gallo thought "Wow! He looked really good, and he was the cutest little horse. He looked a little like a miniature Secretariat."
Starting gate issues
For Gallo and his owner/friend/partner Chuck Bosco, Fast Market raced through his 12-year-old year. He won for the last time in May 1996, but he remained competitive racing for $3,000 and $4,000 tags at ages 11 and 12, with a few seconds and even more thirds, showing spark with comment lines such as 'bid inside', 'willing', 'finished well', 'gamely' and 'surged late'.
Those good efforts are why he stayed in training, and because Gallo knew the horse protected himself; he never pushed him and gave him time off when needed. "Horses love to run, and I always let the horse tell me what he wants to do," said Gallo.
In fact, when he first got him, Markie showed signs he was tired of living at the race track, weaving in his stall, so Gallo kept him at the farm and shipped in for races. "He was very content doing that."
Fast Market was quite sound during his time with Gallo – evidenced by those good efforts. But the gelding wasn't too fond of the starting gate and had a few gate-related trouble lines. He also had some bleeding problems at times. Because of that, he often ran better when it was cool; then again, he loved running on turf, so that meant running in the warmer months.
In total, Fast Market raced 10 years, winning 21 of 144 starts. He clearly had a fondness for turf, winning 9 of 38 turf starts. He earned a total of $132,586.
Retirement beckons
As a responsible horseman, Gallo was always committed to either keeping his horses in retirement or finding them homes. He wanted to keep Markie forever, but when Bosco passed away, he could no longer keep the horse at the farm and had no choice but to find him a new home.
He turned to Bev Dee, of Bright Futures Farm, an equine rescue and sanctuary now based in Cochranton, Pennsylvania. Accredited by the Thoroughbred Aftercare Alliance, Bright Futures has also earned the Guidestar Gold Seal, the sign of a trusted charitable organization.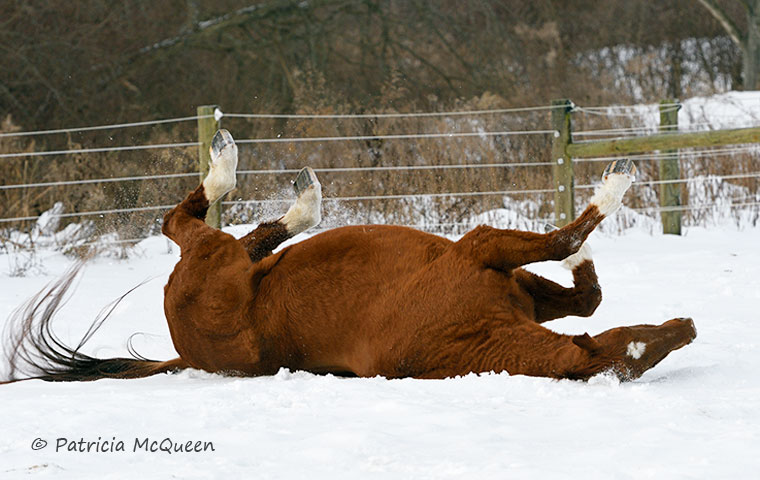 Several hundred horses have found new homes through Bright Futures, receiving medical care and professional training before being adopted. Horses not suitable for adoption live out their days at the farm. Dee does most of the hard work herself, currently caring for ten horses on the farm with an additional five 'senior citizens' boarded elsewhere and four others currently out training for new careers.
Dee had previously found good homes for many of Gallo's horses. For Markie, however, Gallo had one condition: that she keep him herself. She agreed in a heartbeat, and the gelding arrived at Bright Futures in 2004.
Testament to a lifetime of care
Gallo kept in touch, but he hadn't seen the horse for some ten years when he visited in 2015. "He still looks great," he said. "For a horse to make it past 30 is a feat in itself, and to still look good as he does – Bev does a great job!"
That Fast Market is still happy and healthy at age 31 is a testament to a lifetime of care. It shows that when handled properly, a lowly claiming horse, upon which the racing world depends, can live a long and healthy life. Markie had his share of owners – more than a dozen over the years; he was claimed a few times and also sold privately.
"Everybody that owned Markie seems to have taken care of him," said Dee, noting that he has some arthritis these days, and had a scare with thyroid cancer in 2008. A quick trip to Ohio State took care of that, and he recovered well. "Knock on wood he's been fine ever since."
His best buddy at the farm is Brite Decision, the horse that started Dee in the rescue business in 2000 and for whom the farm is named. She found him in pitiful condition at a rescue but fell in love with his sweet demeanor and took him home. With old injuries and founder, there was no guarantee that he'd survive. It took 36 months, but Brite Decision recovered and, after all this time, he remains happy and healthy.
Markie enjoys being outside most of the time, and especially loves playing in the snow. In the summer, however, he often prefers to spend days inside the barn – he doesn't like hot weather and he really doesn't like the bugs that come with it.
Dressed up like Secretariat
For a long time he had the habit of pulling other horses' tails, grabbing on with his teeth and not letting go, even as the other horse wandered off. He doesn't do that anymore, but perhaps it's because he can't find a paddock-mate these days that will tolerate it. Currently, Markie's favorite thing to do is drop and roll – in dirt, in snow, on grass.
Not surprisingly as a son of Secretariat, Fast Market has been a local celebrity.
He's the star of Bright Futures' annual open house, dressed up like Secretariat complete with a racing saddle and blue and white blinkers. A few years ago he welcomed people at a local movie theater when the Secretariat movie debuted. With his friend Arturo First, a grandson of Seattle Slew, he posed for photos in a small pen in the theater's parking lot.
He's even a character in a book (All Hat, by Brad Smith). The author was a fan of the gelding at Fort Erie, and when he needed a name for a runner in the book, he chose Fast Market (although the character bears no resemblance to the real thing!)
Markie has loads of friends and admirers, and gets Christmas cards, birthday cards, treats and care packages. His favorite are peppermints and baby carrots. "He's so happy," said Dee. "He's got it pretty easy and gets anything he wants."
She wouldn't have it any other way.
Donations to Bright Futures
To donate to Bright Futures Farm, click here.
Previous articles in Patricia McQueen's series on Secretariat's offspring