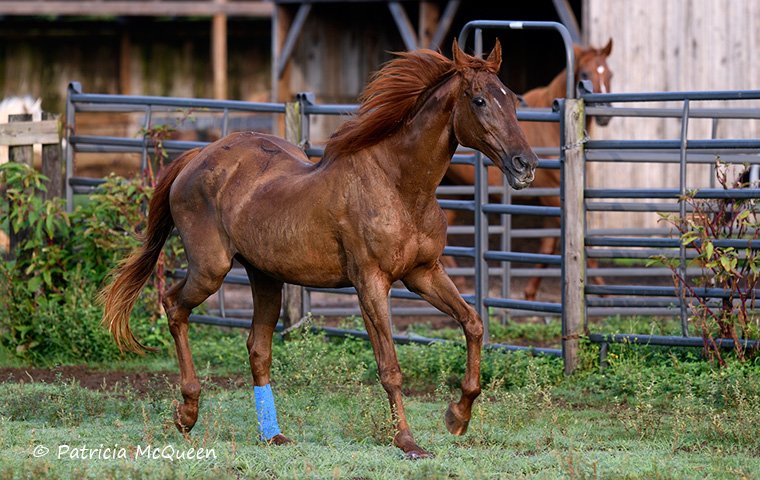 The story of a 29-year-old mare named Albany's Secret weaves together a most unlikely cast of characters. It embodies what is best in the world of horse racing, with a little of the worst thrown in along the way. In the end, her story became a happy one, but for a while it was clearly a hard road.

That road began with some of racing's elite and breeding at the highest levels. Amerigo Lady was a major stakes winner in the late 1960s for breeder Nelson Bunker Hunt and owner Paul Mellon. For Mellon, she produced the multiple stakes winner Pass The Glass. In 1976, Amerigo Lady was sent to Secretariat – Mellon was one of the original syndicate members – and produced the winning filly Miss Tross.
Mellon sold Amerigo Lady, in foal to Alydar, at the 1980 Keeneland November breeding stock sale; the buyer at $600,000 was Tom Gentry. The resulting foal, Albany Girl, was sold as a yearling in 1982 for $325,000. The buyer? Australian corporate raider Robert Holmes à Court, who was that country's first billionaire.
He loved his horses – he had several farms and bred 1984 Melbourne Cup winner Black Knight. He began dabbling in the American bloodstock market in the 1980s, but apparently without much success.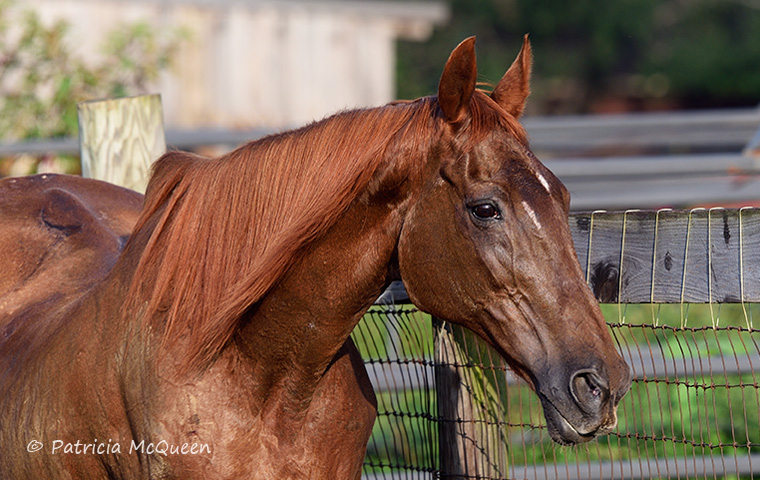 Albany Girl was unraced, and à Court bred her first four foals in Pennsylvania; the mare was then sent to the Southern Hemisphere. The first three were by Diamond Shoal; the fourth and last American-bred was Albany's Secret, by Secretariat. The chestnut filly with a small star was born April 28, 1988.
Robert Holmes à Court died suddenly in September 1990 at the age of 53 but was still listed as the owner of record when Albany's Secret made her one and only start at Oaklawn Park on January 27, 1991. Trained by D. Wayne Lukas and ridden by Aaron Gryder, the filly finished last of 12 in a six-furlong $30,000 maiden claiming race; she was third choice in the betting at 7-1 but trailed throughout.
Off to the breeding shed
Shortly after that start, she was acquired privately by Illinois breeder Nick Simov and promptly sent to the court of Wise Times, producing a filly named Nick's Surprise in 1992. She produced seven more foals for Simov, the last of which was the best, a son of Simov's stallion Shakeel (by Mr. Prospector out of champion Mom's Command) named Shakeel's Command, a foal of 2002 that earned almost $100,000.
Simov offered Albany's Secret at an Illinois sale in 2003, but she failed to meet her reserve. She was sold privately thereafter, as her 2004 filly by Shakeel, Alys Secret, was bred in Oregon.
What happened after that is a bit of a mystery.
Records indicate she was reported bred through the 2008 breeding season but did not have any more registered foals. Three years later, she was on a van from a rescue organization in California to Huntsville, Alabama, for the final chapter of her life. Her destination was Karen Chillcott's Victory Alliance Ranch, a property of roughly 30 acres that has been serving as a refuge for both animals and humans since 2010.
Horses and humans helping each other
Chillcott had spent many years in active war zones (including Bosnia, Kosovo, Afghanistan and Iraq) as an employee of a private defense contractor. She loved her work but eventually doctors advised her enough was enough – the stress and sleep deprivation of 100- to 120-hour work weeks in an active war zone was taking its toll. But she knew she'd always want to go back, so her solution was to get a horse.
"That was the only way I was going to stay out of a combat zone, because somebody can always take care of a dog," she said, laughing.
But she had something else in mind as well. Chillcott is of an age where she saw the effects of the Vietnam War on her friends. Combined with her own extensive experience in war zones, she knew that veterans faced significant challenges when they came home from service. She wanted to do something to help, and she wanted to do it with rescued horses.
She found the horse of her childhood dreams, a beautiful gray Arabian stallion. He had been shot in the neck as a yearling, and could probably never be ridden and had other limitations, but that didn't matter to Chillcott. She bought him based purely on photos – "I thought he was the prettiest thing I had ever seen." And she knew he'd be an inspiration for the veterans with PTSD and traumatic injuries, seeing that he had a relatively normal life despite his injury.
All she needed was a place to put him. She settled on Huntsville when a close friend there developed cancer. A cancer survivor herself, Chillcott bought the property in 2010 and the rest is history.
Word quickly got around that Victory Alliance Ranch was a place where veterans could come and go – a sanctuary where they can feel needed whenever they need to feel needed. They do chores around the farm and sometimes work with the horses. And there are lots of horses – there are now more than 70 on the farm. She takes horses that need rescuing due to abuse or neglect, those with physical problems, or even those whose owners have hit hard times and just can't afford them anymore. When she can, she tries to find them new homes, but often ends up keeping them.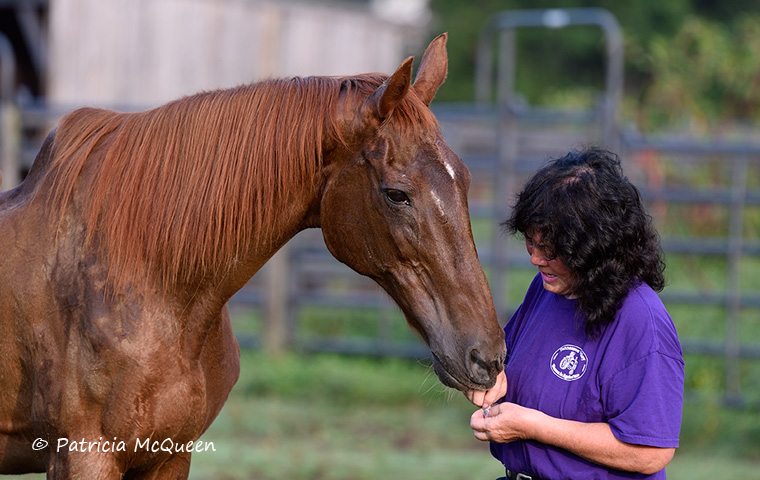 Purely by accident, a few years ago Chillcott expanded into working with special needs children. Someone involved with the Alabama Special Olympics equine program happened to see her farm one day, and convinced her to become a Special Olympics certified equine coach and give lessons to Special Olympics athletes. Those athletes are now regulars at the farm, sometimes riding, sometimes helping take care of the horses or doing other chores.
"It's all about the horses and it's all about the kids and the veterans – they know they are safe. They come out here and all of their tension goes away." Horses truly have that kind of magical impact on people, especially horses that have overcome their own challenges.
So far Victory Alliance Ranch has been a labor of love funded entirely by Chillcott and a few caring souls, but she's working on getting the paperwork done to establish a 501(3)c charitable organization to keep it sustainable going forward.
A new life
In addition to taking in unwanted horses, Chillcott has an interest in breeding, and is enamored with the Russian Buddeny – a rare breed in this country. She was looking for Thoroughbred mares to breed to a Buddeny stallion, and early in 2011 she found a mare named Miss Carson City at a rescue in California. Upon inquiry, she learned there was a catch if she wanted to buy her – an old mare that was her companion would throw fits if separated even for a short time, so it had to be a package deal.
That 'old mare' was Albany's Secret, and she was just 23 at the time; she had apparently been abandoned and left to starve.
"That's not old," Chillcott told the rescue, not yet knowing who the mare was. She's a firm believer that "as long as you take care of them, horses will pretty much live forever, and they have a forever home here. Horses are still here long past the time they were supposed to have died – there's just something about the peacefulness of the ranch."
When she agreed to take both, she was astonished to learn the 'old mare' was by Secretariat out of an Alydar mare. "I'm not that big into racing, but I actually knew about those two horses so that was really something!"
Albany's Secret arrived with Miss Carson City on May 8, 2011. Chillcott remembers that the Secretariat mare was skin and bones at the time, even though she had already put on weight at the rescue. Despite that, and despite a severe swayback, she still saw the Secretariat in her. And after 100 days, both mares were fat and happy at their new home.
Albany's Secret, in fact, blossomed at the ranch – turning into a mare that no longer needed close contact with Miss Carson City to be happy; when that one got pregnant and was separated from the herd, she then developed a close friendship with new pal Sucha Gal, with whom she would race around the field having a blast.
Miss Carson City and Sucha Gal died within a few weeks of each other in late 2016. Chillcott kept a close eye on Albany's Secret afterwards, but the mare never seemed depressed. Still, she wasn't bonding with any other horses on the farm.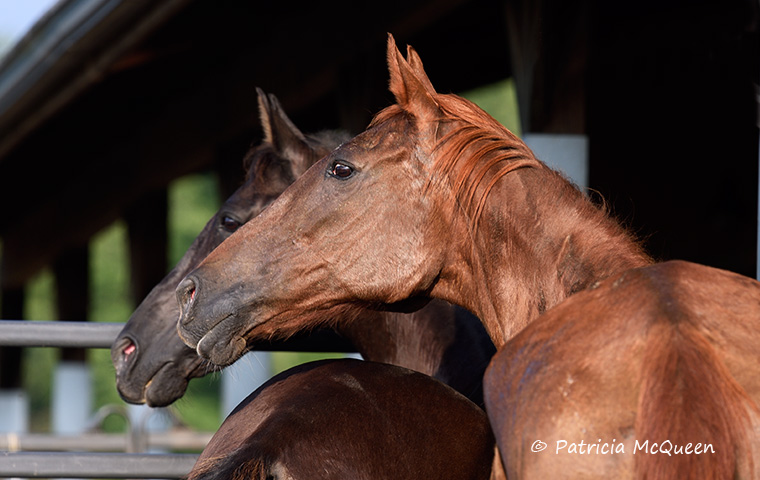 That is, until last summer. In some sort of pasture accident, Albany's Secret was injured, either in a fall or maybe a kick or two from another horse. Anyway, Chillcott got her cleaned up and dressed her wounds, and the mare immediately threw a fit, wanting to get back in the field with the other horses again. But she was kept separated so she could fully heal.
It wasn't long before she started getting over-the-fence visits from a Tennessee Walking Horse gelding, reserve world champion Major Influence, himself not really assimilated into the gelding herd.
They would spend hours together, and, when Albany's Secret was well enough to go out in the pasture again, she was turned out with Major Influence. They became fast friends and are now inseparable.
While the mare recovered, they shared a double-wide stall in the barn (originally made especially for her and Miss Carson City) with access to a pasture. They now share a different pasture on the ranch with their own custom run-in shed and round bale holder – they do everything together.
A pampered celebrity
With her swayed back, Albany's Secret gets brushed often to keep that back clean and dry. She wasn't sure about all that grooming at first, but now insists on being brushed and rubbed until she decides she's had enough. "She'll follow you around and nose other horses out of the way if she thinks you aren't done brushing her yet."
She also knows she's the star of the place. As soon as the cell phone cameras come out – and they do plenty of that when Secretariat fans visit – she starts posing. "It's as though she's saying 'I am royalty'," said Chillcott, laughing. "She loves attention!"
That was clearly evident during a recent visit by a home-schooled class, prepared with a homework assignment to research Secretariat before seeing his daughter. Chillcott turned the mare out with her pal in the arena. "What a show she put on – running around totally showing off – it took a full feed bucket to get her to stop. Food wins out every time!"
Food – and peppermints. Those little delicacies were clearly new to her when she arrived in Alabama. She would just drop them. It wasn't long before she figured them out, though, and now she can't get enough of them. And of course Chillcott obliges.
My visit to see Albany's Secret was in the middle of last summer, right after she had her pasture accident. She had also lost a little weight due to the summer heat. But her well-treated wounds healed quickly, and she also gained back weight.
"She looks like her classy old self again," assures Chillcott. As befitting an elderly daughter of Secretariat, now holding court as the Queen of Alabama.
Previous articles in Patricia McQueen's series on Secretariat's offspring