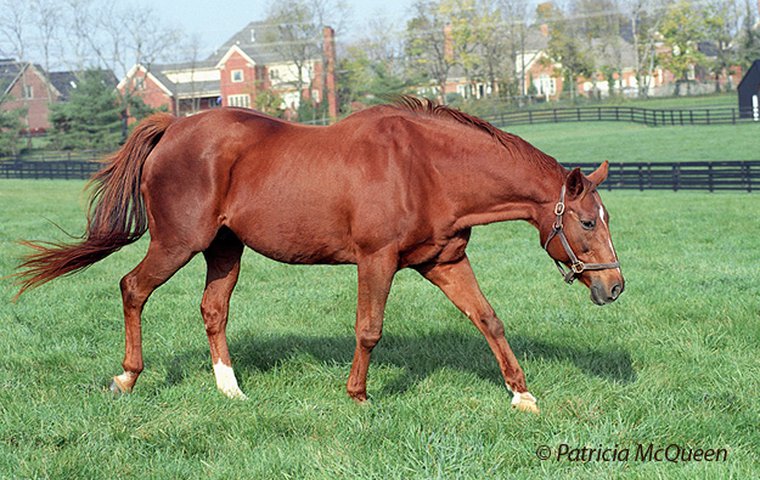 A lot was riding on the 2-year olds in Secretariat's second crop after a disappointing first crop. Three of those foals of 1976 answered the call, putting the Triple Crown winner at the top of the North American juvenile sire list in 1978.

In Canada, Medaille d'Or would become a champion by year's end, and Secretariat came tantalizingly close to siring both the male and female American champions as well. General Assembly would win big but couldn't handle Spectacular Bid, and Terlingua's exploits made her the most exciting filly of the year. Of course, it was years before her full value would be known as the dam of superstar sire Storm Cat.
Born 40 years ago, on February 7, 1976, Terlingua was out of Crimson Saint, a lightning-fast stakes winner by Crimson Satan. As a 2-year-old in 1971, Crimson Saint equaled the world record for four furlongs at Oaklawn Park (:44 4/5); at four, she set a track record at Hollywood Park for five furlongs (:56).
When the filly by Secretariat out of Crimson Saint was entered in the 1977 Keeneland July yearling sale, trainer D. Wayne Lukas took notice. He was quite familiar with the mare, as Crimson Saint was trained by his ex father-in-law Rod Kaufman. He knew he had to have her chestnut daughter as he was making the transition from Quarter Horses to Thoroughbreds.
"I thought about her so many times before going to Keeneland that I knew exactly what she looked like," Lukas told The Blood-Horse in the summer of 1978. "I could see the cross of that large horse (Secretariat) on that mare with all that conformation for speed (Crimson Saint), and I had a picture of her in my mind."
He was thrilled to get her for just $275,000, the fourth-highest priced yearling filly sold at auction in 1977. The purchase was made on behalf of Texan L. R. French Jr., who would partner with Barry Beal; they named her for a small Texas town known for annual chili competitions.
Speed from the start
Skipping the traditional maiden race, Lukas sent Terlingua out for her debut in the Nursery Stakes at Hollywood Park on June 14, 1978. She was a poorly kept secret as the odds-on favorite, and ran like a seasoned veteran, forcing the pace between horses and then drawing off in the stretch to win in 1:03 3/5 for 5 ½ furlongs.
It was the first of many stakes records that would fall at her flying feet. "In the field of nine, six of the starters came off winning races, but Terlingua left them as if they were tied to a post and she could very well be the Secretariat everyone has been waiting for," wrote Joe Hirsch in the Daily Racing Form.
A month later, the filly took flight again. In the G2 Hollywood Lassie, she won by 3 ½ lengths in another stakes record – six furlongs in 1:08 4/5. "She seemed like she had on a pair of wings running that fast," said jockey Darrel McHargue after the race.
Wrote Hirsch: "Not since the heyday of Mae West has there been such action as Terlingua displayed in the Lassie. She seemed to float through the stretch, balanced so perfectly one could have put a shot glass on her back and not spilled a drop. And with this grace and style there was eye-catching speed." He called her the most exciting filly since Ruffian.
In a controversial move, Lukas entered her a week later against the boys in the G2 Hollywood Juvenile Championship on July 22.
"I believe some were 100 percent for lynching me," said Lukas to the media at the time. But he knew what he was doing – the filly won convincingly by 2 1/4 lengths, duplicating her time the previous week for six furlongs after fractions of :21 3/5, :44 3/5 and :56 2/5. Behind her were the West's best colts in Flying Paster and Exuberant.
After a brief freshening, Terlingua next ran in the G2 Del Mar Debutante on September 3. Stretched to one mile, the distance was no problem. An overwhelming 1-20 favorite, she toyed with her rivals, sprinting to a clear lead before taking a short breather after six furlongs, allowing the field to close within a half-length of her. She then spurted away in the stretch to win by nine lengths under a hand ride in yet another stakes record, 1:36 1/5.
She was mortal after all
Lukas then took Terlingua on the road. She finished third in the G1 Frizette at Belmont Park and second in the G2 Alcibiades at Keeneland, and suddenly she was no longer an undefeated sensation.
Lukas blamed himself for not giving her more time to get used to the sandy, cuppy Belmont Park surface, and he blamed the weather in Kentucky. "We believe we have the best 2-year-old filly in America and we thought it would be good for racing if the rest of the country got an opportunity to see her," he told the Form. "She didn't get beat by superior fillies. She got beat by the conditions," adding that the rain and hail before the Alcibiades scared her to death.
Terlingua lost the championship, which was awarded jointly to It's In the Air and Candy Eclair.
After a short rest, the speedy filly started 1979 fresh in the G3 Santa Ynez at Santa Anita on February 24. She got a measure of revenge on It's In the Air, defeating her by four lengths in 1:21 1/5 for seven furlongs – her fourth stakes record in five California starts.
Stretched out to 1 1/16 miles, she set fast fractions in the G1 Santa Susana on March 11, battled with Caline through the stretch and only gave way grudgingly at the end. She lost by a length in what was another stakes record.
Tossed to the wolves in the nine-furlong G1 Santa Anita Derby, Terlingua finished fifth to Kentucky Derby-bound Flying Paster, the colt she had thrashed the previous summer. Still, the filly fought hard in the longest race of her career, and only got beaten for second in the shadow of the wire by two heads and a neck.
Injury hastened retirement
Returned to sprinting two weeks later, Terlingua was second by a nose in the Starlet at Hollywood. Then came two fourth-place finishes, and it was time for a long rest.
Refreshed and relaxed, she resurfaced in the Las Flores at Santa Anita on December 30, 1979. She battled with longshot Powder Room throughout, with fractions of :21 2/5 and :43 3/5, and hit the wire a nose in front of that one in a stakes record 1:08 2/5.
Just a week later in the La Brea, another record fell as Terlingua ran seven furlongs in 1:20 4/5, almost two seconds faster than the previous stakes record and just 4/5 off the track record set a day earlier by Spectacular Bid.
She ended her racing days with three losses – a third (disqualified to fourth) in the 1 1/16 mile G3 El Encino on January 26, a second (by a nose) against males in the off-the-turf Sierra Madre on February 16, and a seventh in the off-the-turf Monrovia on February 27. That was the worst finish of her career and afterwards it was reported that she had a virus.
After Terlingua recovered from the illness, she returned lame from a May 10 workout at Hollywood Park. X-rays showed a slab fracture in her right knee, the location of which precluded surgery, so it was allowed to heal on its own and she was retired.
In total, she won seven of 17 starts and earned $423,896; remarkably, in six of those wins she set a new stakes record. Even more remarkably, the best was yet to come – it was as a producer that she permanently cemented her place in Thoroughbred lore and guaranteed that Secretariat's name would live on prominently in pedigrees for decades to come.
Launch of a dynasty
Terlingua was one of two stakes-winning Secretariat mares acquired together in 1982 by the late William T. Young, master of Overbrook Farm, as he expanded his Thoroughbred holdings. The other was Cinegita, who would also play a big role in the farm's future as the grand-dam of champion Flanders.
Terlingua's second foal was Storm Cat, a 1983 Pennsylvania-bred son of first-crop sire Storm Bird and a Grade 1 winning 2-year-old stakes winner. He became a legendary sire and the foundation of Overbrook's rise to the top echelon of the Thoroughbred industry. Her third foal was the Northern Dancer filly Chapel of Dreams, a multiple graded stakes winner of $643,912.
In total, the brilliant Secretariat mare had 11 named foals, nine starters and six winners.
Her 1987 foal died shortly after birth, when it was discovered that Terlingua was NI-positive, a condition where a mare sometimes makes antibodies that destroy her nursing foal's red blood cells. All her subsequent foals were placed on nurse mares as a precaution.
Lukas had always said Terlingua was incredibly smart, and those close to her at Overbrook confirmed that assessment.
"She wasn't very fond of the vet and vet checks," recalled Dr. Joe Yocum, the Overbrook vet for 25 years. "It got to the point where she'd recognize my car when I'd come to the barn, and then we couldn't catch her in the stall."
He had to start calling ahead so they'd grab her and have her ready. "She had a strong personality and was maybe a little mischievous."
Overbrook broodmare manager R. T. Blackburn took advantage of that mischievous nature to test new employees - Terlingua would challenge anyone who tried to take her out of the stall for the first time.
Not everyone passed the test, but one who did was Beth Meredith, who worked at Overbrook from 1987 to 2009, first at the barns and then in the office. "On my first morning at the barn, I put the shank on her and opened the stall door, and she bellowed like a bull and lunged airborne out of the stall," she remembered. "I held on, stopped her and took her back in, shut the door and started over again. [Blackburn] said, 'you passed'."
When Meredith became barn foreman, she also used the "Terlingua test" on new employees. "She was a really smart girl," she said, explaining that once a new employee passed the test by holding on, Terlingua never tried it again with that individual.
The mischievous but generally sweet mare was pensioned in 2000, and euthanized at age 32 on April 29, 2008, due to the infirmities of old age. She passed on her longevity to her son Storm Cat, who was similarly euthanized at age 30 on April 24, 2013. Both are buried on the Overbrook property.
Sources
Contemporary race reports in DailyRacingForm and TheBlood-Horse; Santa Anita and Hollywood Park media guides
Previous articles in this series
The son who ran the fastest Melbourne Cup ever:
https://www.thoroughbredracing.com/articles/children-secretariat-son-who-ran-fastest-melbourne-cup-ever
The 'crazy' horse who got Secretariat off the mark as a G1 sire:
https://www.thoroughbredracing.com/articles/children-secretariat-crazy-horse-who-got-him-mark-g1-sire
The 'gorgeous' G1 colt who couldn't take the pressure:
https://www.thoroughbredracing.com/articles/children-secretariat-gorgeous-g1-colt-who-couldnt-take-pressure