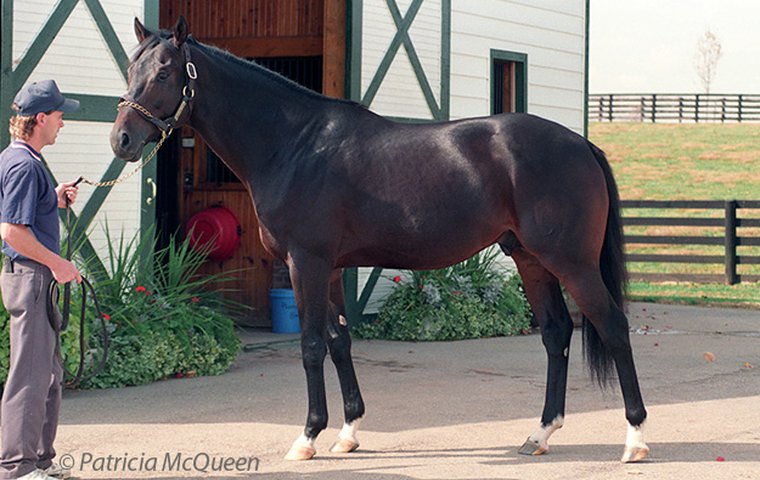 In the latest part of her occasional series, Patricia McQueen looks back at the life of Secretariat's most distinguished son, the mighty - yet possibly somewhat underappreciated - Risen Star.

Few racehorses ever had as much going for them as did Risen Star. He had a sire whose name had plenty of star power. He had a candid hands-on co-owner/trainer who fretted over every detail. He had another co-owner, an accomplished singer, who wrote ballads to his star throughout the Triple Crown trail and even crooned soothing tunes when he hot-walked the sometimes tightly-wound colt. He had the blessings of the Little Sisters of the Poor, a New Orleans charity providing housing and care for the elderly. And, of course, he had tremendous talent.
Risen Star had it all, and he rewarded the faithful when his star shone brightest, all too briefly, in the spring of 1988.
Born 31 years ago today (March 25, 1985), the big strapping son of Secretariat was out of Ribbon, a G3 winner of nine races in 27 starts for earnings of $284,074. The His Majesty mare hailed from historic Darby Dan bloodlines but raced for Arthur B. Hancock III and Leone Peters. Her colt was offered as a yearling at the 1986 Keeneland summer sale but failed to meet his reserve of $250,000.
Several months later, as hip number seven at the Fasig-Tipton Florida 2-year-old sale at Calder in February 1987, he sold for $300,000, the third highest price of the sale. The buyer was Louie Roussel III, a fan of Secretariat, who remembered seeing Ribbon when she raced at Fair Grounds, the racetrack in New Orleans he co-owned with his father at the time.
The colt also caught the attention of Ronnie Lamarque, a New Orleans auto dealer, who was a relative newcomer to horse racing. What attracted his eye all those years ago? "His 'coolness' – the way he traveled, like a ballerina," Lamarque remembered. "He hit the ground softly," not at all like you imagine a big horse would. A year later, when he hot-walked Risen Star through the Triple Crown, the colt still seemed to float along. "I didn't even know he was on the shank at times."
When the Little Sisters of the Poor became racing fans
Although Roussel bought the horse, he was worried about the price, so he offered half to Lamarque. The two men had raced horses against each other at Fair Grounds, but had never really met before the Calder sale. The Secretariat colt brought them together, and they've been close friends ever since.
Deeply religious, Roussel named the 2-year-old after the resurrection of Jesus and the Star of Bethlehem. Risen Star had another heavenly connection – a share of his earnings went to the Little Sisters of the Poor. He became the sisters' mascot and was always in their prayers. "People are pleased that he (Roussel) is helping us with our work," said administrator Sister Mary Vincent back then. "People are turning into racing fans, and Risen Star has had far-reaching effects."
Roussel trained Risen Star at Fair Grounds before sending him up to Louisiana Downs with assistant Rene Gebbia for the summer with the rest of his string. The colt won his debut at the Bossier City track on September 24, 1987, winning the Minstrel Stakes at 6 ½ furlongs. Next out, he was second in the Sport of Kings Futurity, beaten 15 lengths by Success Express, who went on to win the Breeders' Cup Juvenile.
Back home with Roussel at Fair Grounds, Risen Star easily won an allowance race on the turf on December 6. A month later, he dominated another allowance, winning by 10 lengths at 1 1/16 miles on the main track.
Returned to stakes competition, he was second to Pastourelles in the February 6 Lecomte Stakes, then turned the tables on that one in the Derby Trial three weeks later. That left Risen Star primed for the G3 Louisiana Derby on March 13. He almost didn't make it to the gate – in fact, he narrowly avoided disaster the morning before the race. Feeling good during a bath, he reared up, lost his footing and fell. Roussel grabbed his tail, hoping it would make him land sideways. It worked, and a saddle rack helped break his fall.
Call for the acupuncturist
Still, the colt lay on the concrete for a few minutes, clearly stunned. "I put his head in my arms – I didn't know whether he was paralyzed or if he could get up," recalled Roussel. "I held him for about five minutes and then I urged him to get up, pulling on his halter. He finally got up, and when he did, he put his head in my chest and I just held him for a while close to me. I think he and I bonded that day."
Indeed, Risen Star, who would always nip and often bite just about everyone, never bothered Roussel again.
Although the horse got up, the trainer knew something was wrong – he wasn't walking correctly. Roussel had read about an equine acupuncturist, Dr. Marvin Cain, and brought him in from Ohio that afternoon. Cain knew all the touch points on horses, with or without the needles of his trade. He worked his magic on Risen Star, and that evening the big bay was out grazing as if nothing had ever happened.
Given the green light, Risen Star won the Louisiana Derby by 1 3/4 lengths under Shane Romero, running the 1 1/16 miles in 1:43 1/5.
Secretariat's son was headed to Kentucky but, before he left Fair Grounds, Roussel had Randy Romero work him one morning. The fluid stride Lamarque recalled so vividly fooled the future Hall of Fame jockey, who thought he had worked in 1:14 or 1:15. "I had him in six perfect twelves," said the trainer, "so Randy Romero missed it by at least two or three seconds. That's how fluid his stride was."
Was his best performance in the Lexington?
In the April 16 G2 Lexington Stakes at Keeneland, Risen Star went up against Claiborne Farm's champion, Forty Niner. New jockey Jacinto Vasquez tried to slow him down behind other horses, but the colt was so eager he got too close in the slow early pace and had to be taken up to avoid clipping heels. He then closed willingly to engage Forty Niner at the top of the stretch and the two battled to the wire, with Risen Star prevailing by a head.
Lamarque has always believed that the Lexington was Risen Star's best race. After being stopped three times during the running, "it was unbelievable that he came on to beat champion Forty Niner at a mile and a sixteenth".
In the Kentucky Derby on May 7, Risen Star left the gate from the dreaded inside post. Shuffled back, he had a wide trip throughout and lost a lot of ground. With Eddie Delahoussaye up, he rallied in the stretch to finish third, three lengths behind Forty Niner, who was a neck shy of Winning Colors, just the third filly to ever win the Derby.
Roussel blamed himself. Typically, he put two-mile (or more) gallops into the horse daily, adding a fast three-furlong blowout at the end the day before a race. He felt that tactic made him too fresh for the Lexington, so for the Derby Risen Star worked six furlongs the Tuesday before the race. That may have been key to the way the Derby played out – had the horse been sharper, he may have avoided some of the trouble.
So Roussel returned to his successful formula for the rest of the Triple Crown. The day before the Preakness, at the end of a two-mile gallop, Risen Star went three furlongs in :36 3/5 over a muddy track. On race day, the trainer worried about the track condition, and had a scratch card ready to go all day. But, without additional rain, and with an improving track, the colt stayed in the race.
Secretariat's first classic winner
The pre- and post-race Preakness drama centered around Winning Colors and Forty Niner. The latter's trainer, Woody Stephens, knew he couldn't let the filly loose on the lead again, so he had jockey Pat Day go after her early. They both went wide, seeking the better part of the wet track, exchanging bumps along the way. With room on the inside, Risen Star took the lead at the 3/8 pole and won by 1 1/4 lengths over Brian's Time. The gutsy Winning Colors held on for third while Forty Niner tired to finish seventh.
Headlines of the day focused more on the duel between Winning Colors and Forty Niner than it did on Risen Star, but Secretariat finally had his classic winner.
With three weeks before the Belmont Stakes, Roussel continued his routine of daily long gallops. On May 28, Risen Star ran off with regular exercise rider Jimmy Nichols, who couldn't control the exuberant colt. The next day there was swelling in his right front ankle. Rested briefly and then closely watched while galloping the next few days, x-rays on June 4 were clean. However, an ultrasound showed a lesion on the suspensory ligament and he was given two more days off.
Risen Star resumed galloping on June 6, and the day before the June 11 Belmont Stakes he blew out after a 1 ½ mile gallop. As directed, he went a quarter in :22 1/5 and three furlongs in :33 2/5. But again, Nichols had trouble pulling him up and he continued on, going four furlongs in :47 and six furlongs in 1:11 2/5. Too far, too fast, thought Roussel.
The morning of the race, Risen Star was examined by several vets, with some difference of opinion among them. But ultimately he was declared fit to race, and the rest was history. Facing just five rivals, Risen Star let Winning Colors take the early lead, but he collared her after six furlongs and was in front by a half length after a mile. Then, much like Secretariat, he drew off around Belmont's big sweeping turn and powered through the stretch, winning by 14 3/4 lengths. The time of 2:26 2/5 was second only to his sire's unapproachable 2:24.
Roussel's three big disappointments
"Risen Star is the best 3-year-old I've ever ridden," said Delahoussaye after the race. "His power is incredible. When I went by the filly, he was just galloping. He was pulling me out of the saddle. When we turned for home, I knew it was history."
Unfortunately the bothersome ankle was swollen again the next morning. It was hoped he could return to racing, but the suspensory ligament didn't heal as expected. He was officially retired in late July, with eight wins in 11 starts, two seconds and a third; his earnings of $2,029,845 included a $1 million bonus for the best record in the Triple Crown. He earned the Eclipse Award as the champion 3-year-old male of 1988.
After the Belmont, a half interest in Risen Star was purchased for $7 million by Walmac International, where he entered stud in 1989. The young stallion had a serious bout with colic in 1990 but recovered quickly from surgery for a twisted small intestine.
He wasn't so lucky eight years later, succumbing to colic on March 13, 1998, at the age of 13.
In his abbreviated stud career, he sired just under 300 foals, with total earnings of more than $13.5 million. His 15 stakes winners included the ill-fated G1 Pimlico Special winner Star Standard, a German champion in Risen Raven, and Japanese G2 winner Star Ballerina, his leading earner at $1.8 million.
Risen Star took his owners on the ride of their lives, and was a true New Orleans hero, but Roussel recently reflected on his three biggest personal disappointments. First, knowing he didn't train the colt well enough before the Lecomte loss. Second, the unfortunate trip in the Kentucky Derby that may have cost him the race – and the Triple Crown. And third, after all these years, the horse that won 8 of 11, including two classics, hasn't made it into American racing's Hall of Fame.
Sources: Contemporary reports in The Blood-Horse, Thoroughbred Record and Daily Racing Form
Previous articles in this series
The son who ran the fastest Melbourne Cup ever
The 'crazy' horse who got Secretariat off the mark as a G1 sire
The 'gorgeous' G1 colt who couldn't take the pressure