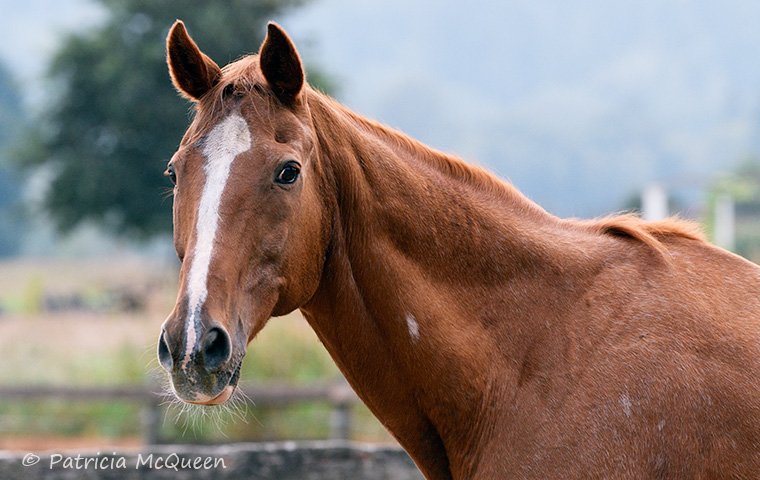 By the spring of 1988, the Crimson Satan mare Crimson Saint had eight named foals to her credit. Remarkably, four of those became stakes winners and one more was stakes-placed. Her second foal, a fast filly by Secretariat named Terlingua, had already produced the stakes winner Storm Cat, who entered stud that year to launch a meteoric rise to the top of the stallion ranks.

In all, Crimson Saint produced 11 named foals, including five that attracted $1 million or more as yearlings. The two highest prices were drawn by sons of Nijinsky – the unraced $7 million Laa Etaab and the $3.5 million Breeders' Cup Mile winner Royal Academy. Yet it would be her Secretariat foals that endeared her to racing fans everywhere, and Storm Cat of course would keep Secretariat's name in pedigrees for decades to come.
In addition to Terlingua, there was Pancho Villa, a 1982 foal that was brilliant at times, defeating Horse of the Year Spend A Buck and champion sprinter Precisionist in his signature efforts in 1985.
Crimson Saint's 1989 filly by Secretariat would attract trainer D. Wayne Lukas' eye to the tune of $2.1 million at the 1990 Keeneland summer sale, Secretariat's highest-priced auction yearling ever (second was Pancho Villa at $1.8 million) and the highest-priced filly sold at auction that year. Named Navajo Pass, Lukas said at the time that he "marked her higher in my catalogue than any horse I've ever graded".
But back to her 1988 Secretariat foal, born on March 23 that year. The chestnut with a blaze and two white stockings apparently didn't make the same impression as some of the other members of the family, bringing only $650,000 as a yearling in 1989. The buyer was Lukas, who bought a total of six of the mare's summer sales yearlings.
The colt, named Border Run and gelded early, wasn't as talented as many of his siblings, but he did win six races in 41 starts for earnings of $155,238. He earned black type by hitting the board in two stakes races at Fairplex Park, making him Crimson Saint's sixth and last stakes performer.
Del Mar debut
Border Run made his racing debut for Lukas and co-owner Overbrook Farm on August 25, 1990, in a maiden special weight, going six furlongs at Del Mar. Favored as part of an entry, he broke awkwardly and was outrun, finishing seventh of nine. The winner that day was Magnificent Red, another son of Secretariat who would become a stakes-placed winner.
Two weeks later, he finished sixth as the favorite after pressing the pace. He then went to sidelines, not returning to the races until August 3, 1991, again going six furlongs at Del Mar.
He was ready this time – in contention early and battling through the final sixteenth to come up short by just a neck. Jockey Corey Nakatani claimed foul against the winner, but it was disallowed and the second-place finish stood.
Stretched out to 8½ furlongs on August 16, Border Run was close early, had the lead after six furlongs, but then weakened to finish fourth. He finally broke through in his fifth start, back at six furlongs in another maiden special weight two weeks later. As the race favorite, he obliged with a win by 1¾ lengths.
Next came the only three stakes starts of his career, all at Fairplex Park within a period of just 17 days.
On September 12, he was a closing second in the Foothill Stakes, just missing by a head going 6½ furlongs. After that effort, he was favored in the Derby Trial Stakes on September 21. Third early in the 8½-furlong event, Border Run seemed on his way to victory while leading by 2½ lengths at the stretch call. But the chart notes say he propped at the eighth pole and ended up third, missing by a head and a half-length.
In the Pomona Derby just a week later, he was part of a favored three-horse Lukas entry. Stretching out to about nine furlongs for the first time, he was close up early, gained third at the stretch call, but ended up fifth.
Two allowance races at Santa Anita were next, then two tries on the Hollywood Park turf.
On November 13, he seemed to enjoy the surface switch, leading for the first six furlongs of a 1 8½ furlong-event before being passed by odds-on winner Qathif, a future G2 winner. He settled for second in a game effort, but didn't fare so well in his second turf start, fading to seventh going nine furlongs.
Back on the Santa Anita dirt, Border Run made five starts in the winter of 1991-92. He won a one-mile allowance race on January 20, 1992, and added two strong seconds to his portfolio, missing victories by a head. After his last start of the winter on February 29, he was shelved for 19 months.
Dropped to the claiming ranks
He returned to the races at Fairplex Park on September 29, 1993, this time in a $32,000 claiming race going six furlongs. Lukas had him primed for his return and the drop in class, as he won by 1½ lengths.
After two more allowance tries at Santa Anita, Border Run headed to the claiming ranks for good. Lukas and Overbrook raced him three more times and he failed to hit the board. On January 23, 1994, he was claimed for $20,000 by Clear Valley Stable and trainer Sanford Shulman while finishing fourth going 8½ furlongs.
He won one of his next six starts for his new connections, a $25,000 claiming race at one mile at Santa Anita on February 26. Entered for $12,500 at Hollywood Park on June 4, he was claimed by trainer Mike Mitchell for a group of several owners. Mitchell started him twice, the second time resulting in a claim while finishing third with an $8,000 tag.
New trainer-co-owner Bob Jeanotte took Border Run north for co-owner David Abrams. He finished second going 8½ furlongs at the Solano County Fair on July 24 for $12,500, then reeled off two straight victories. He went wire to wire as the odds on favorite going a mile at the Bay Meadows Fair on August 14 while racing for $10,000; he repeated that effort at the main Bay Meadows meet two weeks later for $12,500.
Another try on the turf in a starter allowance resulted in a fourth-place finish. Dropped down in class again, he was claimed out of a one mile dirt race at Bay Meadows on September 24 for $6,250.
New owner-trainer Robert Dempsey started him twice more in 1994, and then the gelding was off until September 1995.
Border Run's final three starts in the fall of 1995 resulted in unplaced finishes, with his last start on October 15, 1995.
A racing fan gives back
Artist and California native Curtis Wright had grown up admiring Thoroughbreds, first attending the races with his father as a youngster. He has a long history with horse racing as a fan and horseplayer, and an encyclopedic knowledge of horses on the Southern California circuit from the early 1970s.
"It was a big deal for me to go see the horses in person, because I am an artist. I can tell you exactly what the various silks looked like and also what a lot of the horses looked like."
His favorite horse from those early days was Quack, a big talented horse trained by Charlie Whittingham.
While he was in graduate school (he has a master's degree in fine arts), Wright began teaching. He ended up in special education working with challenged students. It started as a temporary gig, but lasted 12 years. "I thought it was pretty important," he explained, adding that he'd teach some of them job skills to help them succeed.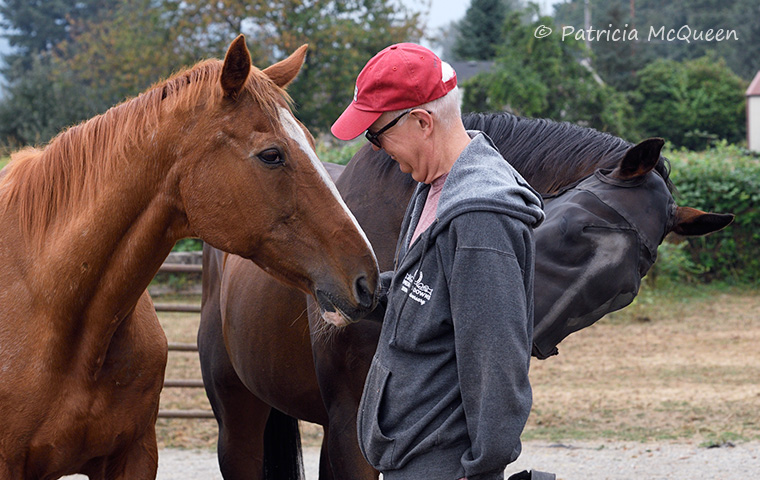 Still, it was often stressful, so how did he relieve that stress? He's go to the racetrack! "I derived a lot of pleasure from going to the track," he said, and he wanted to return the favor the horses did for him. "I can't do it for all of them, but I thought it would be nice if I could get one or two horses to give back a little bit."
In 2003, he learned that a gelding named Anniversary Year needed to get off the track – quickly. Wright knew the horse well – he had won a trifecta on his maiden win at Santa Anita four years earlier. "I thought he was gorgeous when I saw him in the walking ring that day."
He arranged to claim the horse at Los Alamitos and immediately sent him to a boarding facility. "He was so sore, it took about a year before we could do anything with him." Eventually, the gelding learned how to be a riding horse for Wright and his daughter Anna.
In 2009, he and his wife Margo bought a farm near Seattle, so he had to learn everything there is to know about how to run a farm and take care of horses. He turned one of the buildings on the property into an art studio, and in addition to creating his own art – horse racing is a popular subject, along with baseball – he also has a small art publishing house called Anniversary Year Press.
Border Run resurfaces
The Wrights soon acquired another off-the-track Thoroughbred for Anna to ride in shows and the 4-H youth program, but unfortunately he developed an infection and couldn't be saved. So it was back to the drawing board in 2011, and the name Border Run came up on a local website with a $250 asking price.
Wright thought, "What's he doing up here? It couldn't be him!" He had seen the horse race and remembered him well – right down to the white splotch near his left shoulder. He asked for a photo of the horse's left side, and sure enough, it was him.
The sellers had verified his tattoo with the Jockey Club; they had bought him not long before from a boarding facility that had taken ownership after his previous owners stopped paying the bills. They figured on using him as a riding horse for their grandchildren. That plan ended quickly when the 23-year-old Border Run threw the woman the first time she tried riding him – bareback and with only a halter.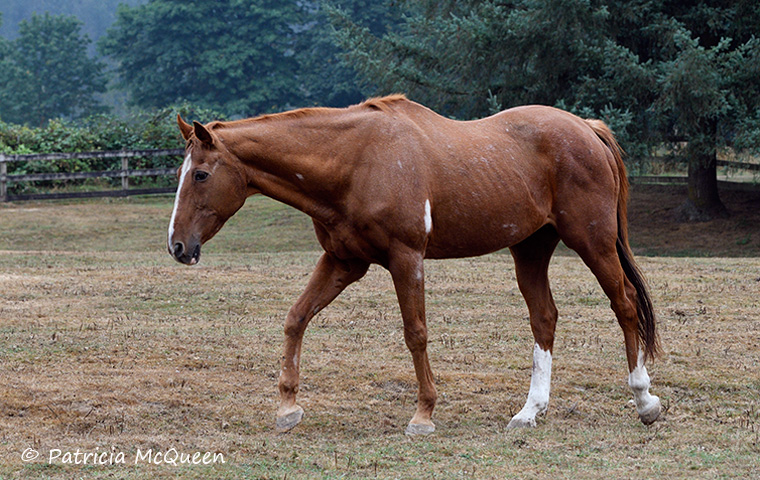 With limited room on the farm, Wright was skeptical about taking in an older horse that couldn't be the riding horse Anna needed, but Margo urged him to take a look. He talked to his daughter, who said, "Dad, old horses need a place to live too."
So they brought him home on Father's Day in 2011. Wright made an immediate adjustment with his feed, noting that the gelding had been given a diet appropriate for high-performance horses, not for less active older horses. "The food made him high as a kite," he recalls. After only a week or so on the proper food, Border Run became "a really good guy".
He needed some work on his teeth and his feet, along with vaccinations – there was no record of his history and Wright assumed he hadn't been regularly treated.
As for what ended the gelding's racing career, it could have been a bowed tendon based on what Wright's vet saw. And, while there was a 15-year gap in Border Run's life, there was some indication that he had dressage training given the way he carried himself.
Love for apples
As he settled into his new life, Border Run quickly learned how to get apples from a tree. But only Gravenstein apples, which are on the soft side; he pretty much ignores the Granny Smith tree on the property. When the Gravenstein tree produces, the gelding has been seen grabbing the branches to shake off a few apples, which he promptly eats. "He just loves those apples," said Wright, laughing.
He also likes bananas (with or without the peel) and watermelon rind. Carrots are always a favorite, as are peppermints. And horse cookies.
Both Anniversary Year and Border Run will often follow Wright around as he cleans up the pasture, looking for chances to grab the cookies they know are in his pockets.
"Border is just a real sweet guy and he's never been any trouble," said Wright like a proud papa, but noted the gelding does have a couple of quirks. He gets very upset when bottles are used around him, like at bath time. And he can be a little mischievous if he wants attention while Wright is working in the tack room – he'll reach in and grab whatever he can and toss it on the floor.

The small herd – the two off-the-track Thoroughbreds, a Quarter Horse named Harley (the horse they finally found for Anna) and an old pony named Opie (originally acquired to keep Anniversary Year company), plus goats Linus and Lucy – has a regular daily routine, by design.
There's a lot of similarity between the special education kids Wright used to teach and the old horses. "You have to be patient and structured. The kids were much happier when they knew where the boundaries were, when they knew what would be the consequences of their actions. Horses are the same way. They respond to routine. And they all pretty much get spoiled here. They get whatever they need."
Wright occasionally gets the distinct impression that Border Run knows exactly who he is. "Every once in a while, if you are trying to do something to him he's not thrilled with, he has this 'do you know who my father is' look that he will flash at you!"
A very famous father for sure, and with his exceptional mother it was a match made in Heaven.
Previous articles in Patricia McQueen's series on Secretariat's offspring