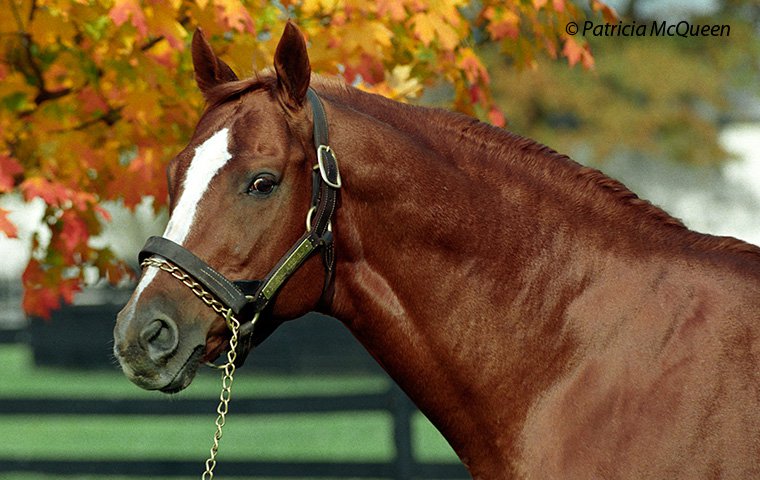 Last Saturday, the storied Travers Stakes was run for the 147th time, and for the first time a winner completed 10 furlongs (the race's distance since 1904) faster than General Assembly.

Secretariat's flashy lookalike son loved Saratoga, where all but three editions of the Travers have been run. He was unbeaten in four starts at the Spa, including a stakes record performance at two and a 15-length romp in the 1979 G1 Travers.
His time of two minutes flat in the race often called the Mid-Summer Derby set a track record that stood until Arrogate finally broke the two-minute barrier on Saturday, 37 years later.
A member of Secretariat's second crop, General Assembly was born in Virginia on April 30, 1976. He hailed from a prominent family, as his dam was the stakes-winning Native Dancer mare Exclusive Dancer, a half-sister to two-time leading sire Exclusive Native and four other stakes winners. He was bred and raced by Bert and Diana Firestone and conditioned by future Hall of Fame trainer LeRoy Jolley.
All eyes were on the colt in his July 14, 1978, debut at Belmont Park – on his handsome shoulders rested Secretariat's reputation as a sire (a burden he shared with the speedy Terlingua). He had been wowing everyone in the mornings – bullet works were his routine. The odds-on favorite under Darrel McHargue, General Assembly fought for the lead and won by two lengths despite being bumped soundly.
'He could be something special'
Sent right into stakes company in the G2 Saratoga Special, he won by four lengths in 1:09, bettering a 35-year-old stakes record held by Pavot and still the fastest six-furlong Saratoga Special ever run.
After the race McHargue told the media: "General Assembly showed me a lot out there today. This was only his second start but he displayed great poise. I was able to rate him easily, and when I asked him to move, the response was immediate. He's learned an awful lot about racing in a short time, and he is full of quality. I think he's got a terrific future."
As General Assembly prepared for the G1 Hopeful Stakes on August 26, Jolley told the Daily Racing Form's Joe Hirsch that the colt "could be something special. He's big and he's strong and he's kind. He has the attributes you look for in a good horse, and his action is beautiful. For a big colt he handles himself unusually well ..."
The strapping chestnut didn't disappoint in the Hopeful, winning by 6 3/4 lengths in 1:16 2/5 for the six and one-half furlongs, just 1/5 of a second slower than his sire won the same race in 1972.
Back at Belmont for the G2 Cowdin on September 27, General Assembly was the heavy favorite against just three horses, including the undefeated stakes winner Tim The Tiger. He pressed a fast early pace set by Breezing On and was in front after a half, but he couldn't hold off the late-running Tim The Tiger, which edged him by a head after a long stretch duel.
Then came Spectacular Bid
Both talented colts then ran into a buzz saw named Spectacular Bid in the G1 Champagne Stakes on October 8. Jolley, critical of McHargue's ride in the Cowdin, replaced him with Angel Cordero Jr. General Assembly was the 7-5 favorite, but was no match for the gray wonder from Maryland, as Spectacular Bid won by 2 3/4 lengths over the Secretariat colt in a swift 1:34 4/5.
General Assembly closed out his juvenile campaign with another second to the eventual champion, this time in the G1 Laurel Futurity.
After eight weeks' rest on the farm, General Assembly returned to the work tab at Hialeah in January 1979. He slowly rounded into form, and turned heads with a five-furlong work in :58 on March 3. Heavily favored in a Hialeah allowance race on March 10, and wearing blinkers for the first time, he finished second by a head to Coup De Chance, dueling with that one through the stretch before succumbing late.
Jolley announced he would face Spectacular Bid in the G1 Flamingo on March 24 but changed his mind and instead shipped the colt to Aqueduct for the G3 Bay Shore on March 25. Again wearing blinkers, the odds-on favorite pressed the pace but tired to finish third, 4 3/4 lengths behind Belle's Gold, with Screen King second.
On to the Kentucky Derby ...
The blinkers came off for the 1 1/16 mile G2 Gotham on April 7, and General Assembly resumed his winning ways by three lengths in 1:43 3/5 with Jacinto Vasquez up. Said Firestone after the race: "I think his Gotham form was the result of two things: Taking the blinkers off him and his own physical condition after having had two earlier races. He became a little heavy on us over the winter, and we did not ask him for very much earlier this season. He wasn't quite fit in his two races coming into the Gotham, but he is right where we want him now."
He disappointed in the G1 Wood Memorial, checking in fifth for the first off-the-board finish of his career. He did have a rough trip, but Jolley offered no excuses.
It was on to Kentucky, despite the overwhelming presence of Spectacular Bid. The Wednesday before the Kentucky Derby, General Assembly sizzled five furlongs in :57 2/5. Noting that Secretariat's pre-Derby work, also on Wednesday, was five furlongs in :58 3/5 on a sloppy track, Jolley said at the time: "Maybe we can get history to repeat itself."
While the colt ran a tremendous race in the Kentucky Derby, he was still no match for Spectacular Bid – finishing second after pressing the lead for most of the 10 furlongs. He didn't fare as well in the rest of the Triple Crown, running last of five in the Preakness and seventh of eight in the Belmont Stakes, in which Coastal sprung an upset, denying Spectacular Bid a Triple Crown.
Tonic at the Spa
Given some time off, the chestnut signaled his readiness for a return to the races with another series of fast works. After a half in :47 1/5 on August 2, he won a seven-furlong allowance race at Saratoga two days later, coming from off the pace to win by 3 3/4 lengths in 1:21, just 3/5 of a second off the track record.
That performance set him up for the Travers. Absent Spectacular Bid, the race drew a strong field. Most intriguing was future Hall of Famer Davona Dale, which had won five races that had at various times comprised two different filly Triple Crowns – the Kentucky Oaks, Black-Eyed Susan, Acorn, Mother Goose and Coaching Club American Oaks. She had, however, been upset in the Alabama a week before the Travers, finishing second to It's In The Air.
General Assembly was only third choice in the Travers – the filly was favored over Smarten, which was riding a six-race win streak including four Derbys (Illinois, Pennsylvania, Ohio and American). Also in the field was Queen's Plate winner Steady Growth, plus Private Account, Screen King and longshot King Green.
Another fast work two days before the race and the Firestones' colt was ready for his signature performance. Said Jolley at the time: "General Assembly couldn't be better. The Triple Crown races are terribly hard on horses and he was tired after the Belmont. But he had a good rest and came back sharp. His race over the track may be very important. It has to help him."
In the Travers on August 18, the colt splashed home by 15 lengths after leading from the start on a sloppy track. Wrote William Rudy in The Blood-Horse: "The handsome chestnut son of Secretariat was back in the contest for the championship, and there probably were not many who saw his Travers who could envision Coastal or Spectacular Bid beating him that day."
He faced the champion again in the G1 Marlboro Cup on September 8, prepping with another bullet work two days before, four furlongs in :46 3/5 on a sloppy Belmont surface, more than a second faster than any other workout that morning. In the race, he pressed the pace early, and while best of the rest – defeating Coastal, Cox's Ridge, Text and Star de Naskra – he just couldn't outrun his nemesis.
Bid for champion sprinter honors
"General Assembly hasn't received the credit he deserved in finishing second in the Marlboro Cup," wrote Hirsch a couple of weeks later. "Coming on top of his brilliant Travers victory, it suggests he is a much better horse now than when he contested the classics."
He only got one more chance to showcase his brilliance – in the seven-furlong G2 Vosburgh at Aqueduct on October 20, shrouded in a thick fog. The lone 3-year-old in the race, he won by two lengths in 1:21; only Dr. Fager's 1968 Vosburgh had been faster.
Afterwards, there was much debate about the champion sprinter title. General Assembly had defeated all the contenders in the Vosburgh, and Jolley lobbied hard for his horse. "I think we should get the sprint title. We beat all the ranking sprinters at equal weights in this one." But in the end, the title went to Star de Naskra, which finished fourth in the Vosburgh.
The colt was sent to the farm in Virginia for a freshening with an eye on a 1980 campaign, but his retirement was announced in November. Firestone said: "We're confident he will make a superb stallion. He has three important assets: pedigree, speed and acceleration. He's retiring perfectly sound, with a reputation for quality that is deserved."
The record showed seven wins in 17 starts and earnings of $463,245. He was sent to the owners' Gilltown Stud in Ireland to begin stud duties in 1980.
Sired a Hong Kong hero
General Assembly's first starter, and first winner, came in the United States, as the 2-year-old filly Modicum set a track record in her debut on Kentucky Oaks day at Churchill Downs, going 4 ½ furlongs in :51 2/5 on May 6, 1983.
His first stakes winner was Executive Pride in Ireland, which ended up third on the Irish Free Handicap for 2-year-olds that year, below El Gran Senor and Sadler's Wells.
The stallion's only American G1 winner was Charleston Rag, winner of the 1984 Frizette Stakes at Belmont Park. He had a Peruvian G1 winner in Cruzan Gold, and numerous other stakes winners – 31 in total. By most measures, he was Secretariat's best son at stud, with nearly 500 starters from his 600 foals and earnings exceeding $19 million.
His leading earner began his racing career in Ireland as Steady Flame – he won his lone race at age two in an unusual walkover at Gowran Park in June 1988. Exported to Hong Kong and renamed Quicken Away, the gray gelding became a local hero – a two-time Hong Kong Horse of the Year and the first 3-year-old to earn that title there, earning more than $1 million in the process.
General Assembly returned to the United States in the fall of 1986 and served six years at stud in Kentucky before going to France at the beginning of 1993. Two years later, he was sent to Germany. His last foal was born in 2003, and he succumbed from heart and circulatory problems at age 29 in March 2005 at Germany's Gestüt Olympia.
All these years later, the horse's versatility stands out the most in Bert Firestone's memory – a very fast horse capable of winning at a variety of distances. For Diana Firestone, the memories are more personal – he was a very friendly horse, and she recalled often sitting with him in his stall. And they both still marvel that he never lost at Saratoga.
Previous articles in Patricia McQueen's series on Secretariat's offspring