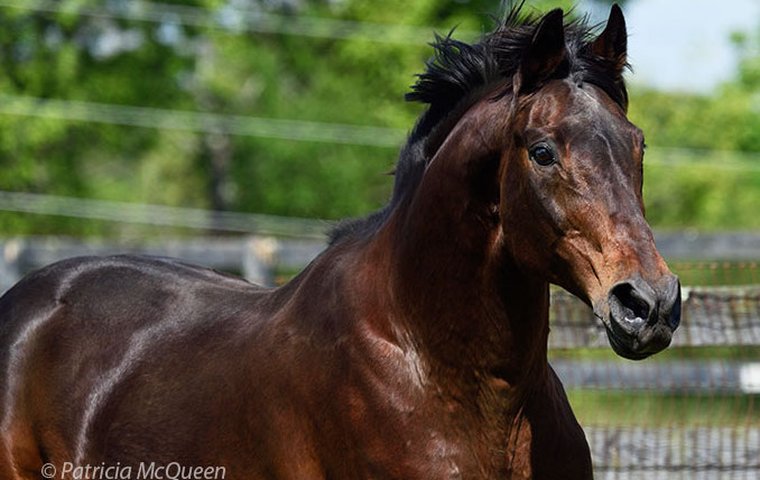 Innkeeper was blessed. Affectionately known as Howard through much of his life, the bay son of Secretariat had a way of melting the hearts of all those who came in contact with him. And those who loved him took wonderful care of him. Right to the end, with the hardest care of all.

The end came on February 2, not quite six weeks shy of what would have been his actual 30th birthday – he was born on March 15, 1988. For a horse that was already 30 by Jockey Club rules, he was remarkably robust, galloping around his paddock regularly and always happy to show off for visitors to Virginia Tech's Middleburg Agricultural Research and Extension (MARE) Center.
------------------------------
INNKEEPER: THE FULL STORY
Patricia McQueen first wrote about him in this series on November 13, 2016.
You can read that article here
------------------------------
Fans young and old came to see him, and he would entertain schoolchildren and others as the highlight of farm tours. Last year a delegation from China visited to learn about Thoroughbred breeding and stallion management, and some members of the group knew of Secretariat and were excited to see Innkeeper. And, just the day before he took ill, he ran up to the fence and impressed yet another group of guests.
Every day Dr. Bridgett McIntosh came to work the back way, driving past his paddock so she could admire him in case work kept her too busy. But on the morning of February 1, something was wrong. Howard was down. For the first time, he didn't come running when he saw her.
The MARE Center director jumped into action. She went to Innkeeper and called the students. He was clearly in distress, breathing quickly, and the vet was called. Treated with Banamine, he got up and seemed to improve. He was closely watched thereafter – everyone checked on him regularly, even through the night – and he appeared to be okay.
But the next morning Howard was down again. The weather had turned quite cold, so he was brought up to the main barn and placed in a big stall with a video monitoring system. Staff and students kept an eye on him as he got ever more restless and uncomfortable, clearly in pain despite medication. Blood work the day before had been normal, but new tests showed a very abnormal hematocrit.
Something serious was going on, and reality set in. "All signs pointed towards some sort of small intestinal colic," said McIntosh – their best guess was a strangulated lipoma or tumor, neither with realistic treatment options for a 30-year-old horse.
She had to make the call, the hardest decision of her life. "It was so sudden. And it was a horrible, horrible decision. I hope I never have to do that again. He was a tremendous horse, such a piece of history who knew he was special."

Howard was buried by the farm office, in a grassy picnic area and garden overlooking the broodmare fields. McIntosh hopes to raise funds for a small memorial to honor his memory. "We are just so grateful to have had the opportunity to work with him. He pulled at a cord that I had never had pulled by a horse before. He was part of us, part of our family."
On a personal note, Innkeeper was the one who started me on the journey to chronicle the lives of other living sons and daughters of Secretariat. I have found ten of them, ranging in age now from 28 to 35; there are nine left that I know of. At the beginning, I knew a project focusing on old horses would ultimately be heart-wrenching. But it has also been extremely rewarding – meeting the horses and their human caretakers along for the ride. I can't imagine a life where I haven't come to know these very special horses and their very special people. Rest in peace, Howard.
Read Patricia McQueen's original article on Innkeeper here
Previous articles in Patricia McQueen's series on Secretariat's offspring