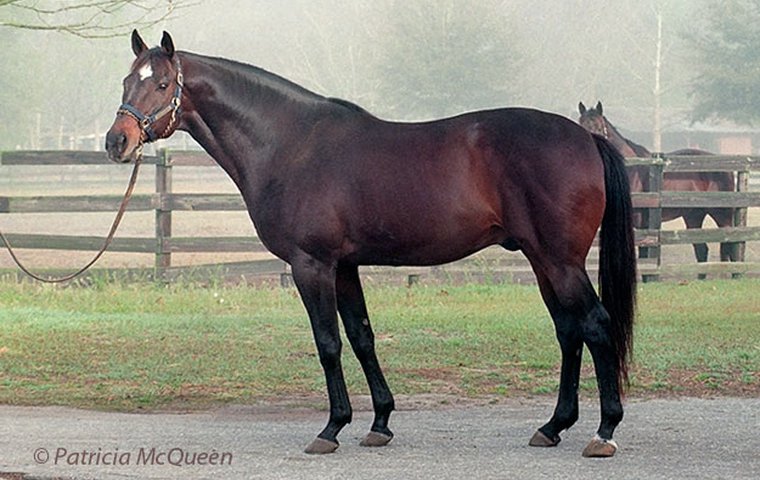 In the second of Patricia McQueen's occasional series on some of Secretariat's most successful progeny, she looks back at the career of his first stakes winner. The first in the series was 1990 Melbourne Cup winner Kingston Rule.

There were understandably high hopes for Secretariat's first crop as they hit the races in 1977, but, as the months passed without any winners, it was clear those expectations would not be met.
He didn't get his first winner until September, when the filly Feuille d'Erable won a maiden race at Woodbine on September 13, 1977. Ten days later, the colt Dactylographer made his racing debut at England's Ascot Racecourse, finishing second at seven furlongs to Home Run. Notes on the race said he made good headway, but ran green.
Dactylographer was bred by Greek shipping magnate and racing enthusiast Stavros Niarchos. Niarchos had dabbled in the sport in the 1950s, but his interest waned and he wouldn't re-enter the game until the early 1970s. Dactylographer was his first major winner on that return – and his victory began an era that would later include the great sire Nureyev, his outstanding daughter Miesque and her son Kingmambo, just three of a long list of champions and stakes winners of the highest caliber.
When Niarchos died in 1996, his renewed passion for racing had passed to his daughter, Maria Niarchos-Gouaze, and the Niarchos family continues to make their mark in the racing and breeding industry to this day.
Niarchos purchased the Ribot mare Artists Proof, in foal to Secretariat, at the 1974 Keeneland fall breeding stock sale for $385,000. As a runner, Artists Proof had won the Pocahontas Stakes at two in 1969 and was third in both the Kentucky Oaks and Black Eyed Susan at three. In total, she made 33 starts through age four, winning four races and earning $48,916.
Richest 2-year-old race ever run in England
The colt she was carrying in 1974 was her third foal, and would forever be her claim to fame as Secretariat's first stakes winner. Born April 21, 1975, he was the only graded stakes winner she produced among 11 foals.
Sent to England to race, Dactylographer – whose name means a specialist in fingerprint identification – was trained by Peter Walwyn and ridden in all his races by leading jockey Pat Eddery. He raced in the name of Stavros Niarchos' son Philip.
With the promising run in his first start, Dactylographer was favored at 6-5 in his second, the unlisted Sandwich Stakes at Ascot on October 8. It was another race over Ascot's straight seven furlong course; Dactylographer took the lead two furlongs out and won by four lengths over another American-bred 2-year-old, Valour. The latter would go on to win the G1 Grosser Preis von Baden in Germany at three and the G2 Prix Jean de Chaudenay in France at four.
Secretariat had his second winner. Two weeks later, Niarchos' colt would face his biggest challenge in the G1 William Hill Futurity (now known as the Racing Post Trophy) at Doncaster on October 22 – the richest 2-year-old race ever run in England at that time.
The one mile race featured future major stakes winners Julio Mariner, Hawaiian Sound and Ile De Bourbon, along with old rival Home Run, among its 12 starters. The second choice at 7-2, Dactylographer took the lead more than two furlongs from home and held on bravely to defeat Julio Mariner by a neck. He was immediately quoted at 14-1 for the 1978 Epsom Derby.
Trainer's Irish Derby hope
At year's end, he was assigned 126 pounds on the English Free Handicap for 2-year-olds, seven pounds below top-weighted Try My Best.
He filled out well over the winter, and trainer Walwyn hoped he would make the Irish Derby in July, but it wasn't to be.
He made four starts at three, with a win and a third among them. His 1978 debut was at Lingfield on May 13, in the G3 Ladbrokes Derby Trial at 12 furlongs, and he finished third as the second choice. A month later, he finished fourth in the G2 King Edward VII Stakes at Royal Ascot to Ile De Bourbon, after having led the 10-horse field two furlongs from the finish, then weakening.
Dactylographer's only win as a 3-year-old came at Lingfield in the South Coast Stakes on August 5. He won the 12-furlong race by four lengths as the favorite. And, in what would be his final start, he finished fourth in the March Stakes at Goodwood on August 26.
That one mile race was won by Le Moss, who would become a champion stayer. The race notes said "no response" on Dactylographer's run. Interestingly, on that same day across the pond, Secretariat's son General Assembly won the G1 Hopeful at Saratoga, as Big Red's second crop was making some of the headlines sorely lacking in his first.
Niarchos' colt retired with three wins in seven starts and earnings of £51,876, a little less than $100,000 at the exchange rates of the time.
Celebrity status in Florida
He was purchased for stud duty in the United States by Al Porco and David McKibbin, and became an instant celebrity after he arrived at Porco's Comfort Acres Farm in Florida in late December 1978. After all, he was Secretariat's first son to be syndicated for stud, and a G1 winner at that. Then-governor of Florida Bob Graham sent a letter to Porco on January 19, 1979:
"Dear Al,
"On behalf of the State of Florida, I wish to thank you and your associates for bringing to our State Dactylographer, the first son of the great Secretariat, to stand at stud.
"I believe Dactylographer will be a welcomed addition and a great asset to our growing Thoroughbred industry.
"Congratulations on your recent completion of his syndication."
Syndicated for $25,000 a share, Dactylographer's 1979 stud fee was set at $10,000. His celebrity status ensured that he would be the leading Florida first-crop sire at the summer sales in 1981 (with five or more yearlings sold), and early in his stud career he was always among the leading Florida sires of 2-year-old winners.
His first stakes winner as a sire was the filly Cleo's Pride, who won the Signature Stakes at Keystone (now Parx) for 2-year-olds on September 3, 1983.
Dactylographer's biggest money-earner was his second stakes winner, the hard-knocking Ronbra. A member of his first crop, Ronbra would make 96 starts through age nine in 1989, with 19 victories and earnings of $434,519. Among them was his first stakes win, the 1984 Robert Carey Stakes at Hawthorne, and the 1986 G3 Pennsylvania Governor's Cup at Penn National.
Another durable runner was Meddlin Maggie, from Dactylographer's second crop. The filly won nine of her 60 starts, including the 1985 Pukka Princess Stakes at The Meadowlands and the 1986 Lady Baltimore Handicap at Laurel, for total earnings of $227,703.
Storm of Glory was a member of Dactylographer's fifth crop, foals of 1984. The filly made 77 starts from age two to eight, winning 17 and earning $324,945. She won the Bushnell Stakes and Chris Evert Handicap at Hialeah in 1989 and the 1990 The Very One Handicap at Gulfstream Park.
'Crazier than a bedbug'
In total, Secretariat's son sired seven stakes winners and the earners of more than $6.2 million.
Dactylographer was moved from Comfort Acres to nearby Flying "M" Acres in the late 1980s, where for a time he was under the supervision of manager Jim Scott. "I'm the only person in the world that stood and bred as stallions two of Secretariat's Grade 1 winners," he recalled in 2011. He had worked with both Dactylographer at Flying "M" and with Image of Greatness at Kinsman Farm.
While Image of Greatness was a kind horse, Dactylographer was "crazier than a bedbug", according to Scott. He would savage himself, and run the fence and grab the top boards, ripping out his teeth. "If you didn't know any better, you'd think he had rabies – he was that crazy."
But Scott had a crazy idea to fix this crazy horse. He completely enclosed the small paddock that adjoined his stall – putting 12-foot fence boards end on end so he couldn't reach the top and couldn't see out.
"He was in an encased box, and that's what he wanted. People thought I was crazy for boarding him up like that, but he lived happy in there and was perfect. He put on 400 pounds."
Scott added that the horse was always a good breeder with a good libido – he just didn't like seeing other horses. "Flying "M" was a small farm and there were horses everywhere. I think he needed to be more secluded."
After Scott left Flying "M", Dactylographer lived a few more years. His last foal was born in Florida in 1995; reports say he died in Texas in 1996 after spending his entire stud career in the Sunshine State.
Sources
- Contemporary race reports in Daily Racing Form
- Raceform Up-To-Date Form Books, 1977 and 1978