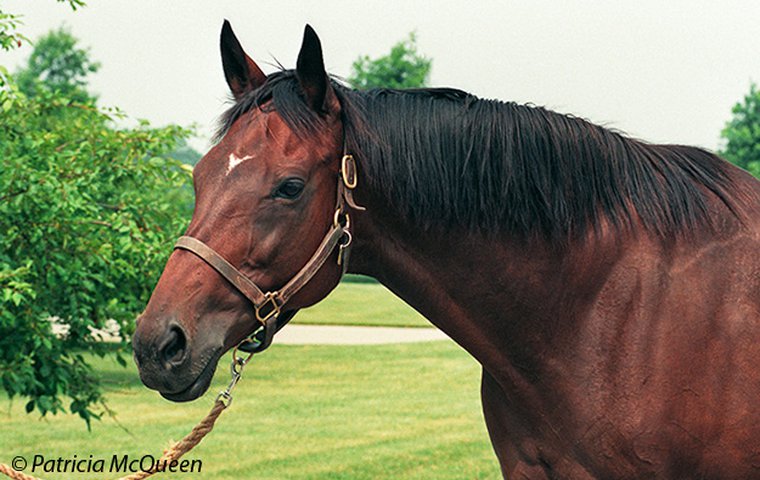 As part of this occasional series, Patricia McQueen examines the career of a mare who guaranteed Secretariat would have a major influence on the breed - and whose offspring included Preakness winner Summer Squall and supersire A.P. Indy.

Secretariat may have sired only one American classic winner – Risen Star – but through his amazing daughters he has had a much more pronounced impact on the Triple Crown races.
The stakes-winning filly Weekend Surprise, an earner of $402,892 in 31 starts, produced not just one but two classic winners, earning her the prestigious Kentucky Broodmare of the Year award in 1992.
The first was Summer Squall, winner of the 1990 Preakness, and the second was 1992 Belmont winner A.P. Indy. Both developed into classic sires, but A.P. Indy, of course, became one of the premier stallions in history, responsible for a number of classic winners among his descendants, including current Horse of the World California Chrome.
Weekend Surprise was born April 8, 1980, the second foal of the Buckpasser mare Lassie Dear, a G3 winner who would go on to produce three additional stakes winners, including G1 winner Wolfhound. Bred by Will Farish III and W. S. Kilroy, Weekend Surprise raced for her breeders.
Precocious 2-year-old
The bay filly was precocious at two, winning her first start at Keeneland on April 21, 1982, a 4 ½ furlong maiden race for trainer Del Carroll.
Tragically, the trainer died less than three weeks later from injuries suffered in a training mishap, when he fell while riding Farish's 4-year-old colt Sportin' Life. Carroll's son Del Carroll II took over Weekend Surprise's training, and the filly was pointed to Saratoga's G3 Schuylerville Stakes, a race the senior Carroll had won the previous two years.
On the way, she finished second to Gala Jubilee in the Rosedale Stakes at Belmont Park on June 2. In the August 4 Schuylerville, she was far back early, a racing style that would stick with her most of her career. The filly rallied under Jorge Velasquez to win by a length going from Share the Fantasy, covering the six furlongs in 1:11. "I can't tell you how much that one meant to us," Farish told Daily Racing Form's Joe Hirsch. "It was a very emotional moment. For a while, we wondered if she could get up in time, but when she did it ... I can't describe the feeling."
The target race won, Weekend Surprise found G1 company too tough in her next three starts, finishing fifth in the Spinaway at Saratoga and third in both the Matron and Frizette at Belmont Park. In the Frizette, she ran into budding superstar Princess Rooney, who won by eight lengths.
Returned to allowance company for a confidence builder, she started a streak of three consecutive wins at Churchill Downs with a victory on November 4 at seven furlongs with Pat Day aboard. Wheeled back just a week later, she won her second stakes race, the Pocahontas, going one mile in 1:37 4/5, the faster of the race's two divisions. Rated early, she took the lead at the eighth pole and won by 3 1/4 lengths under jockey Don Brumfield.
Weekend Surprise then completed a sweep of Churchill's important stakes for 2-year-old fillies with a victory in the G3 Golden Rod on November 25. Heavily favored at 2-5 as part of an entry with Dream Play, she was closer to the pace than usual. Rallying in the stretch, she took the lead approaching the 16th pole and edged clear of National Banner to win by a half length. Pat Day was back up for the victory, run in 1:47 for 1 1/16 miles over a track rated good. It would be the last stakes win of her career.
Difficulty at three
Her 3-year-old campaign was disappointing – just one victory in 10 starts, an allowance romp at Saratoga on August 6 over nine furlongs.
She had begun the year with a poor start in an allowance race at Keeneland against old rival Princess Rooney. She then finished third in both the La Troienne at Churchill Downs and the G2 Black-Eyed Susan at Pimlico. After a second in an allowance race at Churchill Downs on June 11, she finished fifth in the G1 Coaching Club American Oaks before returning to the winner's circle at Saratoga.
Her best finish the rest of the year was a second to the top-class filly Heatherten in the 10-furlong Cumberland Handicap at Churchill Downs on September 5. Sixth in that race was Golden Highlights, another stakes-winning daughter of Secretariat.
After one more start in Kentucky, Weekend Surprise was sent to California, where her last race of the year was a try on the turf in the Bay Meadows Oaks on November 6. Sent off as the favorite, she again dawdled near the back of the pack in the early going, and rallied mildly to finish fifth, beaten only 2 ½ lengths.
She stayed in the Golden State for the next several months with trainer Neil Drysdale. "She was very attractive and well made, with good balance, and could be feisty," recalled her California trainer.
Back on dirt for her next start, the G3 El Encino at Santa Anita at 1 1/16 miles on January 14, 1984, she trailed the field early and rallied well under Marco Castaneda to finish second to Lovlier Linda.
"She split horses at the head of the lane, then she had to alter course and go inside near the 16th pole," Drysdale told the Form after the race. "She had just enough at the end to sneak through inside and beat Angel Savage for the place. That's the way she runs her races – strong at the end – so the farther we go the better."
Solid but unspectacular at four
As it turns out, added distance didn't help Weekend Surprise find the winner's circle as a 4-year-old. She finished second in the nine-furlong G1 La Canada and third in the G1 Santa Margarita at the same distance. Returned to the turf for her next three starts, she was sixth in the G1 Santa Barbara at 10 furlongs, third in a 1 1/16 mile allowance race at Hollywood Park and sixth in the G1 Gamely, also at Hollywood.
She then went against the top older mares on the dirt in the G1 Vanity, and finished fifth as champion Princess Rooney won by a head over Adored.
Sent east back to trainer Carroll, this time she couldn't find tonic at the Spa, finishing third in a Saratoga allowance race with no excuses. After two more thirds, she finally broke through with her first victory in more than a year in a Keeneland allowance race on October 16.
The final race of her career came in the G2 Long Look at The Meadowlands on November 9, with yet another third-place finish.
In all, her 4-year old campaign saw decent come-from-behind efforts that usually brought in a good paycheck – she made 12 starts that year with a win, two seconds and six thirds for earnings of $155,874. "She'd come flying to hit the board," said Drysdale, "and really tried hard."
In total, Weekend Surprise won seven of 31 starts, with five seconds and 10 thirds; she won or placed in 15 stakes races.
She was sent home to Lane's End Farm, where she became an extraordinary producer, ensuring that Secretariat's influence on the breed would continue for decades. And, through her sons, she was instrumental in building Lane's End into the powerhouse operation it is today.
A breeding legacy
Her first foal died, and her second was Summer Squall, a foal of 1987. The son of Storm Bird shared his dam's precociousness at two and ultimately won 13 of 20 starts over three years, including nine stakes, earning $1.8 million. Sent to stud at Lane's End, he sired Kentucky Derby and Preakness winner Charismatic.
Stakes-placed Honor Grades was Weekend Surprise's next foal, followed by A.P. Indy in 1989, a son of Seattle Slew.
Voted Horse of the Year in 1992, A.P. Indy won eight of 11 starts including six stakes, earning $2,979,815 – a little more than his $2.9 million price tag as a yearling. He was retired to Lane's End; Farish had purchased an interest in A.P. Indy in mid-1992.
As a sire, broodmare sire and sire of sires, the ridgling has been phenomenal. He sired classic winners Rags to Riches, only the third filly to win the Belmont Stakes, and Bernardini, a Preakness winner who has gone on to be an excellent sire in his own right. Pensioned in 2011, he remains at Lane's End at age 27.
Drysdale also trained A.P. Indy. "He was very good looking horse, and she [Weekend Surprise] was a very attractive filly," he remembered. "I'm sure a lot of his quality came from her." Indeed, the mare's perfect balance and light physique was a great match for Seattle Slew, introducing refinement not seen in many of the Triple Crown winner's offspring, recalled Bill Farish.
Weekend Surprise produced two more stakes winners, Welcome Surprise and Eavesdropper, along with the stakes-placed Weekend In Seattle. In all, she produced 14 named foals, 12 starters, nine winners, four stakes winners, two classic winners and one Horse of the Year.
Not a typical Secretariat
After Summer Squall's Preakness, Will Farish said to the media: "I told Mr. Kilroy that for years I thought Weekend Surprise may be the best mare we'd ever had because of the talent that she had, the pedigree – the whole works." But she certainly didn't look like her sire. "Weekend Surprise was not a typical Secretariat," he continued. "She's quite feminine, very racy, very attractive, but no resemblance to him. To see her progeny is fascinating because there's a strong female pull coming through this whole family."
"In some ways she shaped the way I look at broodmare prospects," said Bill Farish, thinking about her recently after all these years. "It's not always the most brilliant one that makes the best broodmare; pedigree obviously has so much to do with it and she was so beautifully bred." He added that, on the farm, Weekend Surprise was a very straightforward, easy mare to handle.
Weekend Surprise was said to carry a gene for a large heart, passed through both from Secretariat, who had an unusually large heart, and from her dam as well.
This so-called "X-factor" was extensively studied by author Marianna Haun, who passed away in February. Haun was convinced that the large heart gene is passed along female lines on the X chromosome and could be traced back for generations.
The mare produced her final foal in 2001, an unraced Belong To Me filly named Mystery Trip. Shortly after foaling on March 13 that year, Weekend Surprise hemorrhaged and died. She was buried next to her dam at Lane's End.
Previous articles in this series
The son who ran the fastest Melbourne Cup ever
The 'crazy' horse who got Secretariat off the mark as a G1 sire
The 'gorgeous' G1 colt who couldn't take the pressure
The flying filly responsible for Storm Cat