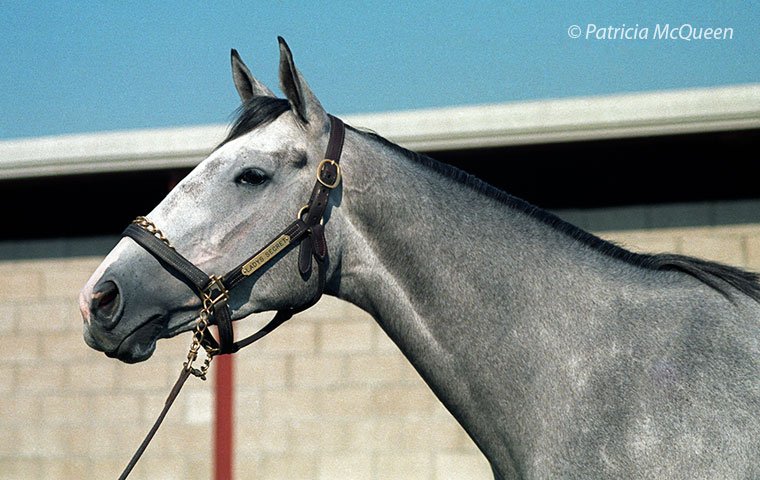 On the eve of the very first Breeders' Cup at Hollywood Park in 1984, a 2-year-old filly won a minor stakes race to close out her eight-race juvenile campaign for trainer D. Wayne Lukas. Two years and 32 starts later, by the end of Breeders' Cup day 1986, that filly, Lady's Secret, had racked up 20 more stakes victories (11 of them in G1 races) and secured her place among history's greatest fillies and mares.

Secretariat's only Breeders' Cup winner and his only offspring to join him in racing's Hall of Fame, she earned the nickname Iron Lady for the demanding schedule on which she thrived for two years.
It has been three decades since her remarkable Horse of the Year campaign, and while there have been other outstanding females to earn that title in the intervening years, none of them came close to her record of 13 G1 starts – with eight G1 wins – in a single year. "She's as good as any of them, because she never missed a dance," recalled Lukas. "It was unbelievable."
Born in Oklahoma on April 8, 1982, Lady's Secret was the product of Lukas' philosophy of breeding fast mares to Secretariat. He had trained the speedy Icecapade mare Great Lady M. for owner Robert Spreen, and, when it came time to choose a stallion for the multiple stakes winner, Lukas suggested Secretariat.
The diminutive gray filly – barely 15.1 hands and 950 pounds – raced in the colors of Eugene Klein, who had purchased her privately as a weanling. She won her debut at Belmont Park on May 21, 1984, dead-heating in a five-furlong maiden race with Bonnie's Axe. Over the next 12 months, she proved to be a useful sprinter, leaving the starting gate 14 more times, all in stakes races, winning four at six furlongs.
A transformation at three
After finishing fourth to Mom's Command in the seven-furlong G3 Comely at Belmont on May 11, 1985, Lady's Secret began a dominating eight-race win streak, simultaneously increasing in both class and distance – evolving into far more than a useful sprinter.
It started with three minor stakes wins at six furlongs, which set her up to face Mom's Command again in the G2 Test at Saratoga on August 1. That leader of the 3-year-old filly division was fresh from winning the New York Filly Triple Crown.
After Mom's Command got caught up in a speed duel with Majestic Folly, Lady's Secret swept by them both in the stretch to win by two lengths in 1:21 3/5 over seven furlongs. Barely a week later she won the G2 Ballerina against older fillies and mares.
She continued to progress and became the first to sweep Belmont Park's fall series of G1 races for fillies and mares (the Maskette, Ruffian and Beldame), but her expected showdown with Mom's Command failed to materialize as that filly was injured and retired. Had Lady's Secret won the 1985 Breeders' Cup Distaff instead of finishing second to her stablemate, Life's Magic, she might have taken the 3-year-old filly championship away from Mom's Command.
A year like no other
As amazing as her 1985 season was, the best was yet to come.
She launched one of the most ambitious campaigns in modern racing history with a second in the G3 La Brea on December 27, 1985. She returned to the winner's circle in the G3 El Encino on January 18, and continued her divisional domination in the G1 La Canada on February 9 and the G1 Santa Margarita on February 23. In the former she carried 126 pounds, giving from seven to 11 pounds to the other runners.
Lukas said at the time: "A couple of things stand out about her. First of all, there is her stride, almost deerlike, very efficient. It gives her the ability to be a natural distance horse. Then there is her attitude. We have a hard time keeping her from training too hard. She just enjoys her work too much. We put a heavy boy on her to keep her from galloping too fast, but she'll still give you a mile in 1:40 every morning."
Lady's Secret carried 127 pounds in the April 16 G1 Apple Blossom at Oaklawn Park, and the weight finally took its toll. Love Smitten, with 119 pounds, edged her by a neck in 1:40 2/5 for 1 1/16 miles, just 1/5 off the track record.
Back in New York in the care of Wayne's son Jeff, she won the G1 Shuvee on May 17. Then came a stiff test against the boys in the prestigious G1 Met Mile on May 26. She was a gallant third, beaten just over a length after leading most of the way. Garthorn won the race over Love That Mac, while Lady's Secret out-finished future champions Turkoman and Smile.
Weight brought her down again against the fillies in the G1 Hempstead on June 8. She shouldered 128 pounds on a muddy track and dueled for the lead almost the entire nine furlongs, but Endear (carrying 115 pounds) swept past in deep stretch to win going away.
A month later, on a hot and sultry day at Monmouth Park, she won the G2 Molly Pitcher, carrying 126 pounds and winning by 6 1/4 lengths in 1:41 1/5, just a tick off the 30-year-old track record.
Then came the G1 Whitney on August 2 at Saratoga. She carried high weight by scale, but it was a relative feather for her at 119 pounds. The track was a sea of slop after a thunderstorm, and Lady's Secret jumped out of the gate on top, leaving the boys in her wake for the entire nine furlongs. She was "lightning on four legs," wrote Russ Harris in The Blood-Horse.
Next came two tough races against the classy Precisionist. Both were upset by Roo Art in the G1 Iselin at Monmouth, then Precisionist won the G1 Woodward on August 30. Lady's Secret set the pace in both races and was still running at the end. In the Woodward, the colt had to run nine furlongs in 1:46 to defeat her, just 3/5 off Secretariat's track record.
Smashing performances
Wheeled right back in the Maskette on September 6, her fourth G1 race in five weeks, she demolished the field, winning by seven lengths under 125 pounds in a stakes-record 1:33 2/5, the fastest mile that had ever been run by a filly or mare at Belmont and just 2/5 off the track record.
After the race, Jeff Lukas said: "She has just physically and mentally improved so much. She is just getting stronger and better with every race."
The little filly showed just how strong she was in the Ruffian on September 21. Carrying a staggering 129 pounds, she toyed with the field, letting Shocker T. – a winner of 13 of 17 starts – take the early lead. But it was all over once the Lady hit the front after a half in :45 4/5. She turned the race into a procession, winning by eight lengths in a swift 1:46 4/5, a new stakes record for the nine furlongs.
The accolades flew. The Daily Racing Form's Joe Hirsch, a staunch admirer of the filly since the previous year, simply said: "The Iron Lady is in a class by herself." Trainer Woody Stephens was one of many who called her the greatest filly he had ever seen.
"They should bronze her and put her right next to her daddy," Lukas told the media, referring to the statue of Secretariat in the Belmont Park paddock. "Who ever said that Secretariat wasn't a good sire? She just takes your breath away."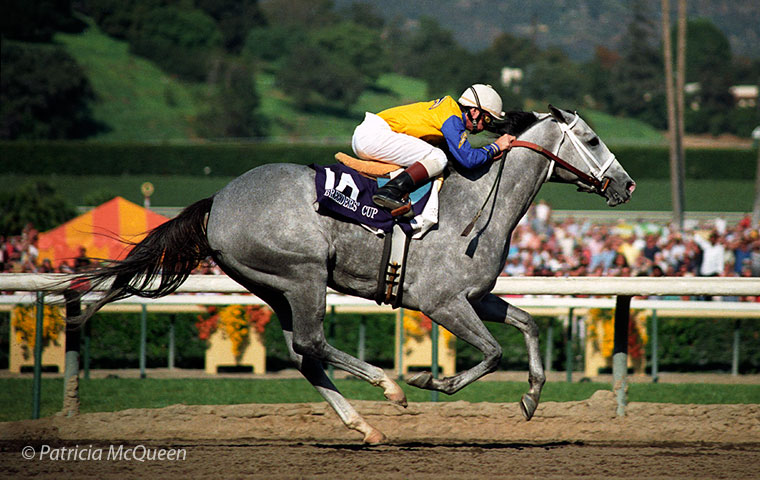 A repeat win in the 10 furlong Beldame set her up for a second try at the Breeders' Cup Distaff on November 1. This time she would not be denied, leading wire to wire in 2:01 1/5. A burst of speed on the first turn opened up four lengths on the field, and she accelerated again turning for home.
After Skywalker won the Breeders' Cup Classic in an upset over Turkoman and Precisionist, the lobbying started in earnest for Horse of the Year. "She's the best that ever ran," said Klein. "There is no other Horse of the Year."
Added Lukas: "The Horse of the Year has to do something extraordinary … Horse of the Year is Horse of the Year, from January to January." Jockey Pat Day added his voice: "She's a great individual, the best horse I've ever ridden." And Jeff Lukas summed it all up. "She's got a certain quality. I guess you could call it charisma."
Enough is enough
The voters agreed, and with the gold Eclipse Award safely tucked away, Lady's Secret was primed for a return in 1987. But, after 40 starts in 30 months, the Iron Lady finally developed a chink in her armor. She made her 1987 debut in the G2 Donn at Gulfstream Park on March 14. She led through a half but then retreated to finish sixth – her worst finish ever.
The morning after the race, Jeff Lukas said: "As far as we can tell, there is no reason why she did not run better. She did not settle into stride and run her race for the first time in her career ... the main thing is that she came back good. She will be back another day."
She did win two more allowance races – her first such races ever – at Monmouth Park on June 13 and July 21, finishing second in the Molly Pitcher between those efforts. The July 21 win sent her past All Along as the all-time leading female money-earner, with $3,021,425.
In all those starts, she had shown a tendency to bear out, but no one imagined what would happen next.
In a Saratoga allowance race on August 10, she bolted to the outside fence on the first turn and was eased by jockey Chris McCarron. "She acted like she wanted to go back to the barn instead of being on the track," the rider noted at the time.
Added Wayne Lukas: "Physically, she's absolutely perfect. But, if she was human, we'd take her to a psychiatrist in the morning."
He guessed that her troubles began when she cut her mouth one morning earlier in the year; that had resulted in a bridle change to a figure eight with an easier bit.
Lady's Secret got her wish. She was officially retired in October with a tally of 25 wins in 45 starts. Her eight G1 victories in 1986 remain the most any horse has recorded in a single year since races were first graded (although the great Cigar matched that feat in 1995).
Everything else in her story is really a footnote to her extraordinary racetrack exploits. She was offered as a broodmare prospect in November 1987 and again in foal to Alydar in November 1988, but failed to sell both times at $5.4 million and $4 million, respectively.
Lady's Secret was finally sold by Klein in November 1989 for $3.8 million to Fares Farm, and sold one last time in 1998 for $750,000 to John and Kim Glenney.
Like many outstanding racemares, she did not achieve success as a broodmare. In total, she produced 12 foals, 10 starters and five winners. The champion died suddenly on March 4, 2003, hours after producing a colt by General Meeting.
Leading an effort to ensure the Iron Lady's memory doesn't fade is racing fan Sisi Loehrer, who is raising money to establish a memorial garden at the mare's burial site in California and also trying to re-establish a G1 race named in her honor. That distinction ended when the Lady's Secret Stakes at Santa Anita was renamed after Zenyatta in 2012.
Two great mares for sure, but the Lady's accomplishments stand alone.
Previous articles in Patricia McQueen's series on Secretariat's offspring