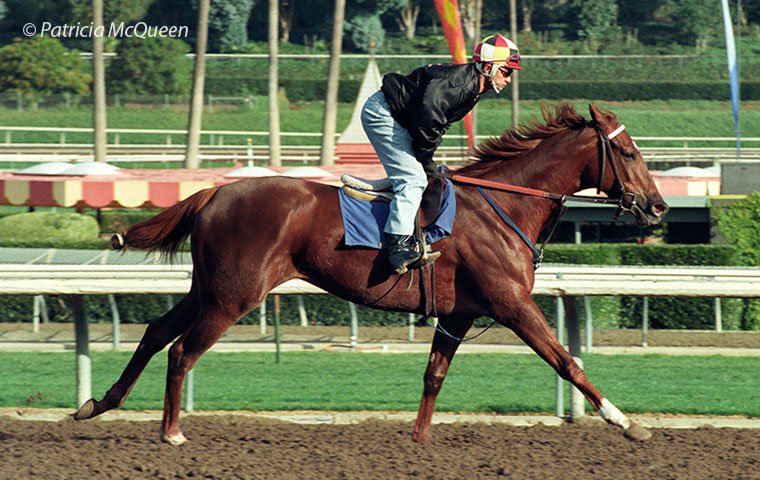 In the racing industry, the term 'giant killer' is commonly used to refer to the great trainer H. Allen Jerkens. Twice he took down Secretariat on the racetrack, with Onion and Prove Out. The phrase might also be applied to one of Secretariat's offspring, a chestnut filly named Super Staff.

After all, she twice defeated one of America's top turf mares of all time, multiple champion and future Hall of Famer Flawlessly. But that's getting ahead of the story.
Prince Khalid Abdullah, master of Juddmonte Farms, is one of Thoroughbred racing's elite breeders. With properties in the United States, Ireland and the United Kingdom, Juddmonte typically breed to race, and the list of top-class homebreds reads like a Who's Who of great race horses.
The farm bred two of Secretariat's stakes winners, Transcript (out of Devon Ditty) and Tinners Way (out of Devon Diva, a daughter of Devon Ditty), but one of Big Red's most successful runners, Super Staff, was purchased by Abdullah at the 1989 Keeneland summer yearling sale.
The filly, born March 11, 1988, was out of Prodigious, a French-bred winning daughter of Pharly, and was bred by Rhydian Morgan-Jones, the managing director of one of Juddmonte's English farms. Prodigious had been purchased carrying Super Staff at Keeneland in 1987 for $100,000, and Abdullah bought the resulting foal as a yearling for $160,000.
Running style better for U.S. tracks
Like many of Juddmonte's horses at the time, Super Staff was sent to England to race. "Back then, nearly everything that had classic potential was sent to start their career in England," recalled Garrett O'Rourke, manager of Juddmonte Farms USA. But Super Staff never showed her true worth on the undulating English turf courses.
She made one start at two, finishing second in a maiden at Leicester on October 15, 1990. She didn't surface again until she broke her maiden at Doncaster on May 25, 1991. Two more starts in England – at Ascot and York – resulted in unplaced finishes, and she was sent to trainer Ron McAnally in southern California in late summer 1991.
"When Juddmonte sent her to me, they were not that high on her," he said after her victory in the 1992 G1 Yellow Ribbon Stakes. "They just said, 'We're giving you a filly.'" At the time, Bobby Frankel got most of Juddmonte's highly-regarded imports, but Super Staff quickly showed that she was much better than her English form suggested.
One possible explanation was her running style – with her head down low to the ground, much like Secretariat's grandson A.P. Indy. "If you have that kind of action, you'd better be on a flat track," reasoned O'Rourke. "Because, if you hit an undulation, you get unbalanced very easily" if your action barely clears the ground. "Super Staff used that stride to perfection [in the U.S.] – she really got her momentum going and was probably helped by the flat tracks over here."
Stubborn streak
A bit of a stubborn streak didn't hurt, either. "She was tough and stubborn, and I think her races would reflect that," he added. "She'd put that head down in battle, and that definitely made her very difficult to pass by."
In her first American start, Super Staff won a mile allowance race on the Santa Anita turf on April 4, 1992. She followed that with another victory at a mile a few weeks later, this time at Hollywood Park, coming within 3/5 of the course record with a time of 1:33.55. In both races, she came from well off the pace, but in her next two starts there was a change of tactics, as she prompted the pace in two more allowance races, both at 1 1/16 miles. On June 21 at Hollywood, she finished second, and on July 12 she won as the odds-on favorite.
It was time to graduate to stakes company in the August 1 G2 Palomar at Del Mar.
Despite interference on the turn, she got up from fifth to win by a half-length. It was McAnally's first stakes win for Juddmonte. According to the race recap in The Blood-Horse, Super Staff was practically turned sideways for a few strides, and it just made her mad, said jockey Chris McCarron. "She pinned her ears and dug back in. She's a very competitive filly."
Desperate finish
Next came an inexplicable sixth-place finish in the G1 Beverly D at Arlington on September 5, but, in light of what was to come, her worst race in the U.S. was forgiven.
In the October 18 G2 Las Palmas at Santa Anita, Super Staff faced the heavy odds-on favorite Flawlessly, a daughter of Triple Crown winner Affirmed who had turned into a monster once switched to the turf in 1991. At the time, she had lost only once on the grass and was on course to a championship. But Super Staff was ready. Getting eight pounds from Flawlessly, Secretariat's daughter led wire to wire under new rider Kent Desormeaux (McCarron was Flawlessly's regular rider) and held her rival safe by three-quarters of a length in 1:46 4/5.
Super Staff lost her weight advantage in the Yellow Ribbon on November 8, as both fillies carried 123 pounds. "I knew we had our work cut out for us, because the other filly did spot us weight in that first race," Ron McAnally told The Blood-Horse. "I knew at even weights it would be difficult ... [but] pace always plays an important factor in any race, and we took advantage of it."
Indeed – Super Staff led every step of the way with fractions of :24 for the first quarter and :47 1/5 for the half. Flawlessly closed resolutely from mid-pack, and the two put on a wild stretch duel. But Super Staff kept her low nose in front at the wire under Desormeaux, winning in a desperate finish in the excellent time of 1:59 1/5 for the 10 furlongs.
Championship decider
As an aside, the Yellow Ribbon field that year included Fantastic Ways, another of Secretariat's stakes winners – it was one of only 10 times that two of his stakes winners ran against each other.
But a filly that would have the most impact on the breed actually trailed in last in the race. Urban Sea was a future Prix de l'Arc de Triomphe winner who would go on to produce another Arc winner in Sea the Stars, along with one of the greatest sires of all time, Galileo.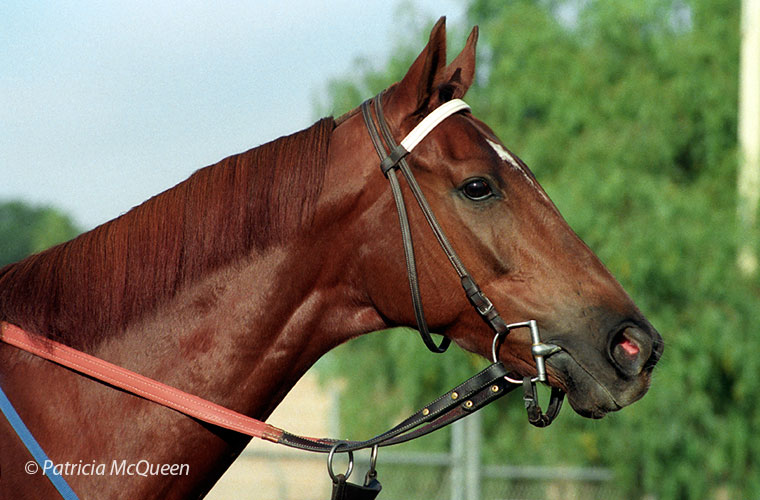 So it was two wins against Flawlessly for Super Staff, and the two were not done yet. In a race that would decide the champion turf female of 1992, they came together again in the G1 Matriarch at Hollywood on November 28. They were joined by Beverly D winner Kostroma. Despite her two victories, Super Staff was just third choice behind Flawlessly and Kostroma. All three carried equal weights at 123, and Super Staff had new rider Eddie Delahoussaye aboard.
This time it was Kostroma who led early under Desormeaux, with Super Staff galloping along in fourth, just ahead of Flawlessly. Secretariat's filly collared Kostroma in the stretch, but couldn't hold off Flawlessly, who got up to win by a length going away. In the process, Flawlessly secured the Eclipse Award with her second of three consecutive Matriarch wins.
"She ran a good race in the Matriarch, even though she was second," McAnally told the press at the time. "It was a great race, with those three running together. I think it was one of the best races of the year."
Disappointment at stud
Super Staff was kept in training for 1993, but fractured her left hind cannon bone in February. After successful surgery, she was preparing for a comeback that fall, but the injury didn't heal to satisfaction. She was sent home to Juddmonte's Kentucky farm in November 1993 with high hopes as a stakes-winning daughter of Secretariat, who had proven himself as an outstanding broodmare sire.
Unfortunately, Super Staff produced only one maiden winner from five starters and nine total foals. "She was obviously a huge disappointment," said O'Rourke. "She never even threw a foal that looked like her. I guess she didn't have a dominant gene in her."
Super Staff did, however, have a strong and forceful personality – that stubborn streak which served her well on the racetrack. "I wouldn't call her a lovable mare – she was a little bit odd. She didn't like being messed with, didn't like being caught. She got those traits from her dam Prodigious."
O'Rourke commented that, on first glance, Super Staff was all Secretariat in appearance – a red chestnut with similar markings and that same cresty neck. "But, when you got up close and scrutinized her, she was very narrow and kind of on stilts, leggy and lean."
Super Staff's last named foal was her only winner, the 2006 Dynaformer filly Simple Solution.
Bred twice more, Super Staff was then pensioned and lived out her days at Juddmonte, and died of an apparent heart attack at age 24 in early 2012.
Source
Contemporary race reports in The Blood-Horse
Previous articles in Patricia McQueen's series on Secretariat's offspring