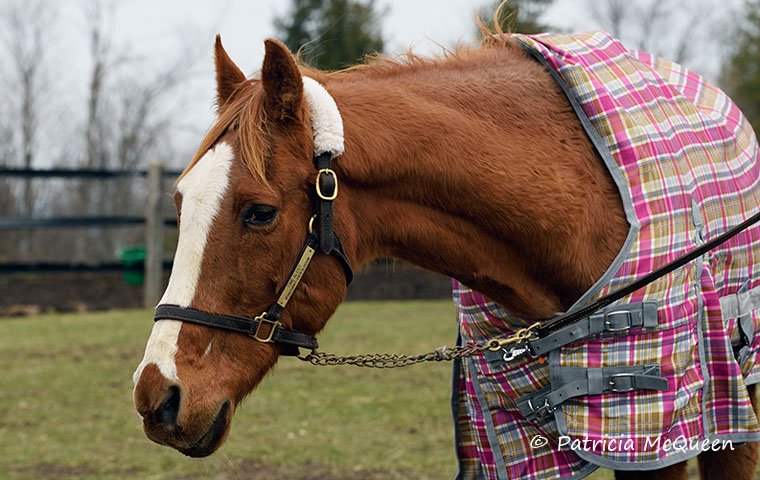 Secretariat will always be connected to Woodbine. Of course he ended his spectacular racing career at the Toronto track, a shining beacon in the gloom on a cold and stormy day in October 1973. But it didn't end there. Key milestones in his stud career also link him to Canada's premier racing facility.

His first winner as a sire came at Woodbine on September 11, 1977, as daughter Feuille d'Erable won in her second career start. Son Medaille d'Or was Secretariat's first champion thanks to his 1978 win in the track's Coronation Futurity.
------------------------------
TIME ALERT'S STORY
Patricia McQueen's orginal article about the son of Secretariat was first posted on March 12.
You can read it here
------------------------------
Woodbine was also home to Secretariat's very last starter – at age ten, Time Alert became that special horse with a good second-place effort there on May 1, 1999. The gelding then became a celebrity in retirement under the watchful eyes of John and Maggie LeBlanc, often making return visits to Woodbine to help raise money for LongRun Thoroughbred Retirement Society. It was a noble purpose for a noble Thoroughbred.
That purpose came to a sudden and unexpected end the night of April 14. Despite his 29 years, Time Alert looked to be in great health, remaining feisty and eager to get to his feed every day even as he struggled with missing teeth. It was no different that night; he ate most of his dinner and all seemed well. But the next morning, there was no nicker to greet John as he went into the barn. By all appearances the gelding had simply died peacefully in his sleep – there were no signs of a struggle in his stall.
Just two days earlier, John had smiled when Timer (as he was affectionately known) galloped around and came up to the gate when called in for a meal.
"I said to him, 'well aren't you full of energy today.' Then he almost ran me over to get in the barn to get to his feed tub. We're so thankful that he lived well right up to the end, sound, in good health and enjoying time out with his longtime friends. We couldn't ask for a better ending for him."
Fittingly, the LeBlancs' son, Douglas, spent some of that last day with the gelding, cleaning his stall and letting him enjoy some time outside before the weather got too bad as an April ice storm hit the area.
Douglas was born in 2000, so he has known Timer his whole life. When he was a young boy, a photo of him with the horse became a signature image for LongRun as that organization became established.
"The LeBlanc family has been long time supporters of Thoroughbred retirement and, in fact, Maggie was a founder and original board member of LongRun," said LongRun's chair and co-founder, Vicki Pappas.
"John LeBlanc was kind enough to bring Time Alert in and accustom him to track life again before he acted as our equine ambassador at Woodbine as a part of several LongRun 'Day at The Races' events. As a son of the immortal Secretariat, Time Alert always attracted a huge and loving crowd of race fans. He was an important part of our being able to spread the word about the merits of our program and Thoroughbred retirement."
Everyone in the family was thrilled to have a son of Secretariat on the farm, but he was so much more than that to the LeBlancs. "He was almost like a person in the sense that he had such a funny personality," said Douglas. "If I was having a bad day and I went out to the barn, I knew he would always make me laugh and feel better."
The laughs turned to tears as Timer was buried beside his paddock next to his long time friend, Diligent Prince.
"I'll miss him dearly," said Douglas, echoing his parents' sentiments as they come to terms with the loss of a cherished family member. "I know he'll be with me always through all the memories I have of him." And for the now young man, it is quite literally a lifetime of memories.
Previous articles in Patricia McQueen's series on Secretariat's offspring
PLUS