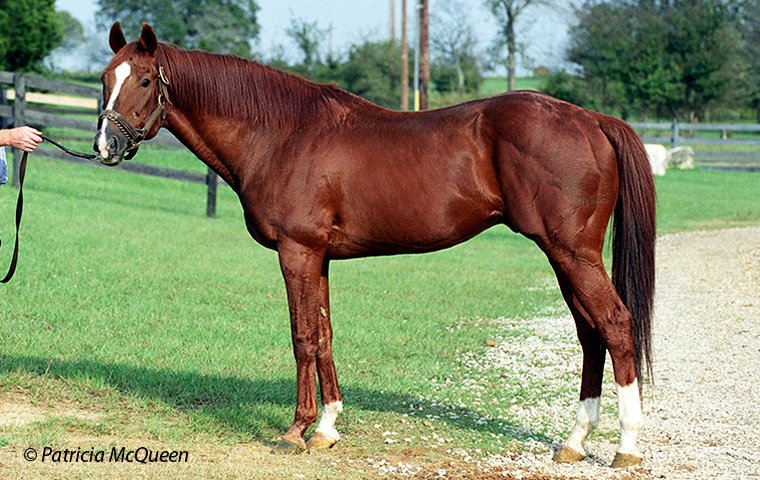 Forty years ago this month, Secretariat ushered in the era of the million-dollar yearling when a member of his first crop brought $1.5 million, more than twice the previous record for a yearling sold at auction.

That handsome son, a half-brother to champion Dahlia named Canadian Bound, failed to win a race in four starts and similarly disappointed as a sire, but that's often what happens in the yearling game.
All sorts of records fell at those 1976 auctions due to the Triple Crown winner's influence, but it would be seven years before another of Secretariat's yearlings sold for more than $1 million. This one was no surprise – not only was he a good-looking individual, he was out of the Crimson Satan mare Crimson Saint, which made him a full brother to Terlingua.
Trainer D. Wayne Lukas had trained that speedy filly, and went to $1.8 million to get her brother at Keeneland in July 1983. In fact, Lukas bought six of Crimson Saint's yearlings over the years, including four by Secretariat.
Lukas purchased the $1.8 million yearling on behalf of his client Lloyd R. French Jr., although the trainer kept an interest in the colt. He was named Pancho Villa after the legendary Mexican revolutionary who had raided the French family ranch in southern Texas.
Pancho Villa and Terlingua were by far the best of Lukas' Crimson Saint purchases; their full sister Navajo Pass cost him $2.1 million in 1990 (Secretariat's highest-priced yearling ever) but would only win two races; brother Border Run brought $650,000 in 1989 and placed in minor stakes at Fairplex.
Inauspicious debut
Born April 27, 1982, Pancho Villa showed flashes of brilliance in his 18 starts. The chestnut colt didn't make his debut until February of his 3-year-old year, in a Santa Anita maiden race on February 2, 1985. He finished 10th of 12, not exactly an encouraging start.
But Lukas took the blame. "He's the kind of colt that likes to play around, and he was all over the race track that day," he said at the time. "I should have put blinkers on him."
With blinkers on for his next start on March 2, Pancho Villa led wire to wire at odds of 28-1, drawing away in the stretch to win by 3 ½ lengths under jockey Darrel McHargue, going six furlongs in 1:10 3/5. He then ran into up-and-coming sprint sensation Phone Trick, finishing second to that one in 1:15 4/5 for 6 ½ furlongs on March 16.
Lukas thought enough of the colt to send him to Aqueduct for the G2 Bay Shore just a week later. Facing the likes of Spend A Buck and Eternal Prince, Pancho Villa went off at 14-1 with jockey Frank Lovato Jr. up. Spend a Buck was the 7-5 favorite, making his first start as a 3-year-old.
At the start of the seven furlong race, Pancho Villa and others were bothered by I Am The Game, but he recovered well and was content to ease along from sixth early to fourth after a quarter before moving to the leaders, Don't Hesitate and Eternal Prince. He took the lead after a half in :45 3/5 and was in front by four lengths at the eighth pole. El Basco made a late run to be 3 3/4 lengths behind Pancho Villa at the finish; Spend A Buck was third. The time of 1:22 1/5 was a full second faster than his sire's race in 1973 despite the track running very tiring and slow.
'Best performance by a 3-year-old'
"It was the best performance by a 3-year-old this season in New York," wrote Russ Harris in The Blood-Horse. In the Daily Racing Form, Mike Watchmaker was even more admiring: "... to put it simply, he murdered the eight other 3-year-olds Saturday… He broke loose from Spend A Buck and I Am The Game as though they were standing still and joined the leaders from the outside on the turn... it was an enormous move."
Off that performance, he was favored in the April 6 G2 Gotham. This time, though, Eternal Prince led wire to wire, with Pancho Villa holding second after breaking from the difficult inside post in the mile chute.
After a fifth to Eternal Prince in the G2 Wood Memorial, Lukas regrouped, and the colt's next appearance was an allowance race at Belmont on June 3. Against older horses, jockey Angel Cordero had him battling for the lead the entire six furlongs, and he won by a nose in 1:08 3/5, just 1/5 of a second off the track record.
Back in California, he was part of an entry with Secretariat's Image Of Greatness in the June 29 G2 Silver Screen at Hollywood Park, and they were second choice behind future champion Turkoman. Laffit Pincay Jr. aboard Pancho Villa let Image Of Greatness set the pace in a battle with Proudest Doon, then came on to win by a half length over that one in 1:33 4/5 as Image Of Greatness faded. "He's fast, but he's at his best coming from two or three lengths back," said Lukas of Pancho Villa after the race. "He likes to run eyeball-to-eyeball with another horse, like he did today."
He met Spend a Buck again in the G1 Haskell at Monmouth Park on July 27. He pressed the champion's early pace, but faded to last of seven in the nine furlong race, which Skip Trial won in a major upset.
Revenge on a Breeders' Cup winner
Clearly shorter distances were his forte. Back to seven furlongs in the August 17 King's Bishop at Saratoga, Pancho Villa won by three quarters of a length in 1:22 1/5, this time coming from way off the pace under Darrel McHargue. Next he was a game second in the one mile G1 Jerome at Belmont with Pincay back aboard, pressing the fast pace and battling with winner Creme Fraiche to the wire.
He had a big excuse when he finished eighth in the G2 Fall Highweight at Belmont on October 5. Pincay had to check him hard trying to avoid a nasty spill and the colt never recovered his momentum.
Absent similar drama in his next start, Pancho Villa won a six-furlong overnight handicap on October 17. Then came a fifth in the G1 Breeders' Cup Sprint, as he made a run from far back to finish 3 3/4 lengths behind winner Precisionist in 1:08 2/5. He closed out his New York campaign with a second to Another Reef in the seven-furlong G1 Vosburgh on November 16 on a sloppy track.
Pancho Villa got some revenge on champion Precisionist in the November 30 G3 National Sprint Championship at Hollywood Park. Chasing Charging Falls early, he battled with that one down the stretch, edging away to prevail by a length after a little three-way bumping between those two and third-place Temerity Prince. Precisionist was fourth, seeming to never get hold of the muddy track. The time was 1:08 4/5, equaling the track record.
Early retirement and a long stud career
Less than a month later, Pancho Villa began his winter campaign as the odds-on favorite in the G2 Malibu at Santa Anita, but he finished fifth after failing to fire.
In what would be his last start, he battled gamely in the G3 Sierra Madre on February 15, an off-the-turf event where he finished a close second to winner Halo Folks. He came out of that race with a condylar fracture of the right front cannon bone, and had surgery three days later.
Pancho Villa was retired that fall with a record of seven wins in 18 starts and earnings of $596,734. He had already been syndicated for more than $6 million to stand at Kentucky's Gainesway Farm, and he entered stud in 1987.
His first foals turned plenty of heads, and many experts expected him to have a good freshman sire year in 1990. By year's end, he had 10 two-year-old winners – one stakes winner in Shotgun – and earnings of $213,243, putting him 14th on the list of leading first-crop sires by money won.
Through the end of the next year, Pancho Villa had moved up among his contemporaries, ranking ninth on the list of leading second-crop sires, and his first-crop filly Do It With Style won the 1991 G1 Ashland Stakes.
Popular in Texas
He was proving to be a useful sire, with annual earnings of $1 million or more from 1992 through 1996.
After the 1994 breeding season, he was sold and sent to Dr. and Mrs. Steve Hicks' Cedarcrest Farm in Texas, where he was syndicated again. He was a popular stallion in the Lone Star State, serving regular books of 30-40 mares most years. He led the Texas sire list his first year in the state and continued to rank near the top of that for several more years.
In total, Pancho Villa sired 625 foals, the most of any son of Secretariat, thanks in part to a breeding career that spanned 19 years. Although he sired only one G1 stakes winner, he did have foreign champions in Bonus Award, a stakes winner in the U.S. before going to the Dominican Republic, where he was named champion imported older horse in 1996, and Lucha Villa, champion imported 3-year-old filly in Panama in 1995.
His leading money winner was the stakes-winning Lazy Luke at $449,526. All told, he sired 23 stakes winners and the earners of $16.2 million, ranking him second in both categories (to General Assembly) among Secretariat's sons at stud.
In his Texas offspring, Hicks noticed the quality that the Kentucky breeders had seen early on, adding that "he stamped his babies with the same musculature – most of them were as well developed as he was."
A taste for the good stuff
As he got older Pancho Villa developed anhidrosis (non-sweating) in the hot Texas summers. Hicks and his wife Caroline tried a typical stable remedy – beer in his feed. Given some Coors that was on hand, the stallion gobbled it up. He just loved it. To save a little money, they tried a cheap beer for the next batch. Pancho Villa would have nothing to do with the cheap stuff – "he looked at us like we had lost our minds", said Hicks. So it was back to Coors on the hot days and it did help him sweat a little in an effort to regulate his body temperature.
Pancho Villa was getting ready for a 20th breeding season when he dropped dead after teasing a mare on February 20, 2006, from a heart attack, likely a ruptured aortic aneurysm.
Hicks, who ended up with sole ownership of Pancho Villa a few years after the stallion moved to Texas, remembers him fondly. "I count myself very lucky to have been associated with such a class, class animal as Pancho Villa. He was just such a gentleman in the way that he handled himself. We really loved him."
Previous articles in this series
Talented, unlucky and loving - the story of Academy Award
The son who ran the fastest Melbourne Cup ever
The 'crazy' horse who got Secretariat off the mark as a G1 sire
The 'gorgeous' G1 colt who couldn't take the pressure
The flying filly responsible for Storm Cat
The incredible power of Risen Star