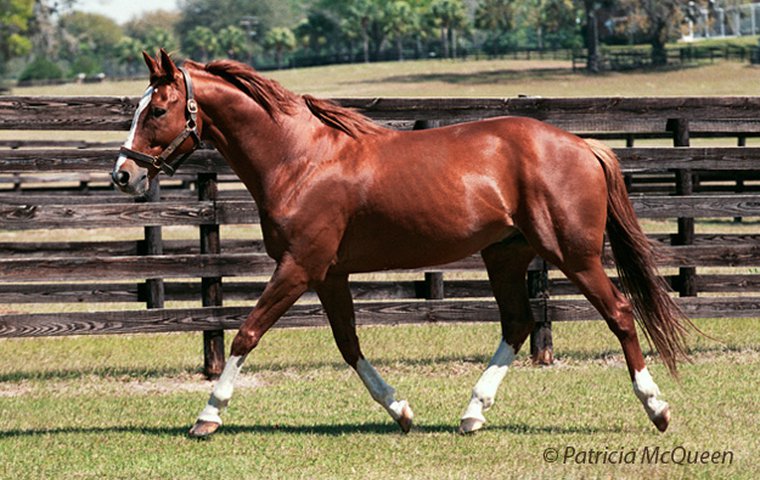 In the latest in her occasional series on some of Secretariat's most notable progeny, Patricia McQueen looks at the career of a Grade 1-winning colt who looked for a while to be a potential Kentucky Derby candidate. The previous article was about his first stakes winner, Dactylographer.

This time of year anyone with a promising newly-turned 3-year-old is naturally thinking ahead to the first Saturday of May at Churchill Downs. In the winter of 1985, a flashy son of Secretariat named Image of Greatness appeared to be headed towards Kentucky.
For owner/breeder George Steinbrenner, having a Secretariat colt on the Kentucky Derby trail really put the late New York Yankees owner into the Thoroughbred racing spotlight for the first time. It was well publicized that Steinbrenner thought Secretariat was the greatest racehorse in history, and that the 1973 Belmont Stakes was the most astonishing performance he had ever seen.
So it's no surprise that Image of Greatness was his favorite horse, one to which he held a strong emotional attachment that never waned. Not even after he pretty much failed as a sire – the stallion had a permanent home at Steinbrenner's Kinsman Farm in Florida long after others would have come and gone based on their performance in the breeding shed.
"He just loved Image," said Jim Scott, Kinsman's long-time manager, who had served a previous term as manager when the horse was a youngster.
Back then, it was clear that Image of Greatness was going to be a good horse.
"Image was one of the nicest horses to be around – very intelligent, very precocious," recalled Scott a few years ago. "He did anything you asked him to do. He was easy to break and train, and just had such a lovely way of going. He probably looked better than he really was just because of how flashy he was. You could see him coming from a mile away with all that white flying all over the place – it looked like he was going 100 miles an hour when he was standing still. I always thought he was gorgeous."
Image of Greatness was born at Kinsman on March 23, 1982. His dam, By the Hand, was a winning daughter of Intentionally, bred by Florida's famed Tartan Farms. Her first few foals for Tartan included two durable colts by Dr Fager who made a combined 184 starts but were not stakes-class runners.
Steinbrenner bought By the Hand, in foal to Arts and Letters, in 1980 for $105,000. The next year she was bred to Secretariat, a mating planned by George's son, Hank, who thought Intentionally would make a good cross. The resulting foal, Image of Greatness, was her first stakes winner. Her only other stakes winner (G1 winner Buy the Firm) was a daughter of Triple Crown winner Affirmed.
California dreaming
After his early lessons in Florida, Image of Greatness was sent to trainer John Fulton in California, who had trained Steinbrenner's 1977 Kentucky Derby starter Steve's Friend. The colt's first two starts at Del Mar resulted in third- and second-place finishes after showing early speed.
He won his third start on October 27, 1984 – a front-running win in a six-furlong maiden at Santa Anita, drawing off in the stretch to win by almost 10 lengths in an eye-catching 1:08 2/5.
That performance had everybody talking – and had Steinbrenner thinking Breeders' Cup. He really wanted to be a part of history with a runner in that very first Cup on November 10, 1984, but his star 2-year-old came down with a fever and virus, forcing him to miss the Breeders' Cup Juvenile.
That race was won by Chief's Crown, a grandson of Secretariat.
Given a little time to recover, Image of Greatness ran next in an allowance race at Hollywood Park on December 2, again battling for the lead throughout. Heavily favored at 2-5, he lost by a nose to Stephan's Odyssey, who came back to win the Hollywood Futurity later in the month. Image of Greatness finished sixth in that race after battling for the lead early; it was his first race on an off track.
The colt made his last start for Fulton in the San Miguel at Santa Anita on January 23, 1985. He was outgunned early by winner Teddy Naturally and finished second. Afterwards, Steinbrenner transferred the colt to trainer D. Wayne Lukas, and he won a one-mile allowance race on February 17, going wire to wire in 1:35 4/5 under Laffit Pincay Jr.
A month later, Image of Greatness got his Grade 1 victory in the March 17 San Felipe, historically an important step along the Derby trail. This time he was reserved off the pace, tracking pacesetter Stans Bower and taking the lead as the field turned for home. He had just enough left to hold off future Breeders' Cup Classic winner Skywalker by a nose to secure the victory under strong handling. The time was a rather pedestrian 1:43 1/5.
"He relaxed good for me today, which he hadn't been doing in his earlier races," said Pincay after the race, as reported in The Blood-Horse. "To tell you the truth, I didn't think this horse could go 1 1/16 miles, but Wayne told me he was ready."
He was ready, and relaxation was the key. Quoted in the Los Angeles Times, Lukas said: "What we wanted to see today was whether he could carry his speed and relax, and he passed both of those tests. He was physically fit when I got him, John [Fulton] had done a good job and he had a good base. What I'm trying to do is get inside the horse's head, to get him to think like I do."
Backwards, not forwards
Unfortunately that win was his last. Image of Greatness was sent to Latonia (now Turfway Park) for the Jim Beam Stakes on March 31, run on a track listed as good from morning rain. After a slow start, he took the lead around the clubhouse turn and held it to the top of the stretch, where Banner Bob collared him. The two battled to the wire, and it was Banner Bob by three-quarters of a length; the time of 1:42 equaled the track record for 1 1/16 miles.
Six days later, the colorful chestnut tried the Cherry Hill Mile at Garden State Park, this time under Bill Shoemaker. He never really got into the race, dropping out of contention after laying third for the first six furlongs.
Image of Greatness was actually favored over upstart Spend a Buck, who won by 10½ lengths on his way to the Kentucky Derby. Shoemaker offered no excuses, other than maybe he ran back too soon – and Steinbrenner took the blame for that in the media.
So, despite early promise, Secretariat's son would not make the Kentucky Derby. Instead, he ran in the G2 Withers at Belmont Park on May 8. Again favored, he tired badly after leading for six furlongs, finishing fourth at a mile.
Sent back to California, he was tried on the turf a month later in the G2 Cinema at Hollywood Park over nine furlongs. Carrying top weight of 122 pounds, giving at least six pounds to the other runners, he led until the top of the stretch and tired to finish eighth.
His last start was the G2 Silver Screen, back on the Hollywood dirt, on June 29. He again pressed the pace – a rapid half in :44 4/5 and six furlongs in 1:08 4/5, before dropping back to finish seventh. The winner that day was Pancho Villa, another speedy son of Secretariat trained by Lukas.
Image of Greatness was officially retired in November, with a record of three wins in 13 starts and earnings of $230,699. He entered stud at Kinsman in 1986.
Thinking back on his racing career, Scott thought the wet track in the Jim Beam did him in and the subsequent schedule just wasn't suited to this particular horse.
"Most of the other Secretariats were tougher than Image. He was all colt, but dainty, almost feminine in his attitude and the way he moved. That's why I think he didn't last too long – he couldn't handle that pressure."
As a new stallion, there were some 40 foals in his first crop, and Image of Greatness ranked 24th on the list of leading first-crop sires in 1989 with earnings of $142,014. He had five winners and seven wins, with stakes-placed Image On High his leading earner.
The leading first-crop sire that year happened to be Chief's Crown.
Image Of Greatness' foal crops declined thereafter, and he was never nationally-ranked again. He did pop up a few times low on the leading Florida sires lists by earnings and winners.
His first stakes winner was Silent Greatness, who won the 1992 Tropical Park Oaks and the 1993 Dahlia Handicap and earned $242,561; she was bred by Kinsman. Stakes winner The Clan's Chief was his leading earner, banking $346,438 over 56 starts. He sired only one other stakes winner, $177,371-earner Lambana.
In total, Image of Greatness sired less than 160 foals in 11 crops and his progeny earned $3.5 million; his last foals were born in 2000. He lost a recurring battle with laminitis at age 20 in 2002.
Sources
Contemporary race reports in The Blood-Horse, Daily Racing Form and Los Angeles Times