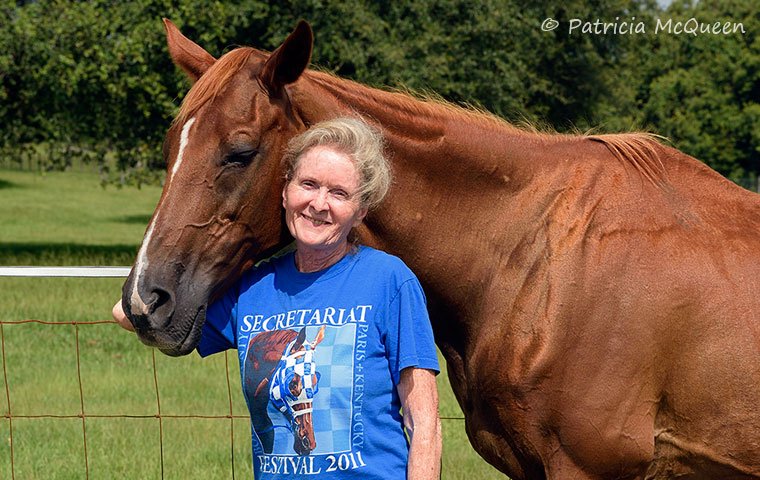 Just ten years ago, Florida resident Shirley Bennett didn't know anything about Thoroughbred racing or pedigrees. She had always loved horses, but her actual experience was limited to the Quarter Horses she owned and some early fox hunting and polo. Then, like many of us, she learned about Secretariat and was drawn in.

It started with an unplanned trip to Kentucky in 2009. There on unrelated business with a friend, she happened to meet Roger Braugh, who started telling tales of his exploits in the horse racing industry. He had owned the speedball Crimson Saint, who went on to produce Secretariat's daughter Terlingua. That flying filly, of course, would become the dam of Storm Cat. None of those names meant anything to Bennett at the time.
Braugh had a Storm Cat stallion, Tropical Storm, and he took his new friend for a visit. "The horse was gorgeous," she remembers, and thus her education in Thoroughbred breeding and racing had begun.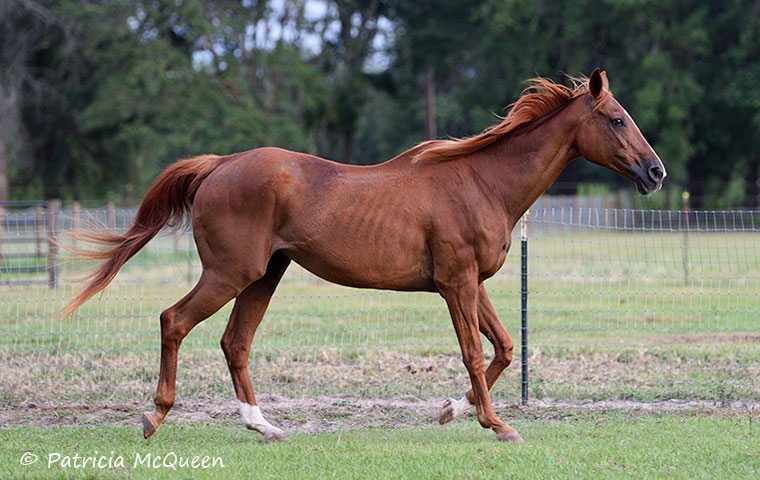 Braugh started introducing her around town, and Bennett went all in. One of her new friends, Betsi McCullough, told her about a horse named Extreme Supreme, who needed surgery to repair a fractured sesamoid. "We went to look at him and I fell in love with him." She agreed to pay for the surgery and ended up owning him in return.
Given a high probability for a successful recovery, she needed broodmares. With Braugh's help, she bought three; she ended up with a fourth after McCullough begged her to take a 19-year-old mare named Secretariat's Fire, who needed a new home. At the time, of course, Bennett had no idea what that mare represented.
An Evans homebred
Secretariat's Fire was bred by the late Virginia owner-breeder Edward P. Evans, who bred more than 100 stakes winners, including Horse of the Year Saint Liam and current prominent sire Quality Road.
At the 1989 Keeneland November breeding stock sale, he spent $800,000 to acquire the Mr. Prospector mare Prospector's Fire. The 13-year-old mare had already produced G1 winners Fire The Groom and Dowsing, and was in foal to Secretariat. It was the last year any mares would be available in foal to the Triple Crown winner, who died October 4, 1989. With Secretariat mares proving themselves as outstanding producers, perhaps Evans hoped he'd get lucky with a filly to add to his breeding program.
He did get the filly, as Prospector's Fire produced a lovely chestnut foal on February 13, 1990; she was one of the first foals born in Secretariat's final crop. Named Secretariat's Fire, Evans sent her to trainer D. Wayne Lukas in California for her early lessons. While Lukas had a strong track record with Secretariat's offspring – horses like Lady's Secret, Terlingua, Pancho Villa and Image Of Greatness – the young filly wouldn't follow in their footsteps.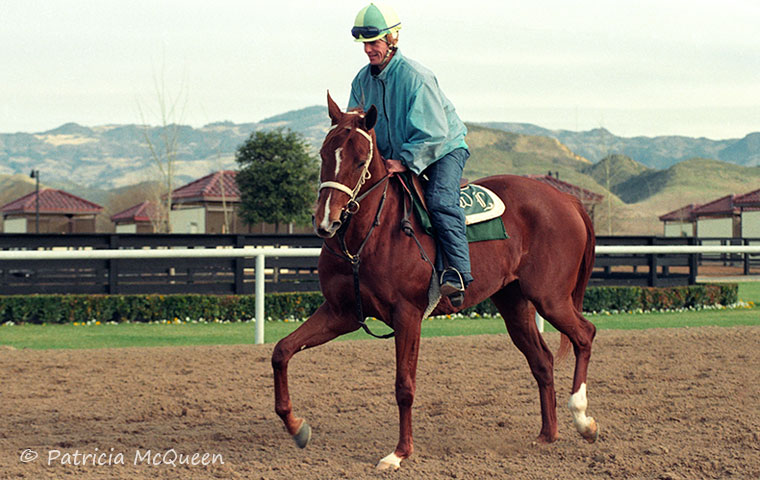 She made her first start for Evans and Lukas at Oaklawn Park on March 28, 1993, going six furlongs on the dirt. Racing midpack, she was no threat and finished sixth. Less than three weeks later, she was fourth in another maiden special weight at the distance, this time at Keeneland. She showed some improvement, stalking the pace in third through most of the race.
Secretariat's Fire was then sent to the barn of trainer Bill Mott in New York. Her final three starts were made on the Belmont Park turf course, each at 8½ furlongs under jockey Craig Perret. On May 12, she finished sixth while showing considerable improvement over her dirt efforts. She pressed the pace, tracking the leader in second through six furlongs before tiring. Next was a rallying third-place finish on June 6. Off that race, she was favored for the first time in her career in her last outing on June 30. She raced right behind the pacesetter and ultimate winner for most of the race, closing the gap and battling that one in the stretch. She just missed, finishing second by a neck.
That was it for the 3-year-old, whose uninspiring record showed one second and one third in five starts for earnings of $9,630. Of course the hope was that she would redeem herself in the breeding shed.
Evans bred her to Kris S. in 1994, and, while the resulting foal – Office Fire – was unraced, she would go on to produce several winners, including the stakes-placed Kindling. There were useful winners scattered among the Secretariat mare's next few foals for Evans, including her leading earner Ransom's Fire, a son of Red Ransom.
Evans sold Secretariat's Fire at the Keeneland November sale in 2002; she brought $50,000 while in foal to his Storm Cat stallion Stormin Fever. The buyer was listed as Twin Willows; the mare's next five foals were bred in the name of Kathy Jones and Lynn Jones. The last of those, the 2009 colt Hot Afleet, won two of 16 starts in Puerto Rico.
It was that year that Shirley Bennett learned she needed a home – a lucky twist of fate, as it turned out.
Honoring Secretariat
The newcomer to Thoroughbreds had intended to breed her four new mares to Extreme Supreme in 2010, but unfortunately there were post-surgical complications and the horse didn't survive. It was a rough introduction to the business, but Bennett plowed ahead. In finding stallions for her mares, she wanted to honor the horse she owned so briefly, who was a son of Deputy Minister, so she chose that one's great grandson, Midnight Lute, as the mate for Secretariat's Fire.
Over the next year, Bennett studied pedigrees and learned about Secretariat. When the feature film came out in the fall of 2010, she finally realized what she had.
She recalls seeing the movie in a crowded local theater, and the emotions just poured out. "I was crying during the birth scene, and remembered thinking that nobody in the theater understood the passion I had at that moment, experiencing the history of the father of Secretariat's Fire." That was when it all really hit her, and she realized she wanted to keep waving the banner that Penny Chenery had waved for so many years.
She realized her dream of meeting Chenery at her first Kentucky Derby in 2011 – Secretariat's personable owner was signing autographs at the Derby Museum the following day. After patiently waiting in line, when it was her turn Bennett showed Chenery an 8x10 photo of Secretariat's Fire, explaining that she was one of Secretariat's last daughters and was in foal to Midnight Lute. "She looked up from writing and said 'wow, that ought to be a good one!'"
That exchange remains vivid in Bennett's memory, and the photo – autographed by Chenery and other key members of the Secretariat team – remains one of her prized possessions.
Her mares were left in Kentucky to foal that spring, and Secretariat's Fire was the last one to deliver, producing a strapping bay colt on May 25 – Bennett's own birthday. She already had a name picked out – Secretariat's Glory. Four months later, still in Kentucky, the mare and foal were invited to the Secretariat Festival. "They were the star of the show," she remembers. "Everyone came to meet them." Chenery was there, along with Secretariat's exercise rider, Charlie Davis, and others. "They were all thrilled to meet Secretariat's daughter."
To her delight, both horses handled the crowd with aplomb. Secretariat's Fire stood guard over her baby, as expected, but Bennett was surprised at how good that baby was. "Glory didn't act up – he pranced along like he knew he was important."
A lot was riding on Secretariat's Glory as he matured, and based on pedigree alone he made the early 2014 Kentucky Derby contender list. He developed a tendon problem that delayed his debut until July 12, 2014; he finished third. Another third came two weeks later; he broke through with a win when dropped in class.

Bennett knew the tendon would continue to be a problem, so she took him home for good because he was one of the keys to building her Secretariat breeding program.
Secretariat's Fire had another foal in 2013 – not just her last foal, but the last foal produced by any daughter of Secretariat. By Leroidesanimaux, the flashy chestnut colt was named Johnny Leroy after Bennett's husband, who passed away in December 2014. The youngster was sent to trainer Todd Pletcher for his early lessons, but bucked shins delayed his training. Once healthy, he was training forwardly towards his debut. Sadly, he broke down while training one morning in December 2015 and was lost.
She never really got over that, especially coming just a year after losing her husband.
With the wind out of her sails, Bennett regrouped and decided to go into a different direction – away from racing for the time being and more towards building an equine therapy operation for veterans and special needs children. All while continuing her mission to keep Secretariat's name in pedigrees with her group of Secretariat's descendants, both mares and stallions.
She still hopes to turn Secretariat's Glory into a breeding stallion; only a few Secretariat grandsons are left at stud around the world. She's not limiting the idea to breeding just race horses. After all, many of Secretariat's sons were very popular as sport horse breeders; she thinks Glory – and some of her other young stallions with Secretariat bloodlines – could have the same potential.
Fire's legacy
Meanwhile, Secretariat's Fire retired from life as a broodmare after producing Johnny Leroy. In total, she had 15 foals; there were eight winners from ten starters.
Although she had no more of her own foals, she still managed to get some quality mothering time. "She was such a good mother, and would even try to take over other mares' babies." So she was given a new job – looking after weanlings. "She was a wonderful guardian and really enjoyed that. She would lie down with them, or stand over them as they were taking their naps. She just loved the babies."
Over the years, Bennett exploited one of the mare's talents – saying 'yes'. Whenever she would ask her a question, Fire would nod her head up and down. "I'd ask her 'Are you Secretariat's daughter?' and she'd nod yes. 'Is your dad the greatest horse that ever lived?' Another nod yes. I always had fun doing that with her."
Secretariat's Fire was never shy about letting everyone on the farm know when it was feeding time. Without fail, she would grab the empty feed bucket hanging on the gate and bang it around. "She wanted to make sure I knew she was there and that it was time for dinner." None of her other horses ever did that.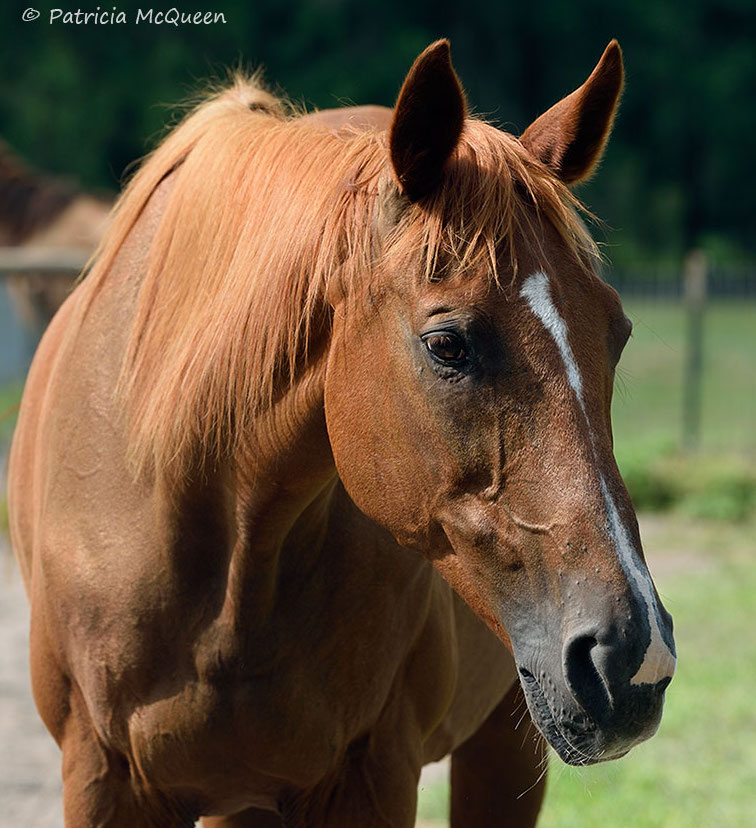 The 28-year-old mare's young friend and pasture mate died unexpectedly in mid-November – a mare named Si Si Cielo, who had been one of the foals she had watched over a few years before. Bennett was sure Fire missed her pal; they had been together for a couple of years. Then on November 29, she noticed what looked like blood in the mare's urine and the vet came the next morning. Ultrasound tests indicated a possible issue with her kidneys, and blood was taken for testing, but there was nothing left to do.
Shortly after the vet's examination was complete on November 30, Fire just lay down and died. It was on her own terms, whether from a heart attack or some unknown illness.
She was buried on the farm next to her pal Si Si Cielo; some of Johnny Leroy's ashes were placed in the grave along with a few other keepsakes.
The wound of losing her is still fresh in Bennett's mind. "I feel like a part of me is missing, because she was really the mascot for the whole 'breeding with a mission' program." That mission will continue, but the star is gone.
Her one regret, perhaps, is that she should have shared Secretariat's Fire with others more than she did. "She left an impression on those who came to the farm to meet her; they felt like they had met a piece of history."
Earlier this year, Bennett hosted a visit by her grandson's school class. "Every one of those children got to come up and pet her and have their picture taken with her. That tells you what a good horse she was – she liked children and was just the perfect model. She loved being the star that she was."
Previous articles in Patricia McQueen's series on Secretariat's offspring
PLUS