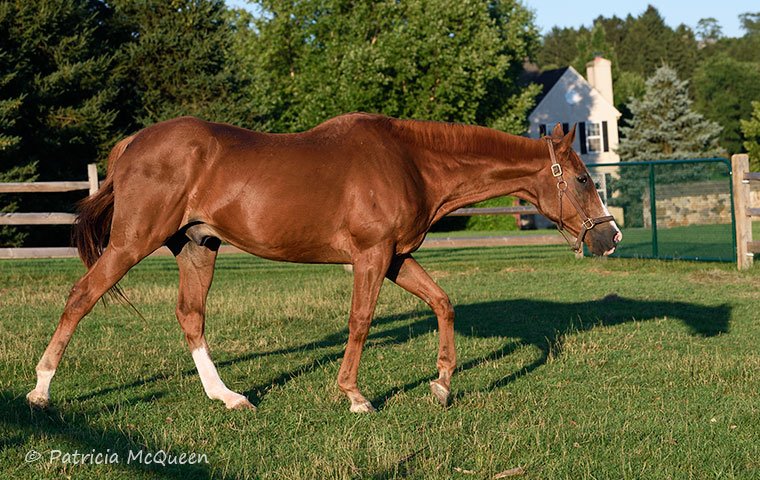 Until July 5, Devon Diva had the unique distinction of being the dam of two elderly sons of Secretariat still with us in 2017. Her 27-year-old son Tinners Way was euthanized on that day at Old Friends in Kentucky, but more than two months later, her 30-year-old son Torbay is still lovingly cared for on a small farm near Philadelphia by his owner of 22 years, Betsy Barr.

The two brothers couldn't have gone in more divergent paths. Tinners Way was a classic Juddmonte Farms homebred, a stakes winner in Europe to begin his career and then excelling in Grade 1 company in the United States. Torbay, on the other hand, was a Juddmonte cast-off as an unraced 4-year-old gelding in the spring of 1991.
Torbay was Devon Diva's first foal, born April 16, 1987. A winner on the racetrack, the 1982 daughter of The Minstrel was out of multiple Group 1 winner Devon Ditty, a superior 2-year-old in England, where she won six in a row in 1978 for owner Robert Sangster. Devon Diva produced 14 foals as a member of Juddmonte's broodmare band, including eight winners and three stakes winners. In addition to the two Secretariats, Devon Diva also produced the speedy stakes winning filly, Western Approach, to the cover of Gone West, an excellent sire out of Secretariat's daughter Secrettame.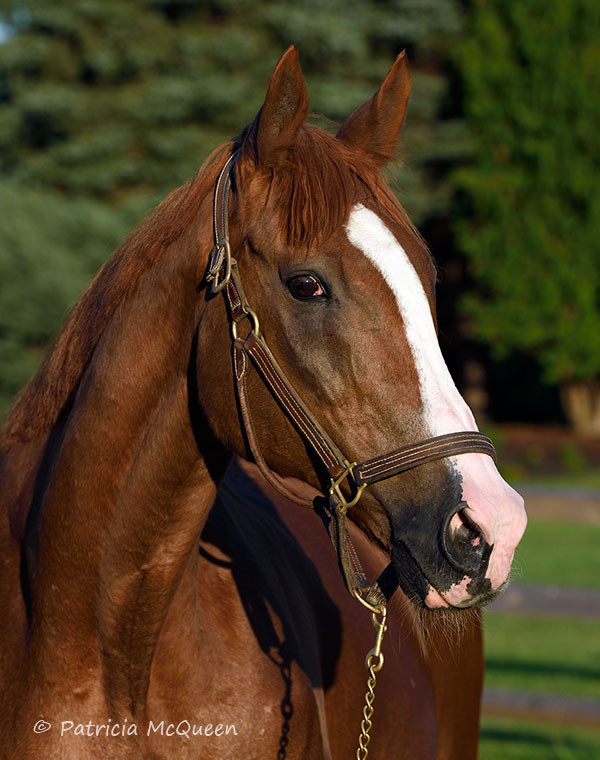 Torbay began his racing career at Churchill Downs on June 21, 1991, in the colors of owner James L. Payne, Sr. His trainer was Michael Bell, who had worked with the great Ruffian 16 years earlier as an assistant for Frank Whiteley.
In that first race, Torbay came from far back to get third going 8½ furlongs on the main track; he carried a $17,500 claiming price. Sent to Ellis Park, he won a one-mile maiden special weight on July 6 by 1¾ lengths, again on the main track and again coming from the clouds.
Saratoga surprise
Then his connections got ambitious. Shipped to Saratoga, the big chestnut entered the starting gate for a 1⅝-mile turf allowance race on July 31. With jockey Mike Smith up, he lagged at the back of the pack early, moved up to get the lead after 1⅜ miles, and pulled away to win by 2½ lengths. Bell remembers the race, and the experience, fondly. "When we came in to Saratoga, we didn't get much respect [coming from Ellis Park] but we had some when we left. That was fun."
Payne and his partners in Torbay capitalized on the horse's win and sold him in order to raise money to continue their partnership with other horses, recalled Bell. So, when the gelding surfaced next at Belmont Park, he was racing for new owner-trainer Thomas Heard.
Unfortunately that Saratoga race would prove to be the pinnacle of his racing career. In the Belmont turf allowance race going a mile on August 30, Torbay finished last of seven. And, in six more starts in 1991 at Belmont and Aqueduct, he failed to place in a series of turf allowance races from one mile to 1¼ miles.
He found the Florida winter a little more friendly, with four consecutive good efforts. He just missed in a 9½-furlong turf allowance race at Hialeah on January 7, 1992, finishing second by a neck. Switched to the dirt, he closed late to finish third at nine furlongs at Gulfstream Park. Dropped into a $60,000 claiming race at 1⅜ miles on the Gulfstream turf, he battled in the stretch only to lose by a neck. Back on dirt, he finished third going nine furlongs.
Torbay was then thrown into the only stakes race of his career, the 1⅜-mile G2 Gulfstream Park Budweiser Breeders' Cup Handicap on February 29, run over a firm turf course. He finished seventh of 14, but it was a much better finish than the placing shows. There was barely a length covering the first six horses across the wire – a half length, two necks, a nose and a head. Heard's color-bearer was two lengths behind the sixth horse – one of the closest seventh-place finishes you'll ever see.
In six more Florida races through early July, Torbay kept mostly allowance company on both dirt and turf and often finished well to hit the board, but failed to find the winner's circle. Sent back to New York, he dropped into the claiming ranks; racing exclusively on the turf he ended the year with four unplaced efforts.
The gelding went back to Florida and stayed there as a 6-year-old in 1993, starting the year as a $40,000 claimer and dropping to $25,000 by year's end. He finally returned to the winner's circle in 1994, running for a $22,500 tag at Calder on July 18. Going 8½ furlongs on the turf, he had to share the win in a dead heat with Bay Rocket.
Torbay's last start for Heard was at Calder on September 3; he finished seventh of nine for $10,000. He was sold to Marc Markbeiter for $3,000 at a New York sale of horses of racing age in November 1994. He didn't race again until April 1995, and his last three starts were unplaced finishes on the dirt at Penn National, Garden State Park and Philadelphia Park, the latter with a $4,000 tag on May 23.
The record shows that he had three wins in 45 starts, with eight seconds and seven thirds, for earnings of $69,683. Most of his best races were on the turf, and he never started in a race shorter than one mile.
A new chapter
While Torbay's career was winding down in that summer of 1995, Betsy Barr was looking for a new fox hunter, examining horses at Delaware Park. She looked at a couple of horses at one barn, and then saw Torbay, a big striking chestnut with a white face. Wanting a closer look, she was told to be careful with him, that he was horrible and would bite. "A guy brought him out and I looked at his legs, and I thought 'holy crow!'"
What made her gasp was the look of a tendon, an old bow that had been poorly blistered. "His tendon literally looked like raw meat – no wonder the horse was miserable!" She walked him around and he was just fine with her, and although the tendon looked ugly, she thought it would heal well enough.
She struck a deal and arranged to bring him home, not really knowing anything about him other than his name. "He just looked like a nice big horse." She got out the paperwork and discovered his spectacular breeding. How much better can you get? she thought. "But I wouldn't have pegged him for a Secretariat," she added, noting that he looks much more like The Minstrel.
When Torbay first came off the van, Betsy's then-husband, Doug, took one look at the tendon and exclaimed, "What were you thinking!"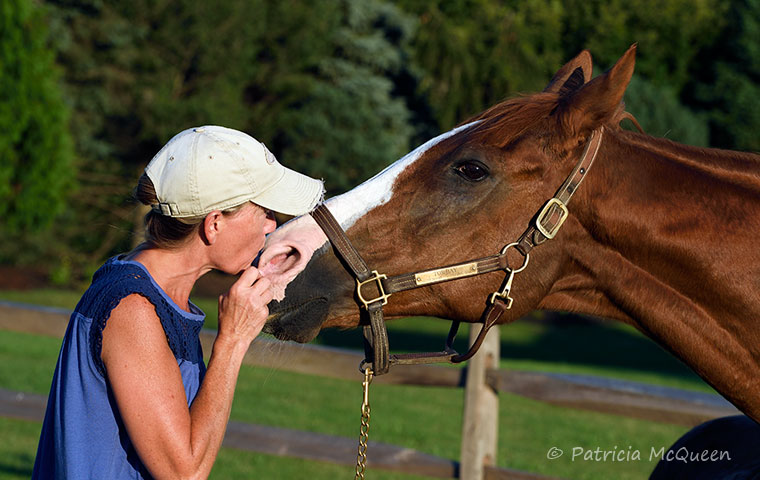 She immediately set about making the gelding feel better, getting the heat out of the leg with a couple of weeks of cold-water hosing. After that she started taking him cross country, gently feeling out his leg as she went along. He quickly learned his new job as a fox hunter. "Teaching him to jump was completely uneventful; he'd try anything. He's a lovely horse to ride, a very nice mover with a big long stride."
And she happily reports that, in all these years, he has never taken a lame step due to tendon issues.
Torbay has actually had a very productive second career, going well beyond fox hunting. He's done paper chases and hunter paces, and for a while he was Barr's mount when she served as an outrider at one of the local point-to-point races.
"He was very good at picking up loose horses – he's not intimidated by anything." The gelding would also pony horses in training in his younger years, and more recently he has served as a weanling babysitter. "He keeps them in their place, and protects them when new horses come into the field. He's very good at it."
In fact, he's been good at everything he's tried – even horse shows. In 2012, when he was 25, Torbay was entered in a leadline class in Fair Hill's first Thoroughbred show. "He was kind of a celebrity down there – people would always come up and ask 'is that him?,'" said Doug.
Secretariat's flashy chestnut son continued to participate in the show for the next three years, only missing last year's edition because of scheduling. He's won ribbons in almost every class he's been in, including blue ribbons, a remarkable feat for an aging horse – especially when "the competition is right off the racetrack and a lot fancier-looking", marveled Barr.
All in the family
Enjoying Torbay has been a family affair of the highest order. Although primarily Betsy's horse, Doug hunted him a few times. Daughters Elizabeth (12) and Anne (9) have also hunted him; they have been riding him since they were very young. They were the ones that earned ribbons on him at the horse shows. A 7-year-old Elizabeth rode him in that first Fair Hill leadline class, and Barr recalled a young Anne riding the gelding in a walk-trot class a couple of years later, when almost every other rider was an adult. "It was hysterical – she was like this tiny peanut riding this huge horse."
Because of his age, the two girls have been his primary riders in recent years, and with them he's gone fox hunting as recently as last year – his 22nd consecutive year hunting. Admittedly, though, they have been less strenuous efforts than in the old days. "He still thinks it would be okay to go jumping, but I don't let him anymore," said Barr. "The kids would hop him over little trees in the woods, but nothing other than that."
Clearly a wonderful horse for children, Torbay has another side to his personality. Barr likes to call him Dr. Evil – not because he's a bad boy, but because he pretends he is. One minute he's putting a weanling in its place with just a look, and the next a young girl is leading him out of the field. "He thinks he's so big and tough, and you just chuckle and say 'yea, sure'," she said, laughing. "It's fun to watch him when he acts up," agreed Doug.
In his prime fox hunting days, nothing ever bothered him – until he saw turkeys. "We have a lot of turkeys around us, but you don't normally see them," Barr explained. Then one day, while passing through a recently-cut cornfield, there they were.
"He wouldn't move – he just stood there like 'where did they come from?' They didn't look like anything I think he had ever seen before," she said, laughing at the memory. He just stood there for a while trying to figure them out.
It remains to be seen whether Torbay will embark on his 23rd year of fox hunting this fall. Last February, he injured himself while out in the field. Initially Barr feared the worst, but the diagnosis was a severely pinched nerve. Although it looked as if his riding days were over, he has recovered extremely well, so much so that Barr is thinking that he may yet enjoy going out this fall with Anne in the saddle – he has held his muscle tone and is quite striking in appearance, belying his 30 years. "As long as he's happy. That's all that counts."
Torbay certainly seems happy. As he continued to recuperate, he spent the summer with a pony pal named Emperor, who let him continue the bossy ways he enjoys when working with weanlings. Recently he was reunited with his girlfriend, the 20-year-old mare Leagleyeser. "She and Torbay have been friends for more than a decade and are happy to be back together in the field," said Barr, adding that the gelding will soon resume his weanling babysitting duties.
Bell, who is still training a few horses, was amazed to learn that the horse he had 26 years ago continues to lead a productive life. "I'm happy that she's taken such good care of him," he said.
The big good-looking chestnut certainly has more than lived up to Barr's expectations when she gambled on him more than two decades ago. "He turned out to be a really cool horse," said Doug.
And Betsy gave Torbay the ultimate compliment: "For as nice a horse as he is, he probably deserves sainthood."
Previous articles in Patricia McQueen's series on Secretariat's offspring