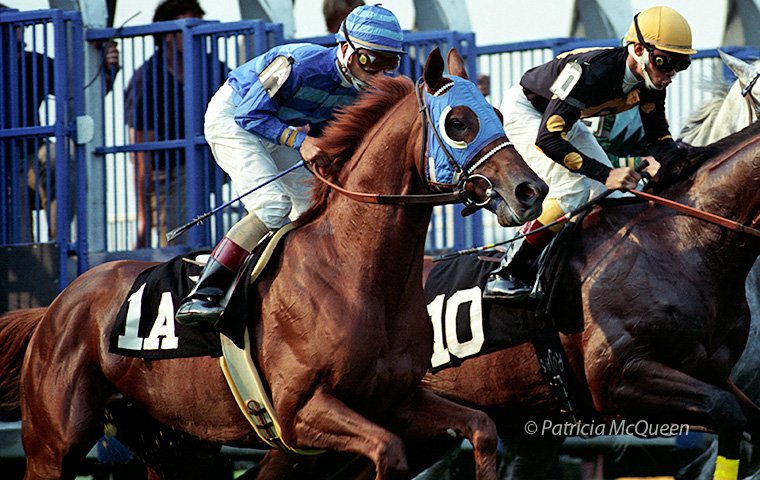 As part of this occasional series, Patricia McQueen examines the career of a horse who overcame so much adversity during his racing career that we can only guess at the true level of his ability.

He may not have reached the pinnacle of his profession as his name might suggest, but 25 years ago this week Academy Award had his spotlight moment in the G2 Early Times Manhattan Handicap at Belmont Park. That the son of Secretariat even made it to the races is a testament to his courage in overcoming adversity and the patience of his owner-breeder, Peter Blum.
Born in Kentucky on March 18, 1986, the little chestnut colt was the first foal of Mine Only, a winning daughter of Mr. Prospector and the Better Self mare Mono.
Blum recalled the unusual strength of her female line – Mine Only's second dam, Sin Igual, was a full sister to Triple Crown winner Assault; her fifth dam was a full sister to the great Man o'War, who also appears elsewhere in the mare's pedigree. Hall of Famer Peter Pan also appears twice in Mine Only's family. Add Secretariat to the top of Academy Award's pedigree, and "you can't beat those names," said Blum.
The quality of the line has carried on. Mine Only produced two other stakes winners for Blum, including Statuette, a daughter of Secretariat's son Pancho Villa. Academy Award's full sister Chosen Lady produced G1 winner Well Chosen, who in turn produced multiple G1 winner Telling (who is inbred to Secretariat being by A.P. Indy). "There again you see the influence of Secretariat," said Blum. "Secretariat as a racehorse was unbelievable, and I still think that his influence on the breed is going to be felt for years to come."
A commercial breeder, Blum twice sent Mine Only's colt through the sales ring, and twice he brought him home after failing to meet his reserve – once as a Saratoga yearling ($95,000 reserve) and again as a 2-year-old in Florida ($85,000 reserve). "I can't explain why he wasn't better received," said Blum.
How he got his name
Whatever the reason, the owner found himself with a racehorse who was beginning his lessons exceptionally well. So well, in fact, that he named him Academy Award. "This horse acted like a very special horse from day one, so we chose the name because it was such a symbol of excellence."
Unfortunately, the youngster developed a lung infection, which needed plenty of recovery time, and Blum left him in the care of a trainer at Turfway Park. The plan was to get him galloping and building general fitness before sending him on to Gulfstream Park at the end of 1988 to begin serious preparations for his racing career.
"He wasn't supposed to breeze the horse," remembered Blum, but breeze him he did, over a frozen Turfway track late in his 2-year-old year. "He said the horse did it like he was better than Secretariat." But 45 minutes later Academy Award was dead lame. He had fractured the coffin bone of his left front foot, and he spent a year recovering.
Although it was a daunting injury, Blum felt it would be worth the effort to try to get him to the races. "He had already shown that he was the real deal with tremendous ability." So much, in fact, that to this day he stands out in the owner's memory as one of the most promising young horses he has ever raised.
"The first priority is protecting the animal, but if he really wants to be a racehorse, what do you lose if he's sound enough to run?"
In the barn of trainer Richard DeStasio, Academy Award made his long-awaited racing debut at Aqueduct on his fourth birthday – March 18, 1990. He showed promise, finishing second at seven furlongs on the main track. He followed that with three more starts on the dirt, all poor efforts, adding blinkers (which he wore the rest of his racing career) in the fourth start.
A ready-made turf horse
He was then tried on the turf course, going one mile at Belmont Park on June 22. Far back early, he rallied to fourth in a good try, beaten only a length under jockey Mike Smith. He never raced on the dirt again.
It was the coffin bone injury that turned him into a grass horse, said Blum. "The grass was easier on him – with two bar shoes, we felt he would handle the grass a little better. He had one bar shoe because of the injury, and the second was to balance him out. With bar shoes, he just couldn't grab hold of the dirt the way he could with the grass."
Academy Award's first win came in his sixth start (second on turf), a 1 1/16 mile maiden race on the Belmont turf on July 7. This time he pressed the pace and drew clear in the final furlong, winning by two lengths in 1:41 2/5, again with Smith up. On July 20, he closed from the back of the pack in an allowance race to win by a neck under Smith, in a similar 1:41 3/5.
He won one more race in 1990, a 10-furlong effort in September over Belmont's turf course, winning by 1 3/4 lengths in 2:02 3/5. On Breeders' Cup day, October 27, 1990, Academy Award tried stakes company for the first time, showing little while finishing seventh in the State of New York Stakes.
Returned to allowance company, two near-miss rallies earned him a start in the G3 Gulfstream Park Budweiser Breeders' Cup Handicap on February 16, 1991.
Under Jacinto Vasquez, he again closed from far back and was one of four in a very tight photo finish over 1 3/8 miles, with the winner, Shy Tom, setting a new course record of 2:14 3/5. Academy Award was fourth, beaten only two noses and a neck.
Stretched out to 12 furlongs in the March 16 Noble Dancer Handicap, he made a mid-race rally but then faded to eighth. Back in New York, with new jockey Art Madrid, he finished fifth to Stage Colony in the G3 Fort Marcy Handicap on May 5 at Aqueduct over 1 1/16 miles, but he was placed fourth after the disqualification of Go Dutch. The latter had a clear lead in the upper stretch, but caused interference when he tired badly. Academy Award lost all chance when he had to take up sharply during his typical strong rally.
He got a confidence-builder in a 1 1/16 mile allowance race on May 27 at Belmont, when he again closed from far back to win going away by 2 ½ lengths in 1:40 3/5 under Madrid. That set him up for the Early Times Manhattan Handicap on June 7.
The big win was his last
Favored in the race was Phantom Breeze, with Academy Award at 12-1. The red colt closed from seventh to win driving by 1 3/4 lengths under Madrid, setting a new stakes record of 1:59 3/5 for the 10 furlongs.
The jockey told the media after the race: "Rich told me to ride with confidence and try to stay out of trouble. My horse broke good and was six or seven lengths behind. I saved ground along the rail. At the three-sixteenth pole, I was behind four horses and I swung him out. You lose ground when you swing out, but I had a lot of horse. He [has] a big kick and I think he has a big future because he runs the last quarter really hard."
The bad racing luck that plagued the colt in some of his previous starts seemed behind him, and Blum's patience in getting him to the races in the first place was paying off. The future looked bright indeed. That is, until Secretariat's newest stakes winner arrived back at the barn after cooling out.
There, Academy Award started favoring his left front foot, the same one he had injured at two. Upon examination, the bar shoe was bent, and x-rays showed another coffin bone fracture.
"He must have injured himself during the race," DeStasio told the Daily Racing Form at the time. "The jockey said he never felt anything." Added Madrid: "He finished and went all the way to the outriders, and when he came back, he was still kicking and acting real playful."
A close look at the race replay showed the likely culprit – a sprinkler head or pipe. "There was a piece of sprinkler pipe on the grass, and you can see when he hit that in the film," recalled Blum. "That's how he re-injured that coffin bone."
The 5-year-old was officially retired in September, with a record of five wins in 19 starts and earnings of $226,943 – numbers that only hint at his talent.
"He overcame so much adversity," Blum said. "Most horses that suffer the type of coffin bone injury that he did [at two] would never have made the races. And, if they did, they would be compromised. So, assuming he was compromised, you have to look at his performance as being nothing short of miraculous."
Diverse stallion career
Academy Award entered stud in 1992 at Claiborne Farm – the only son of Secretariat to follow in his sire's footsteps there.
The stallion was the 14th leading first-crop sire in 1995 with earnings of $203,649 and stakes winner Winning Actress among his nine 2-year-old winners. He continued to be nationally ranked among his contemporaries the next two years and was proving to be a useful, but not great, sire. But, like many who don't reach the highest echelon, he was sent elsewhere for a better fit, settling in at Ohio's Win Row Farm in the spring of 1999.
He immediately made his presence felt in the state, leading the Ohio sire list by a comfortable margin for the next three years, with annual earnings over $1 million, due in large part to his early crops at Claiborne. He continued to rank near the top of the list for several more years.
In total, he sired 400 foals, with 10 stakes winners and earnings of $9.8 million, ranking him among Secretariat's top sons at stud by earnings. His leading earner was Canadian G1 winner Four On The Floor, who earned $590,213 in 23 starts. He got a champion in Mr. McCartney, leading sprinter in Brazil in 1997.
But that's not the whole story of his stud career.
In Ohio, Academy Award became a sought-after sire of performance horses. And, among his Thoroughbred offspring, was leading show jumper Caped Crusader; this Blum-bred gelding raced as Oscar Time, earning $178 in three unplaced starts. He more than made up for that racetrack disappointment with his later prowess on the United States Equestrian Federation hunter circuit.
Pensioned after the 2009 season, Academy Award was relocated to Old Friends in Georgetown, Kentucky, in January 2010. Sponsoring his retirement was actress Angie Dickinson, Secretariat's owner Penny Chenery (through the Secretariat Foundation) and Boston-based TV producer Barbara Bowen.
He arrived on borrowed time, however, with chronic laminitis, and just seven months later he was euthanized - on August 24, 2010 - due to complications from the debilitating foot disease.
In his short time at Old Friends, Academy Award had many admirers and was given the nicknames Oscar and Little Red. His famous sire had a lot to do with that popularity, but his personality won over everyone who came in contact with him.
Longtime volunteer Beth Shannon perhaps said it best: "If he could have climbed into your lap and put his arms around your neck, that horse would have. He was one of the most loving stallions I've ever met."
Previous articles in this series
The son who ran the fastest Melbourne Cup ever
The 'crazy' horse who got Secretariat off the mark as a G1 sire
The 'gorgeous' G1 colt who couldn't take the pressure
The flying filly responsible for Storm Cat
The incredible power of Risen Star
The extraordinary daughter who left a major legacy