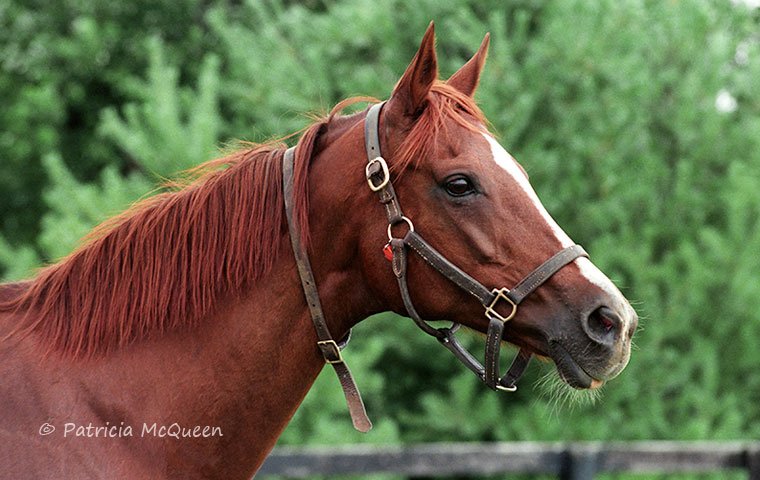 Secretariat appears in the pedigrees of 21 American classic winners to date, including one as a sire (Risen Star) and two as a broodmare sire (A.P. Indy and Summer Squall, both out of Weekend Surprise). The rest have various connections through daughters Weekend Surprise, Terlingua (dam of Storm Cat) and Secrettame. The latter is the dam of G1 winner Gone West, who counts Preakness winner Cloud Computing among his four classic-winning descendants.

Gone West was a classic runner himself, having finished sixth in the Belmont Stakes 30 years ago. At shorter distances, he was right up there with the other 3-year-old stars of 1987 – a banner year that included Alysheba, Bet Twice, Lost Code, Gulch, Polish Navy and Java Gold.
A son of Mr. Prospector, the colt certainly got a lot of his class from Secrettame.
After all, the mare was impeccably bred, being out of the Tim Tam mare Tamerett, who also produced champion Known Fact and other stakes winners Tentam, Terete and Tamtent. Secrettame had plenty of talent of her own, as evidenced by the brilliance shown in the first starts of career.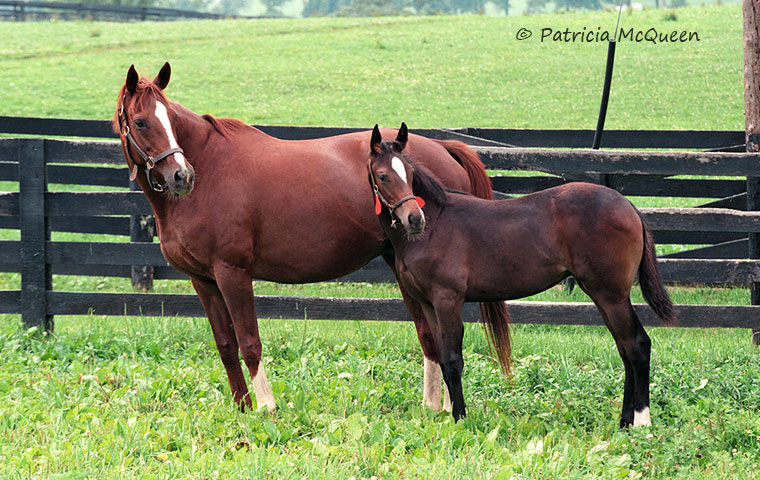 The chestnut Secretariat filly was bred in Kentucky by Dr. William O. Reed. Born on March 15, 1978, she sold as a yearling for $400,000 at the 1979 Keeneland July sale, the third highest price for a filly at that sale.
She did not make her racing debut until the summer of her 3-year-old year. "She was just a big filly and needed to do a little growing into herself," recalled Bruce Johnstone, current Manager of Racing Operations for the New York Racing Association. In 1981, he was enjoying his first full year of training, having been hired the previous year as a private trainer for Villa Blanca Farm after serving as an assistant for the powerful Phipps family stable under both John Russell and Angel Penna.
Villa Blanca was the short-lived Kentucky venture of Venezuelan Jose Sahagun, a long-time breeder in his native country. Secrettame was one of the first four horses he sent to Johnstone. Another was Viva Sec, also by Secretariat, who would give both the trainer and Villa Blanca their first stakes win, in November 1981.
Johnstone took his group of four youngsters to Saratoga in 1980, but none of them would reach the starting gate until the following year. "I had no pressure from the owner at all. He'd fly in to visit, but he never asked me when one would start."
Brilliance from the start
The trainer had Secrettame ready when she made her long-awaited debut on July 10, 1981, in a seven-furlong maiden race at Belmont Park. With Angel Cordero up, she pressed the pace, then swept into the lead to win by 2½ lengths in 1:23. Odds-on to win her next race, a July 27 allowance at Belmont, she again pressed the pace and won ridden out by 2¾ lengths, going one mile in 1:34⅗ under Ruben Hernandez.
As a flashy chestnut by Secretariat, she was drawing a lot of interest. "People at that time really wanted Secretariat to have a runner that got their attention, because he was still a pretty new sire," said Johnstone. Secrettame had three white stockings and "a beautiful Arab head. She was a striking horse and very charismatic."
Fans and horsemen alike wanted a glimpse of her when she surfaced in a Saratoga allowance race on August 16. Back then, horses were saddled under the trees in an open area; the paddock had not yet been enclosed. She was surrounded to the point where they had to work to clear a way to get her to the racetrack. "Everyone wanted to see her, which was great. And of course she went out there and ran spectacularly."
That was an understatement. With Cordero back up, Secrettame put on a show. After a slightly slow start, she rushed up to take the lead and led the field throughout. She hit the wire 14 lengths in front, going the nine furlongs in 1:51 over a muddy track.
After that performance, the next logical step was the G2 Gazelle at Belmont Park on August 30. The undefeated filly was favored in the race, which included multiple stakes winners Banner Gala and Prismatical. Under new rider Jacinto Vasquez, Secrettame jumped out of the gate and proceeded to show the field the way. After most of the nine furlongs, she was still in front heading to the wire. But Discorama was cutting down the margin with every stride and just edged the unbeaten filly by a neck.
Secrettame "resisted stubbornly when engaged by the winner and just failed to last", said the Daily Racing Form chart notes. The time of the race was 1:48⅕.
Thinking back, Johnstone noted that she had things all her own way in her first three starts and didn't really get battle tested. "She'd just break and then run everyone off their feet, because she was that brilliant." So, when Discorama engaged her in the stretch run of the Gazelle, she had never really seen a horse beside her in that situation. He figures she may have gotten distracted and failed to change leads when she should have, something that often helps a horse surge when it counts.
Return from injury
Not long after the Gazelle, Secrettame suffered a hairline fracture of her right front pastern during a routine morning gallop. Surgery was performed by Dr. Reed and she was eventually sent to Aiken, S.C., to recover from the injury. She healed well enough that she was put back into training, although she would be away from the races for more than a year.
She showed readiness for her return with two bullet works at Belmont Park – five furlongs in :59⅗ on October 7, 1982, and six furlongs in 1:12⅕ on October 14. That set her up for an allowance race at Aqueduct on October 21. She led wire to wire under Cordero, going seven furlongs in 1:24⅘ and finishing a half-length ahead of French Flick under a hand ride.
On November 7, she tried stakes company again in the seven-furlong First Flight at Aqueduct. She was coupled in the wagering with the two other fillies originally sent to Johnstone by Villa Blanca – Viva Sec and Raise 'n Dance. They were favored at 9-5 over Lady Dean. But it was Claiborne Farm's Number who outran them all that day, winning by 1½ lengths over Lady Dean. Privacy was 1¼ lengths back in third, a head in front of Secrettame. The latter had the lead after a quarter mile and was close for most of the race, only weakening late.
It was the last time the three fillies would race for Villa Blanca. In a sudden reversal of fortune, Sahagun had to sell much of his assets. The collapse of oil prices in the 1980s led to a contraction of the Venezuelan economy, leaving him with debts that forced him out of the business.
Johnstone always wondered what might have been. "He loved the horses. As more time goes by, you realize the enormity of the loss to the industry. The way Sahagun approached it, Villa Blanca would have been an important outfit for a very long time."
Dr. Reed buys her back
Secrettame was sold at Fasig-Tipton on November 14, 1982, and the buyer was none other than Dr. Reed in the name of his Mare Haven Farm. He had originally sold her as a yearling for $400,000, and he paid $1,150,000 to get her back. He planned to breed her in 1983, but left her with Johnstone to finish out her racing career – hoping to get a stakes win on her resume.
In the December 7 Highland Park Stakes at The Meadowlands, for the first time in her career, she failed to get involved a race, checking in fifth of six runners after a little bit of trouble. Two months later, she won the feature race at Gulfstream Park, an allowance event on February 8, 1983. In a change of tactics, she was far back early and came with a late rush to win by a length, going six furlongs in 1:11⅖ with Vasquez aboard.
Secrettame finally got her stakes win just eight days later, in the second division of the Shirley Jones Handicap at Gulfstream.
Racing for Dr. Reed's wife, Audrey, she again was reserved off the early pace – but never far back on the sloppy track – and rallied to win by 1¼ lengths over Prime Prospect. She completed the seven furlongs in 1:23⅗ in a "very authoritative" win, according to the Daily Racing Form's Joe Hirsch.
She regressed in her next race, the March 2 Rampart Handicap. In contention early, she faded in the stretch to finish sixth. By design, it was her last race, and she concluded her career with six wins in ten starts for earnings of $101,598. Secrettame was off to the breeding shed and a date with Mr. Prospector as one of the most exciting broodmare prospects of the day.
Wonderful producer
She lived up to those expectations with her first foal, the aforementioned Gone West, and was a wonderful producer overall.
In total, she delivered 15 foals, with 12 starters and nine winners. Thirteen of her foals were by Mr. Prospector or his sons – Dr. Reed liked the Raise A Native sire line. G2 stakes winner Lion Cavern was also by Mr. Prospector, while Japanese stakes winner Lord Ultima was by Seeking The Gold. Tank's Prospect was the sire of her stakes-placed 1988 colt Multiengine.
Mare Haven was sold in late 2004, but the terms of the sale dictated that Secrettame, then 26 and retired from breeding, would remain on the property. She died on March 17, 2006, after a bout with colic.
All these years later, Johnstone tells of a clandestine late-night excursion with a 2-year-old Secrettame at Saratoga. The facility had opened for spring training for the very first time, but the turf training track was not yet open. He very much wanted to try the filly on the turf, so, under the cover of darkness – about 1 a.m. – with a little moonlight to guide them, he sent her for a run over the grass with his assistant aboard (her regular exercise rider).
"We had her out there, brought her back to the barn, cooled her out, bandaged her up, and never told the groom," he said, chuckling. "Nobody ever knew except me and my assistant." While she went well, he never got a chance to race her on the turf – her dirt performances would be brilliant enough that there wasn't time to change it up with her injury, comeback and subsequent sale.
Johnstone also remembers fondly the one time he got on her back and jogged her around the big Belmont oval. "I just wanted to feel her – it was a thrill for me!"
And she was a thrill for Secretariat fans everywhere, on the racetrack and as a broodmare.
Previous articles in Patricia McQueen's series on Secretariat's offspring