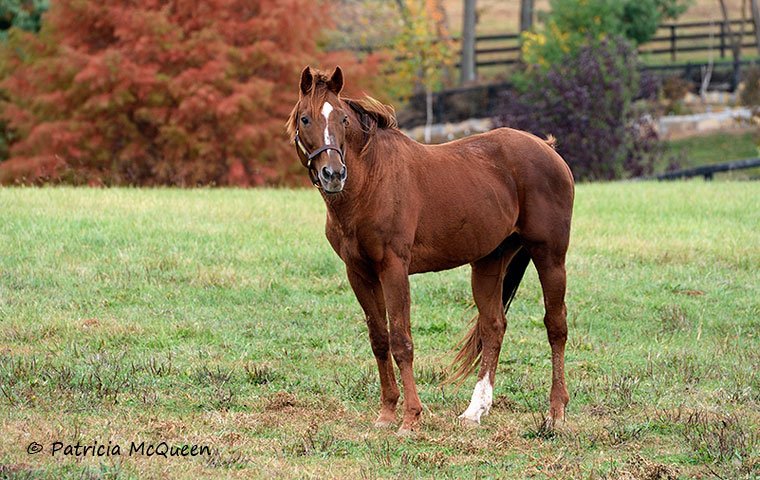 After Secretariat died from laminitis in the fall of 1989, there was one last crop to be born, one last chance as a sire. In that final crop, there were three more stakes winners, bringing his total to 57, but one rose above the others to become the last of Big Red's nine Grade 1 stakes winners.

Tinners Way, bearing a resemblance to his sire, earned $1,846,546 during his 27-race career, becoming Secretariat's third-leading earner behind Lady's Secret and Risen Star. And only the amazing Lady's Secret won more G1 races than did Tinners Way among Secretariat's offspring.
Born May 25, 1990, at Juddmonte Farms in Kentucky, part of the global breeding and racing empire headed by Prince Khalid Abdullah, Tinners Way was the last of Secretariat's sons. Two daughters were born later, with the unraced Risen Starlet being the very last, born on May 30.
His dam, Devon Diva, was a winning filly by The Minstrel, but her dam Devon Ditty was something special – a multiple G1 winner at two in the U.K. When bred to Secretariat, Devon Ditty produced Transcript, a stakes winner in Switzerland; the mare's only other stakes winner was a son by Seattle Slew named Tom Cobbley.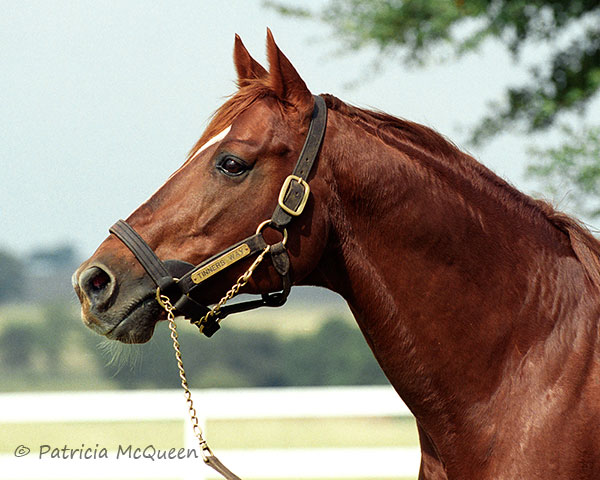 Devon Diva produced three stakes winners for Juddmonte, but Tinners Way was by far the best of the lot. He was her fourth foal; the mare's first foal in 1987, also by Secretariat, was the winner Torbay.
Sent to Europe to begin his racing career under the tutelage of John Gosden, Tinners Way won his debut on November 7, 1992, a seven furlong maiden race at Doncaster. Shelved until the following spring, he returned in Group company but the best he could manage was a third in three races. He then won the City of York Stakes at York on August 19, 1993, and followed that with a win in the Milcars Temple Fortune Stakes at Kempton Park on September 3.
Tinners Way had a reputation, both at the track and after he retired, as a very nervous horse, and he came unglued when Juddmonte tried to send him to France for the G1 Prix de la Foret on October 10.
On the day he was supposed to fly, "I got a call that he'd thrown a fit and couldn't be loaded," said London-based Juddmonte manager Grant Pritchard-Gordon, quoted in The Blood-Horse later in the horse's career. "We had to put him on a lorry and ferry him across the Channel. Ironically, he ended up running one of his best races." Indeed, he was a close third, beaten less than a length in the 1400-meter race at Longchamp.
Back to the U.S.
The colt was then shipped to the U.S. and made his American debut on November 3 in the G3 Volante, a nine furlong race on the Santa Anita turf. He was favored but finished fourth to Eastern Memories. Finishing second that day was none other than the great Cigar, still racing on the grass. Like Cigar, Tinners Way would soon prove to be a much better horse on the main track.
His European connections didn't see that future for the horse, insisting that he wanted soft turf and would never run on dirt, remembered Garrett O'Rourke, Manager of Juddmonte Farm USA. But new trainer Bobby Frankel knew better, and even made a bold prediction over the winter of 1993-94 – that Tinners Way would win the G1 Pacific Classic.
The attractive chestnut made his main track debut at Santa Anita on January 14, 1994, and ran well to get second in a one-mile allowance race with Kent Desormeaux up. Tossed into Grade 1 company, he was fourth in the Strub Stakes after causing trouble at the start. Returned to the turf, he was second in the G3 Arcadia Handicap, then placed in two more stakes on the California dirt before heading to New York for the G1 Metropolitan Handicap on May 30. He finished seventh after going to his knees coming out of the gate. The winner that day was Holy Bull.
Back to California and easier company, Tinners Way got his first stakes win on dirt in the June 25 Golden Gate Fields Budweiser Breeders' Cup Handicap. He followed that with a second as the favorite in the G2 Bel Air at Hollywood on July 17, just a neck back of winner Region in 1:40 1/5, equaling the stakes record and just shy of the track record for 1 1/16 miles.
Then it was time to see how good Frankel's crystal ball was, as the colt was entered in Del Mar's Pacific Classic on August 13. He faced stiff competition with previous winners Best Pal and Bertrando in the field. Under new rider Eddie Delahoussaye, Tinners Way rallied from off the pace to win by a length over Best Pal, equaling the track record set the previous year by Bertrando, 1:59 2/5 for the ten furlongs.
Not fond of Belmont
Back to Belmont for the G1 Woodward on September 17, Tinners Way finished sixth, again to Holy Bull. Frankel would later say the colt just didn't like Belmont Park; indeed, the horse's worst finishes on dirt were on that big sandy oval.
He was off until the following June after undergoing surgery in November to remove a chip in his right knee, and came back in the G1 Californian on June 11, 1995. He closed well to get third, beaten 3¼ lengths by Concern and Tossofthecoin. Next he faced his old rival Cigar in the G1 Hollywood Gold Cup. Tinners Way rallied from mid-pack to get second behind Cigar, beaten by 3½ lengths in 1:59 2/5.
That set him up for another try at the Pacific Classic, and Tinners Way certainly proved his affinity for the Del Mar surface. Close early, he took the lead with a quarter mile to go, winning by 4½ lengths over Soul Of The Matter; favored Concern was fifth. The time of 1:59⅗ was just a tick off the previous year.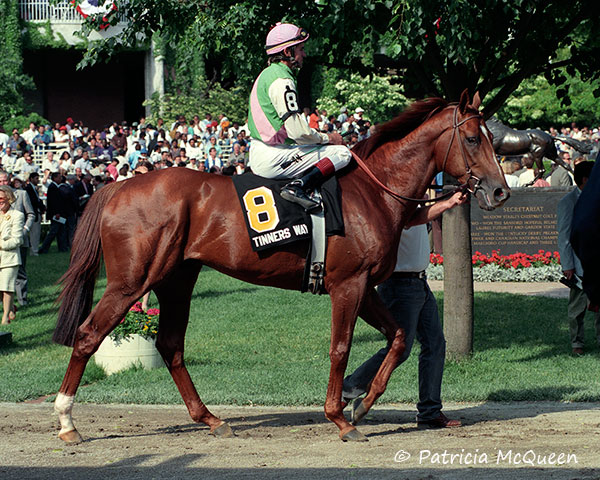 It was Frankel's fourth straight win in the race, but this one meant the most to him. Quoted in the Los Angeles Times, Frankel said, "I got more excited this time. I had faith in the horse and I didn't want to be wrong. The other horses, I was just hoping they'd win, but this one, I thought, had a very good chance. It's nice to be right for a change, after the 200,000 times you thought they'd win and they got beat."
Before the Del Mar race, Frankel had indicated he wanted to try him on grass again, partly because the Breeders' Cup was at Belmont Park. Despite his success on dirt, the trainer thought he was better on the turf. "If he goes to the Breeders' Cup, I probably will run him on the grass," he told the Daily Racing Form. "He'll be a fresh horse and I can give him a breather."
So, after the Pacific Classic victory on August 13, Frankel wheeled Tinners Way right back in the G1 Arlington Million on August 27. He finished fifth. Plans to run in one of the Breeders' Cup turf races were scrapped and he ran in the G2 Goodwood at Santa Anita on October 7 to prep for the G1 Breeders' Cup Classic. He closed willingly to duel with Soul Of The Matter in the stretch, losing the battle by only a nose at the wire.
Not that anyone would have beaten Cigar in the Breeders' Cup Classic that year, but the race again proved that Tinners Way didn't care for Belmont. He was never in contention after a slow start and finished seventh, as Cigar won the Classic to cap a perfect year.
One last big win at six
Tinners Way then underwent another knee surgery to remove chips, and again came back in the Californian on June 2, 1996.
This time, Frankel had him primed and ready. Close early, he took the lead in the stretch and held off favored Helmsman by a half length in 1:46⅗ for nine furlongs, equaling the track record. It was the third G1 win of his career. Frankel told the media after the race, "I leaned a little harder on him this time," he said. "He ran his best race today and I hope we didn't cook him for the next race."
Perhaps Frankel really could see into the future. That next race was the Hollywood Gold Cup on June 30, in which Tinners Way finished sixth, his worst dirt performance outside New York. Despite that, the trainer aimed the colt at another Pacific Classic, hoping the Del Mar surface would provide the right tonic.
Instead, while Secretariat's grandson Dare And Go (by Alydar out of the Secretariat mare Partygoer) shocked the racing world by upsetting Cigar, Tinners Way did not finish the race and was vanned off the track. He appeared to take a bad step when changing leads, according to Delahoussaye, and was pulled up out of precaution. Frankel said the next morning that nothing seemed to be obviously wrong, but he was retired thereafter. His record stood at seven wins in 27 starts, with six seconds and four thirds.
Little stud success
The horse entered stud at Kentucky's Vinery the following year. But as is often the case with stallions who don't make an early impression, he didn't stay there for long. Seeking better results in regional markets, after three years at Vinery, he was moved to California's Harris Farms for the 2000 breeding season. He was purchased by Phil Leckinger and Jerry Hardin in the fall of 2003 and sent to Joe and Sharon Kerby's Key Ranch in Texas, still looking for his niche.
While he did reach the 20th spot on the list of leading Texas sires in 2004 off his California crops, he never gained much traction anywhere. He sired only two stakes winners, Tin Man Commin, a minor stakes winner at Hoosier Park, and Riverruns Thruit, victorious in a small stakes race at Ferndale. All told, the stallion's progeny earned just shy of $3.3 million.
Tinners Way was pensioned after the 2010 breeding season, and donated by his owners to Old Friends in Kentucky. He arrived there in September 2010.
Nervousness stayed with Tinners Way even through his days at Old Friends. "We wanted to have him down in the front because of his accomplishments, and because he looks a little like the old man," said Old Friends Founder and President Michael Blowen in 2012.
"But he didn't like the cars going by, he didn't like the lights at night. The horses are in charge, and we try to find the place where they are the most comfortable. Once we put him in the back area, he settled down pretty well."
The son of Secretariat was a big attraction at Old Friends over the years, with regular visitors and volunteers who doted on him – he loved getting his back scratched!
Until last week, he was one of several elderly sons of the Triple Crown winner scattered around the country; still in that group is 34-year-old General Poppy and 31-year-old stakes winner Fast Market.
Tinners Way was euthanized July 5 after an acute onset of a severe neurologic disease. He is survived by his 30-year-old full brother Torbay, but that's a story for another day.
Previous articles in Patricia McQueen's series on Secretariat's offspring