In the spring of 1990, Secretariat's last foals were born. There were 45 named foals in that crop, led by stakes winners Tinners Way, Lt. Pinkerton and Insijaam. Little did one ardent Secretariat fan know that, 21 years later, one of those last-crop horses would fall into her lap, to live out his days on the Colorado hay farm she runs with her husband.

Now 27 years old, that horse is Secret Of The Sea, and Linda Riba is living the dream.
"What's all this hay ground good for if not to support the son of the king?" That is the sentiment that made her rename him Strider, after a character in J.R.R. Tolkien's Lord of the Rings series who wandered Middle Earth under that name before his regal heritage was revealed.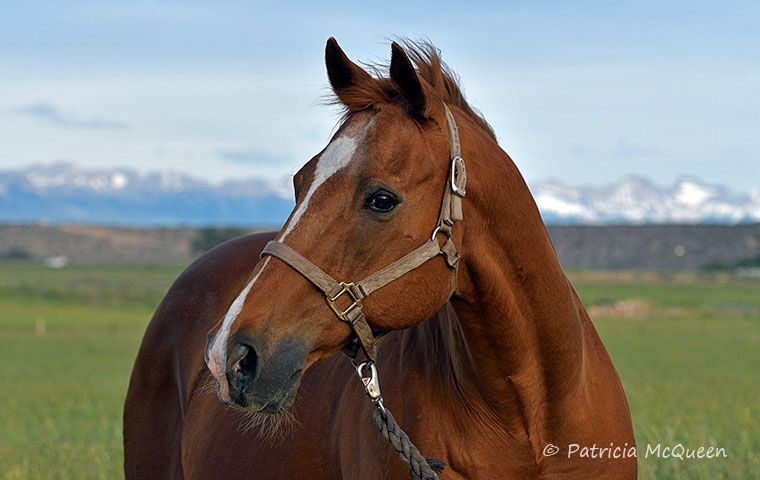 Secret Of The Sea certainly was born into royalty as one of the last Secretariat foals, dropping on May 1, 1990, for Darley Stud. He was the first foal from Lyphka, a daughter of Lyphard who was a minor stakes winner in France. Lyphka was out of the Venture mare Veruschka, a French-bred who produced French classic winner and champion Soviet Star, along with multiple Graded stakes winner and million-dollar earner The Very One.
When crossed with mares by Lyphard, Secretariat did pretty well. Eight Lyphard mares produced foals by the Triple Crown winner. Two were stakes winners (Kashgar and the aforementioned Insijaam), and one produced the unraced Askmysecretary, who would become the second dam of two-time Horse of the Year Wise Dan.
Claimed in second start
Sent by Darley to trainer Frank Brothers, Secret Of The Sea didn't make his first start until September 26, 1993, in a six-furlong maiden special weight at Arlington Park. Favored as part of a entry, he finished fourth of ten, just missing third by a head.
Some three weeks later, the gelding was dropped into a seven-furlong maiden claiming race at Keeneland. Running for a $25,000 tag, he was bumped soundly and finished seventh after a rough trip. That was the end of his days with Darley, as he was claimed by Clint Goodrich for owner John Steinmetz.
A former jockey, Goodrich had turned to training in 1980, becoming an assistant for Carl Nafzger before getting a string of his own for Tartan Farms. In 1993, he was coming off two years managing the best runner of his career, the Graded stakes winner Saint Ballado (a horse he also co-owned).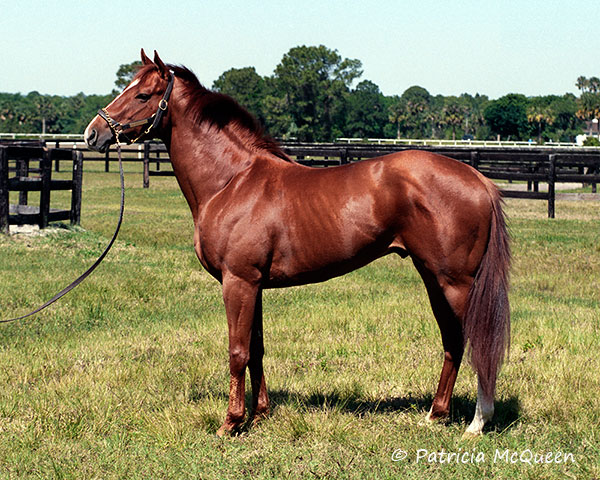 Goodrich often owned part of the horses he trained, based on advice given to him by John Nerud, and Secret Of The Sea was no exception. His first start for the new connections was in a maiden special weight going 1 1/16 miles at Churchill Downs on October 31. Again he had a somewhat troubled trip and finished ninth of 12.
A knee chip started bothering him at that point, so it was removed. Along with a tendon issue that surfaced, it meant the horse was away from the races for a year. He spent time recovering at Chesapeake Farm in Lexington, Kentucky, and Chesapeake's owner, Drew Nardiello, picked up an ownership interest along the way.
Secret Of The Sea resurfaced at Churchill Downs on November 2, 1994, in a $25,000 maiden claiming race. Off the long layoff, it was his best race to date as he rallied to finish second going 6½ furlongs.
The string then headed to Florida for the winter, where Goodrich faced a challenge. At the time, 5-year-old maidens weren't allowed to race at Gulfstream Park, so he was hoping to get a win before the end of the year. He risked putting Secret Of The Sea in two $12,500 maiden claiming races at Calder – he finished fifth at seven furlongs on December 20 and third going 1 1/16 miles on December 29.
Success at Tampa Bay Downs
Ineligible to race as the circuit moved to Gulfstream, Goodrich sent him to the barn of Kathleen O'Connell at Tampa Bay Downs, still looking for that elusive maiden win. Secret Of The Sea finished fourth in a maiden special weight on January 12 going seven furlongs, then third at six furlongs on January 24.
He finally broke through on February 2, 1995, winning a maiden special weight going seven furlongs in his ninth career start. He drew off to win by six lengths as the third betting choice.
Goodrich now had big plans for the chestnut gelding – given the pedigree he had wanted to try him on the turf since day one, but circumstances and various track restrictions kept him from doing so. Once he broke his maiden, he was eligible for and entered in a nine-furlong turf allowance race at Gulfstream Park. Alas, two days before the race, he came up with swelling in another tendon. Given his age and the time it would take to recover, Secret Of The Sea was retired.
He concluded his racing career with one win in nine starts and earnings of $8,500.
Arrangements were made to send him back to Chesapeake, where he was turned out with a couple of other horses.
In 1996, Goodrich quit training. "I was totally burned out, and recognized that the industry was changing – it was becoming a game of numbers with horsemanship being discounted," he explained. In 1997, after Saint Ballado was sold (he had still owned a part of the horse), he and wife Caren decided they needed a lifestyle change, so they moved to Montana the following summer.
Once settled in on about ten acres there, they sent for Secret Of The Sea. "It was a lot of fun to have him around," he said, adding that they would often ride him under western saddle.
Both Goodrich and his wife served as exercise riders for the horse during his racing career, and whether he was wearing racing tack or a western saddle, they loved his action. "He's a beautiful moving horse – he just floats over the ground."
When Goodrich got the race-riding urge once more in 2001, he dusted off his old racing tack and spent a couple of weeks jogging, cantering and galloping the gelding just to start getting the feel of it again. "The son of a gun got all fired up. I put that flat saddle on him and he'd really get into it."
Goodrich rode the fair circuit in the region for a couple of summers and got that out of his system, while Secret Of The Sea got into trouble one winter night. A creek running through the corner of his pasture would freeze up, building ice from the bottom up. The horse must have stepped into that frozen water, become scared when his foot broke through and pulled back quickly. A thick, jagged piece of ice had to be responsible for extensive damage to his foot and lower leg. "It tore off a huge chunk of his quarter – the worst quarter injury I had ever personally seen."
Strider gets a new home
Secret Of The Sea would recover, but the area would remain ugly and his soundness would vary depending on the quality of his foot care; he was fitted with a bar shoe that helped considerably.
Goodrich and his wife eventually moved to Aspen, Colorado, and of course brought the horse with them. But they were troubled – the winters are very cold and for most of the year there wasn't good pasture for him where he was boarded. So they found a place for him near Montrose, at a lower elevation with milder winters. But again, it wasn't an ideal situation. They came to the tough decision that they had to let him go if they could find the right home for him – somewhere he could have some grass pasture without the harsh winters.
They hit the jackpot with Linda Riba and her husband Scott.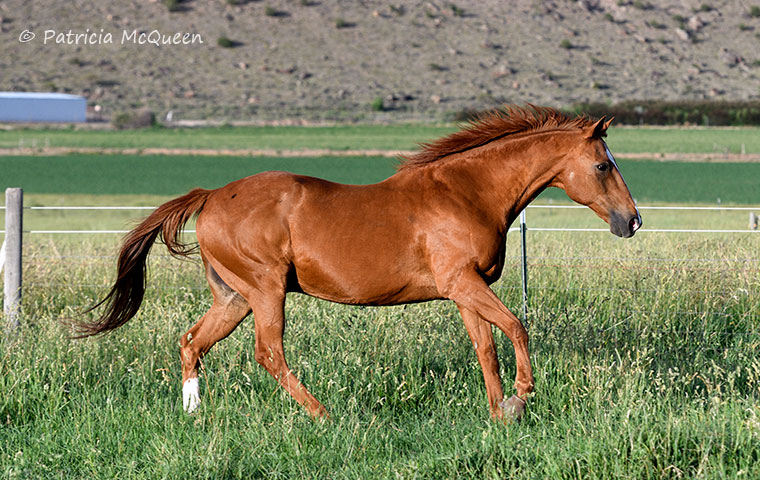 One of their hay customers was none other than the woman boarding Secret Of The Sea, and when she picked up hay on Labor Day weekend 2011, she asked Scott if he knew of anyone who wanted one of the last sons of Secretariat. He called Linda over.
"I thought Diana was pulling my leg, but after a few minutes of conversation it became clear that she really was asking a legitimate, straightforward question," said Riba. "The thought ran through my head, 'Of all the gin joints in all the world, she walks into mine'."
After all, Riba has been horse-crazy since childhood, and that big red horse who swept through the Triple Crown in 1973 stole her heart.
"I remember every one of the races like it was yesterday. The call, 'Secretariat is widening now! He's moving like a tremendous machine!' as he left the field behind in the Belmont is forever etched in my memory and never fails to catch at my heart when I hear it."
She and a friend made a pilgrimage to Kentucky to see their hero in 1976 and again in 1985. On that first visit, "we fell hopelessly in love with that perfect glowing red horse, forever." She got to pet Secretariat, and to this day she still wears a locket that holds three hairs from his mane.
Pasture mates
Riba had always wanted a horse with Secretariat blood. She once bought a granddaughter, a 2-year-old for which she paid $800 at a sale in northern California. Not long thereafter, the filly broke down while training and was lost. "It broke my heart," said Riba, who didn't get another opportunity to own such a horse.
That is, until Diana asked the question about Secret of the Sea that fateful day in September 2011. Riba couldn't believe her good fortune – she brought him home the very next day and quickly made the ownership transfer official. "It's good to get one's heart's desire every now and again. And by God, that was my heart's desire."
Nearly six years later, Strider is happily living with four other horses – two Quarter Horse geldings and two mustang mares. He's the wimp of the group, but still manages to get in a lick or two when the play escalates, as will happen with even the friendliest of horses from time to time. And Strider is as friendly as you can get. "He's a really easy horse to get along with," said Riba.
As Goodrich noted, with good foot care he's pretty sound – he certainly has no trouble running around and playing with his pasture mates when the urge strikes him.
He does wear bell boots on both front feet to protect the injured one, which still has to be managed with careful trimming (he goes without shoes these days). Fortunately, Scott put himself through college as a farrier, so he's able to provide personalized foot care whenever Strider needs it.
Despite the injury, Riba can still see the grace in his stride that Goodrich saw all those years ago. "He is the prettiest moving horse you've ever seen," she said. "He just floats. Sometimes they'll go nuts and have a race around the pasture field, and he's almost always in the lead. He moves beautifully. He would have been a dressage horse par excellence."
She did ride him once, just to see what it was like. That she never got a chance to try him out more than that doesn't matter one bit. "It makes me smile just looking at him."
Goodrich is very happy she's still smiling. "We could not have been more thrilled with having him end up with Linda. What she has given him and provided for him in his later years is not something we could give him, and he deserves it."
Previous articles in Patricia McQueen's series on Secretariat's offspring