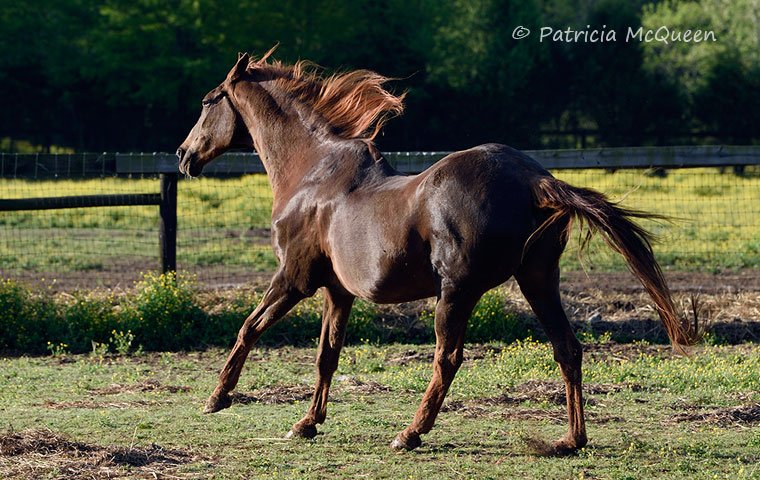 A little more than a month after Albany's Secret's 30th birthday (last April 28), the temperatures in northern Alabama rose into unbearable territory and the Secretariat mare suddenly stopped eating. Her best friend, a Tennessee Walking Horse named Major Influence, several years her junior, also stopped eating, perhaps in a show of solidarity. Two days elapsed, and Karen Chillcott was on the verge of panic.

After all, the proprietor of Victory Alliance Ranch, an equine rescue and sanctuary, strives to make sure the dozens of horses in her care are happy and healthy. Most of them (including Albany's Secret) are rescues – of multiple breeds – and deserve no less in their remaining time on this earth.
------------------------------
HOW A MARE LEFT TO STARVE BECAME THE QUEEN OF ALABAMA
Patricia McQueen's original article about the daughter of Secretariat was first posted on December 3, 2017.
Read it here
------------------------------
Better still, the horses themselves contribute to the good lives of humans that need them – veterans who find solace in working around horses or even just helping on the farm to give them a sense of purpose, plus special needs children who thrive when paired with horses. That's what Victory Alliance Ranch is all about – melding the needs of horses and humans.
So, when the two horses wouldn't eat, Chillcott was understandably worried. A friend suggested changing things up. Instead of their usual soaked food, she put some dry pellets into pans and took them out to the pasture in a wheelbarrow, planning to place them on the ground.
No sooner did she get through the gate than Major got all excited. "He trotted around behind me and snuck a bite out of a pan, still in the wheelbarrow," said Chillcott. Albany's Secret then came running and followed suit. "They were like two little kids stealing food – they were so happy and, of course, I was laughing out loud."
She left the pans in the wheelbarrow, and it wasn't long before they had eaten every last morsel.
The two horses loved the idea so much that, when they finished the food, they got into the habit of lifting the pans out of the wheelbarrow and stacking them on the ground – perhaps making sure Chillcott knew they were finished so she wouldn't forget the next mealtime. If food was ever late, they'd pick up the pans again and stack them on the wheelbarrow handles.
As the temperatures got even hotter, and the rains came, she moved the wheelbarrow to their lean-to, sheltered from the elements. From then on, their food had to be delivered in pans in that wheelbarrow, in that shade. "They gave new meaning to the term meals on wheels, joked Chillcott.
It was a running joke, but it was working. For the next few weeks, all was well with the world.
Albany's Secret would meet Chillcott (and the bucket of food) at the gate, waiting for her to pour it into the pans in the wheelbarrow. "She would snuggle and play with me, trot around and then eat with gusto."
In the evening hours of August 1, the mare was in her usual playful mood, continuing to belie her 30+ years. "I rubbed her down and combed out her mane, and she was giving me snuggles," remembers Chillcott fondly. "After playing with her for a while, I left her happily munching away."
The next evening, the mare wasn't waiting for her. A volunteer had checked on the horses earlier in the day and nothing was amiss. But that evening, Chillcott found Secretariat's daughter dead.
There was no sign of a struggle; she likely just dropped from a heart attack. "I will be forever grateful for that last night of playfulness," she said, still choking up at the memory.
Albany's Secret was buried the next morning in the pasture where she spent much of the past year with her pal Major. That pasture will be dedicated to her memory. For his part, Major showed signs of distress in the ensuing days, missing his girlfriend. Chillcott paired him up with one of her more timid rescued Arabian mares and the two developed a friendship.
Today, Major and the mare, Konfetti, share a pasture with four other mares. He's a happy horse once again.
For Chillcott, it hasn't been so easy.
"I miss Albany's Secret every day. I didn't realize how much of each day was spent feeding her, checking on her and talking to her. I still feel her presence, particularly when I have a rough day. I know she lived much longer than any of us expected her to, and I take comfort in knowing that, during the last seven years of her life, she was thoroughly spoiled here and knew she was loved."
Previous articles in Patricia McQueen's series on Secretariat's offspring
PLUS