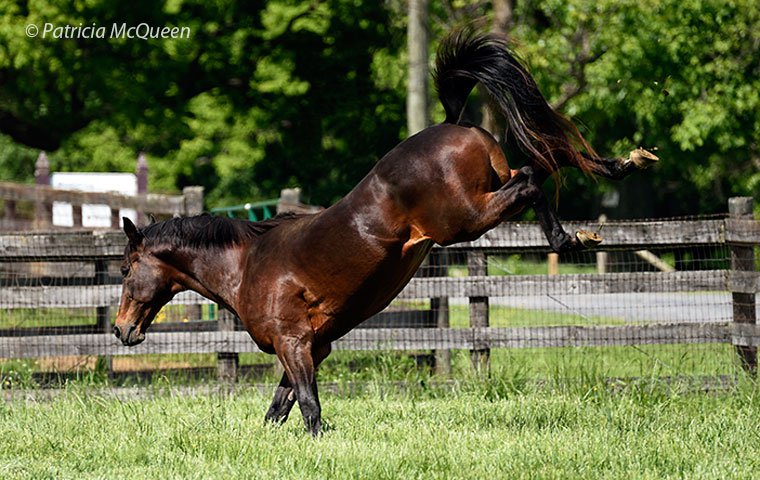 There aren't many of Secretariat's offspring left. The youngest ones are 26 years old, and the head of that class is millionaire Tinners Way, a high-profile resident of Old Friends in Kentucky.

At the beginning of this year, it looked like 27-year-old stakes winner Careless Secretary would continue to be the only active breeding son. Based in Bulgaria and popular with both Thoroughbred and sport horse breeders, he had 26 mares booked to him. But alas, he was lost after an unfortunate injury in April.
That leaves a strapping bay son named Innkeeper as one of the oldest – if not the oldest – out there. Certainly he's the most prominent. The 28-year-old stallion knows he's the star of Virginia Tech's MARE Center in Middleburg, Virginia, where he has been the center of attention since taking up residence there in late 2010.
Innkeeper's life has taken a variety of twists and turns over the years, not exactly what you'd expect of a $1.15 million Keeneland summer sales yearling by Secretariat. Born in Kentucky March 15, 1988, the colt was produced from the Mr. Prospector mare Sue Babe, a winner of three of four starts at two, including two stakes races.
Beat a future Derby winner
When offered at Keeneland by consignor Sugar Maple Farm for breeder Regent Farms, he was purchased by trainer D. Wayne Lukas. Not only did Lukas have a good history with Secretariat's sons and daughters, he knew Sue Babe well. He had already trained her son, Sir Harry Lewis, in the U.S. after that Irish Derby winner returned to these shores and would later train more of the mare's foals, including stakes winners Sir Richard Lewis and Cyrano.
Innkeeper raced in the colors of Overbrook Farm and made his racing debut at Saratoga on August 5, 1990, finishing seventh. He made five more starts at two, with his best showing a second at Aqueduct. He was keeping good company in some of those races – G1 winners Lost Mountain, Key Contender and Strike The Gold were winners. Innkeeper actually defeated the latter, a future Kentucky Derby winner, when second on October 31, before losing to him a couple of weeks later.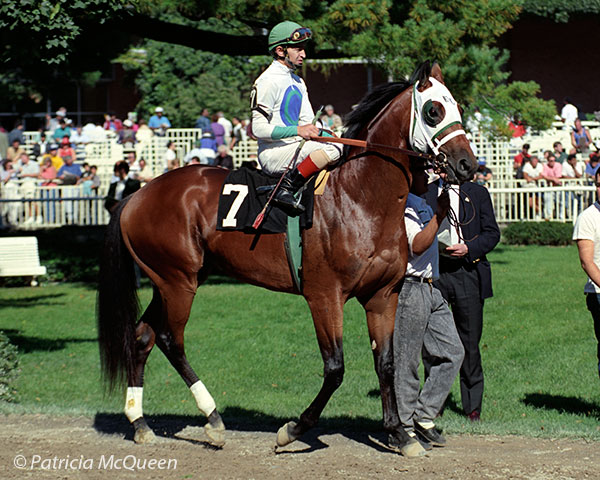 Sent to Florida, he won his 3-year-old debut on January 26 at Gulfstream Park, going wire to wire under Jerry Bailey over 1 1/16 miles to win by almost three lengths. As it turned out, that was his last start, so he completed his career with one win in seven starts and earnings of $23,180.
Innkeeper entered stud in 1992 at Oakwood Farm in Summerfield, Florida. He was not well received. Despite his family's success and the looks that brought $1.15 million, he didn't accomplish anything on the racetrack, and only Secretariat's best runners had any chance at stud. Innkeeper had seven registered foals in 1993 and just three the following year. His leading runner came from that limited second crop – the stakes-placed filly Motel Time, an earner of $140,299.
A second career
That's when his story takes its first turn. The original syndicate went bankrupt, and he was sent to Sugar Maple Farm in New York in an attempt to restart his stud career. There were no takers. While at Sugar Maple, owned by Howard and Susan Kaskel, he took on the nickname Howard, a moniker that stayed with him the rest of his life.
The farm's vet was Dr. Richard B. Urban, VMD, and he asked his wife, artist Jocelyn Sandor Urban, to come take a look at the horse – he wanted to buy him. She didn't think they needed a second stallion. "I went into this huge stall, and he was sleeping in a corner," recalled Jocelyn. "When he saw me, he walked over, pressed his head on my shoulder and picked up my sleeve with his mouth." She thought to herself, 'how can I not take him home!'
So the Urbans found themselves with another horse, and Jocelyn enjoyed galloping him bareback around their Connecticut farm. They sent him for formal hunter training, and he competed in shows, but eventually they decided that a stallion with his bloodlines deserved to be something more than a trail horse. They started advertising him for sale.
That's where sport horse owner/breeder Ursula Ferrier stepped in for the next phase of Innkeeper's life. She was looking for a Thoroughbred stallion and a mutual friend introduced her to the Urbans.
Incedible mover
At the time, Innkeeper, aka Howard, was about eight years old. With one look, Ferrier just had to take him home. He had that effect on people.
"Secretariat was just an amazing horse," said Ferrier. "Howard looked a lot like him in a bay suit. He's a very impressive horse to look at." And as she would soon learn, he is an incredible mover filled with personality.
She did everything with him – dressage, eventing, fox-hunting, hunter paces. "He was super versatile, incredibly smart and very safe," she said. She rode him in a Future Farmers of America Christmas parade through a Maryland town, and he didn't turn a hair, despite being surrounded by mares, other horses and even marching bands.
Ferrier has no doubt about what Howard is best at – galloping. "He has such an incredible gallop stride. He's a beautiful jumper, but he just loves to run."
That said, there was one thing he loved even more – breeding.
Ferrier relates the story of the time he got away from her, ran off and promptly jumped on the breeding mount. She added that he was quite prepotent and could get mares in foal that couldn't catch from other stallions. So not only did he love breeding, he was good at it.
Special status
Ferrier had the horse approved as a stallion by the Oldenburg Registry North America and the International Sporthorse Registry. Very few registered Thoroughbreds achieve that designation and he's the only son of Secretariat to have it.
Eventually she wanted to promote him more as a stallion, so she sent him to Hilltop Farm, the renowned sport horse breeding and training facility in Maryland. "When I dropped him off there, he was like 'It's about time – I've been slumming it with you!'" she remembered, laughing. "He was born with a silver spoon in his mouth and he seemed to be saying 'See you mom. I knew I was supposed to be somewhere special, and here I am!' That's him. He's the king."
Innkeeper stayed at Hilltop for a couple of years, breeding a few Thoroughbred mares, as well as all variety of other breeds. While there, he was ridden in competition by event rider Hans Engberg, and also spent time with internationally renowned eventer Bruce Davidson, who bred several mares to the horse and has competed his offspring.
When Ferrier took him back home, she continued to compete with him for a while, but before long she was having others ride him just to keep him fit and happy. It was at that point where she started worrying about Howard's future. "I felt I needed to do something with him, because he had become a second-stringer [as he got older], and I didn't want that."
She knew of the MARE Center and its sport horse breeding program. MARE is the Middleburg Agricultural Research and Extension Center, a 420-acre facility established in 1949 through generosity of the late Paul Mellon. Mellon left an endowment to the center to fund research, teaching and outreach activities focusing on the horse.
"I donated Howard because I knew they'd take really good care of him," said Ferrier. "There would be a bunch of doting young students fawning all over him, and sex would be his number one job. He loved competing, but he loved sex more. It just seemed ideal and in his best interest."
A teaching stallion
When Innkeeper first arrived at the MARE Center to begin the final stage of his life, he was an active part of the breeding and teaching program. "Working with him as a breeding stallion provided our students with hands-on training in equine reproduction and stallion management," said Dr. Bridgett McIntosh, who oversees the program today. He would cover the Center's mares and other local mares, and also served mares across the country through shipped semen.
He was retired from breeding after the 2012 season, but he still helps educate students on stallion handling and behavior, and is occasionally used to tease mares.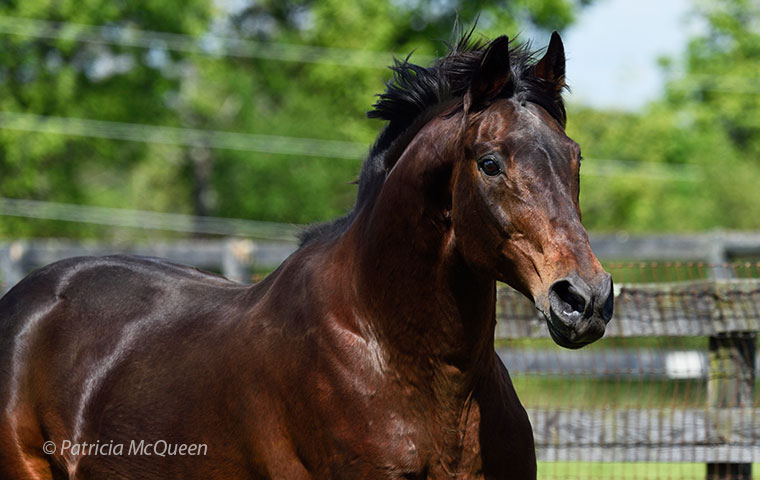 He will live out the remainder of his days in the lush Virginia pasture, where he gets the respect he deserves.
"He is a highlight of many of our tours and educational programs as it is a privilege to see a son of Secretariat as grand as he," said McIntosh. "I believe the horse knows he is important. When he is being filmed or watched, he goes from quietly grazing to pricking his ears a little higher and moving with the athleticism and grace of a horse half his age."
At this point his only real nod to age is his teeth – or lack thereof. He needs frequent and specialized dental care to manage what he has left and to make sure he gets enough nutrition. He gets a special mash twice daily, beautiful grass pasture and alfalfa to supplement that in the winter months.
'Great old blood'
Innkeeper may have only sired 35 registered Thoroughbred foals, but there are far more of his offspring out there in the sport horse world. It's not surprising that he made such an impact – after all, his half-brother Sir Harry Lewis, was most prominent as a National Hunt sire in the U.K.
"Innkeepers are all over the place, doing all kinds of stuff," said Ferrier. "He could breed anything and you'd get something nice. They were always really smart and very sensible." She just happened to keep a few doses of frozen semen, should she want to use what she calls "great old blood" in her future breeding programs.
All those who had a hand in Innkeeper's life after racing agree that he is a genius – and he knows how to use those smarts. "While he can be handful, he is smart about who he tries to take advantage of and who he respects," said McIntosh.
Ferrier likened him to Eddie Haskell on the old Leave it to Beaver TV show. "He always pretended to be such a good guy but he was a total sneak. He would get into everything."
Oh, and he has a scream sometimes compared to that of a peacock – and isn't afraid to sound off when he has something to say.
There's no doubt that Howard, so smart and full of personality, has led a charmed existence thanks to people who cared; it could have gone wrong in so many ways.
"I'm very proud and honored to have had him," said Ferrier. "He's always been larger than life." And he knows it.
Previous articles in Patricia McQueen's series on Secretariat's offspring