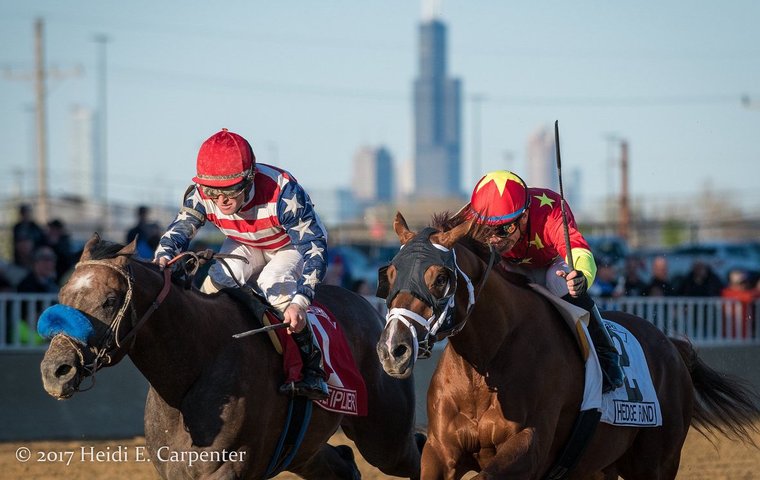 Last weekend's Illinois Derby was the final stop on our Road to the Kentucky Derby. It may not count for points towards the Run for the Roses, but it has a rich heritage (it was won by War Emblem before he won the first two legs of the Triple Crown in 2002) and is still a race of some significance. So what did James Willoughby, who is assessing each of the Derby preps using the tools available to him via the TRC Global Rankings algorithm, make of the 2017 edition?

Trial number: 27 of 27
TRC trial rank: #23
Trial name: Illinois Derby
Grade: 3
Our Grade: 3
Course: Hawthorne
Date: April 22, 2017
Distance: 9f
Going: Fast
Winner: Multiplier
Winner Expected RPR: 110.6
Winner Actual RPR: 102
Winning Trainer: Brendan Walsh (TRC Global Ranking: #96)
Winning Jockey: James Graham (#260)
Winning Owner: American Equistock (Unranked)
Winning Sire: The Factor (#277)
Analysis
You go and save the worst to last? The final race in our 27-stage stop-off on the Road To The Kentucky Derby turned out to be the lowest-rated by Racing Post Ratings at 102. But the highly likeable Multiplier is worth noting for one main reason.
This colt really stays. That is, really stays. Review the finishing strength of his effort via the video (it's race 5): you would swear he wasn't going to get there. But this thoroughly-lazy-but-perfectly-game colt began to really roll in the final high-leverage yards and completely blew up Hedge Fund, the runner-up.
The split-times for the 2017 Illinois Derby of 23.47 – 23.77 – 23.85 – 24.48 – 12.41 (24.81 pro-rated) are about as even as dirt-racing around two turns is going to get. (Because even pace begets optimal time, and the track was riding fast, this was the second-fastest time in the history of the race.) That placed the winner – who was six-lengths back after a quarter-mile according to the Equibase chart – at a disadvantage, for this wasn't the type of race that has been common in our series in featuring sharp deceleration.
No, Multiplier had to go out and get Hedge Fund having, in effect, conceded five lengths to him cheaply. And to do this in cold blood marks him as perhaps the strongest stayer seen in this series, though not the most talented, of course.
A story worth telling
Though stamina is thankfully an increasingly common exhibit among U.S. classic aspirants now, you just wonder whether Multiplier might cause a shock in something decent somewhere down the road. After all, if he can do this in an even-paced encounter, what might he achieve in a meltdown?
Multiplier is by The Factor out of a mare by Trippi, so those who do little more than skim the top line of a pedigree will be mystified as to where he gets the extreme endurance with which he is blessed. The answer lies in his dam, and this is a story worth telling.
Trippi Street was trained by Wayne Catalano for Darrell and Evelyn Yates. She raced just five times in 2005 and 2006 and she could run. After winning her maiden on juvenile debut in October by nine lengths at - you guessed it – Hawthorne, she ran second in the G3 Pocahontas Stakes over a mile at Churchill Downs the following month. In that race, she closed in the latent manner that her son was to do 11 years later, revealing a ton of stamina on just her second start.
Sadly, Trippi Street must have had an injury, for she was next seen out nine months later at the backend of her juvenile career when, despite being cut back to six furlongs in an allowance race at Arlington, she bolted up. That was her last win.
Trippi Street is a daughter of Alleged, who won the Prix de l'Arc de Triomphe at Longchamp in 1977 and 1978. Alleged imparts almost bottomless stamina to his stock and is found in the pedigrees of any number of smart European stayers. But it is neat, germane to our subject here, that he was by Hoist The Flag out of a Prince John mare. Both horses were strongly fancied for the Kentucky Derbys of 1971 and 1956 respectively when injury blighted their chances in different ways. For his part, Prince John has had a profound influence over the breed in the U.S. via his exploits as a broodmare sire.
So, it could be that Multiplier's heritage turns out to be more interesting than he ever does. But keep his name in mind, for those bloodlines are bursting with staying power and he is only yet developing into the horse he could be.
"He's a gorgeous horse, just a beautiful horse," said his rider, James Graham, on dismounting. It's great to hear a jockey so inspired. Graham needs commending for a skilful ride, too, and there is obvious synergy in their partnership.
Read James Willoughby's previous Derby trial analyses
1. Los Alamitos Cash Call Futurity (Mastery)
2. Jerome (El Areeb)
3. Sham Stakes (Gormley)
4. Lecomte Stakes (Guest Suite)
5. Holy Bull (Irish War Cry)
6. Withers (El Areeb)
7. Robert B. Lewis (Royal Mo)
8. Swale Stakes (Favorable Outcome)
9. Sam F. Davis (McCraken)
10. San Vicente (Iliad)
11. Southwest Stakes (One Liner)
12. Risen Star (Girvin)
13. Gotham (J Boys Echo)
14. Fountain of Youth (Gunnevera)
15. San Felipe (Mastery)
16. Tampa Bay Derby (Tapwrit)
17. Rebel Stakes (Malagacy)
18. UAE Derby (Thunder Snow)
19. Sunland Derby (Hence)
20. Louisiana Derby (Girvin)
22. Wood Memorial (Irish War Cry)
23. Blue Grass (Irap)
24. Santa Anita Derby (Gormley)
25. Arkansas Derby (Classic Empire)
26. Lexington Stakes (Senior Investment)