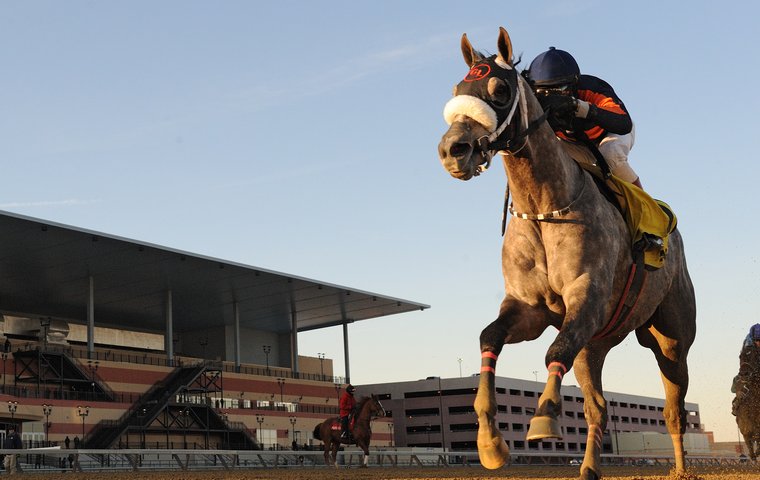 Race analyst James Willoughby is assessing each of the trials on the Road to the Kentucky using the tools available to him via the TRC Global Rankings algorithm. Here he looks at last Saturday's Withers Stakes at Aqueduct.

Trial number: 6 of 27
TRC trial rank: #20
Trial name: Withers Stakes
Grade: 3
Our Grade: 3
Course: Aqueduct
Date: Feb 4, 2017
Distance: 8.5f Inner
Going: Fast
Winner: El Areeb
Winner Expected RPR: 108.1
Winner Actual RPR: 110
Winning Trainer: Cathal Lynch (TRC Global Ranking: #447)
Winning Jockey: Trevor McCarthy (#165)
Winning Owner: M M G Stables LLC (Unranked)
Winning Sire: Exchange Rate (#201)
Analysis
Perhaps the best-moving colt on the Road To The Kentucky Derby, the upstart grey El Areeb merely paired his G3 Jerome Racing Post Rating of 110 to land another staging post on the route to the G2 Wood Memorial.
Last time, we were suitably impressed with him, with the proviso that the track was dull and slow and he wouldn't always be able to grind it out. Well, this time the Aqueduct inner dirt was livelier, but the impression remains he may be a little challenged for pace against the very best.
However, watch how elegantly he strides on the video above while reading those splits from the Equibase chart: 24.29 – 25.02 – 24.75 – 24.24 – 6.17 (pro-rata 24.68). He raced a bit wide and once again cleared away from the opposition.
Read James Willoughby's earlier Derby trial analyses
1. Los Alamitos Cash Call Futurity (Mastery)
2. Jerome (El Areeb)
3. Sham Stakes (Gormley)
4. Lecomte Stakes (Guest Suite)
5. Holy Bull (Irish War Cry)