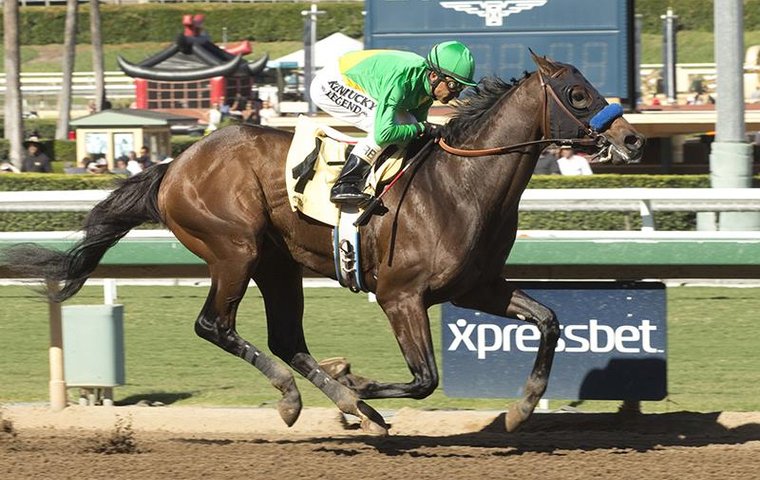 Well, it's hardly likely that a Derby winner will emerge from last Saturday's San Felipe Stakes, even though it's possible it contained the best horse to run on the Road to the Kentucky Derby. James Willoughby, who is assessing each of the trials using the tools available to him via the TRC Global Rankings algorithm, gives his view.

Trial number: 15 of 27
TRC trial rank: #5
Trial name: San Felipe Stakes
Grade: 2
Our Grade: 2
Course: Santa Anita
Date: March 11, 2017
Distance: 8.5f
Going: Fast
Winner: Mastery
Winner Expected RPR: 116.5
Winner Actual RPR: 121
Winning Trainer: Bob Baffert (TRC Global Ranking: #3)
Winning Jockey: Mike Smith (#8)
Winning Owner: Cheyenne Stables LLC (#110)
Winning Sire: Candy Ride (#9)
Analysis
The history of the San Felipe is littered with brilliant horses: California Chrome, Medaglia d'Oro, Point Given, Fusaichi Pegasus, Sunday Silence and Affirmed, to name just a few. That this year's winner, Mastery, is unlikely to join them is a cruel blow to the sport because, make no mistake, he might just have done so.
Instead, he faces an uncertain future after a leg fracture left his racing career hanging in the balance. Whatever the prognosis, the son of Candy Ride may just be too valuable to bring back to the track.
Mastery was a shade slowly into stride, characteristic of a lazy streak, which manifested itself in a different way in the G1 Los Alamitos Futurity. But, as soon as he reached full pace, his long, smooth stride devoured the ground and gradually turned the screw on those chasing him in vain. By the straight, he went up another gear and, in common with many dirt champions, administered the coup de grace in terms of the pressure he placed on his opponents.
While there is often too much importance placed on the ease with which a horse passes the line, it was merely the cherry on the cake that he did not have to be hard ridden by Mike Smith. Why not enjoy it again for yourself in the YouTube video above, since we will be starved of live action from this superstar. "... drew off under a long hold late …" go the Equibase chart comments
This is only supposition, but his lovely action appeared compromised in the final 100 yards, and perhaps Mastery was feeling the injury already. Either way, he was dismounted quickly by Smith and soon appeared to be less than sound.
Whatever the future holds – and a Racing Post Rating of 121 at this stage of his trajectory is outstanding – this was a cracking performance and yielded a commensurate final time of 1:42.28, which, while two seconds off the stakes record, was really good for a young horse (Mastery is a May foal) on a track that was playing a little slow.
The splits of 23.50 – 23.29 – 23.69 – 25.14 – 6.66 (26.64 pro-rated) were enough to leave his chief rivals Iliad and Gormley shot to pieces in the final furlong.
The pressure of hard, internal fractions also did for Gormley in the Breeders' Cup Juvenile, and we commented after the G3 Sham Stakes that it seems he just isn't good enough to look top-notch opposition in the eye.
While the same conclusion might be reached over Iliad, the chances are he simply does not get an extended mile at this tempo, something which was a question coming out of his impressive romp in the G2 San Vicente. We also noted that he shows signs of not being a particularly game horse, though, at least for now, he needs to be given a chance back sprinting, for he owns outrageous speed. Few horses could have got as deep into this contest as he did, while racing wide of Mastery and Gormley.
Read James Willoughby's previous Derby trial analyses
1. Los Alamitos Cash Call Futurity (Mastery)
2. Jerome (El Areeb)
3. Sham Stakes (Gormley)
4. Lecomte Stakes (Guest Suite)
5. Holy Bull (Irish War Cry)
6. Withers (El Areeb)
7. Robert B. Lewis (Royal Mo)
8. Swale Stakes (Favorable Outcome)
9. Sam F. Davis (McCraken)
10. San Vicente (Iliad)
11. Southwest Stakes (One Liner)
12. Risen Star (Girvin)
13. Gotham (J Boys Echo)
14. Fountain of Youth (Gunnevera)