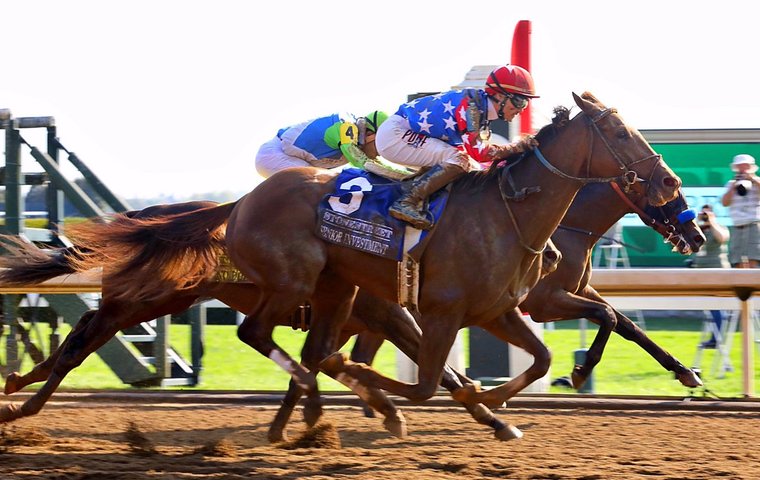 Saturday's Lexington Stakes may not have set the world alight as a Kentucky Derby trial - the winner is still only 30th on the official leaderboard - but there was still plenty to take out of the race, says James Willoughby, who is assessing each of the Derby preps using the tools available to him via the TRC Global Rankings algorithm.

Trial number: 26 of 27
TRC trial rank: #23
Trial name: Lexington Stakes
Grade: 3
Our Grade: 3
Course: Keeneland
Date: April 15, 2017
Distance: 8.5f
Going: Fast
Winner: Senior Investment
Winner Expected RPR: 107.8
Winner Actual RPR: 107
Winning Trainer: Ken McPeek (TRC Global Ranking: #155)
Winning Jockey: Channing Hill (#176)
Winning Owner: Fern Circle Stables (Unranked)
Winning Sire: Discreetly Mine (#422)
Analysis
Critics of dirt racing in Europe choose to characterise it as a one-dimensional environment, a three-yards-and-a-cloud-of-dust job in which every winner makes all. In this garb, it is written off with the same distaste a modern NFL fan would have for the Wishbone Offense.
Of course, this is not just hopelessly simplistic but plain wrong. Great stretch runners like Forego or John Henry in days of yore, and Ghostzapper and Zenyatta more recently, have proved that, while the American racing psyche most closely identifies with on-the-pace-types like Arrogate and American Pharoah, it reserves a special place in its affections for stretch runners and deep closers, and all the drama that attends them.
Nobody is going to confuse Senior Investment for Seabiscuit any time soon. But, his slashing, late-running style, set up by a complete lack of early pace, gave the 2017 Lexington probably its most significant aspect on the Road To The Kentucky Derby. Go on, treat yourself to another viewing via YouTube above: see him set up miles in the backfield and pick off horses one-by-one.
Say what you want about the merit of his performance – captured by a Racing Post Rating of just 107 which is the quantitative version of 'Classic Irrelevance' – but it was great to watch. And, heh, let's be positive: the Lexington isn't won by the likes of Risen Star, Touch Gold and Charismatic any more, but at least it isn't run on synthetics.
If you had bet Senior Investment here, and saw split times of the kind of 24.16 – 23.55 – 24.73 pop up on the screen, you would not be clutching your ticket with much expectancy while the lumbering dinosaur whose name it bore was 12 lengths behind. But the Keeneland track was not at all glib, as the closing splits of 25.90 and 6.71 (26.84 pro-rated) prove. And Senior Investment, despite taking longer to flourish than a Treasury Bond, finally got there for backers committed to short-selling early pace in this spot.
"Senior Investment was unhurried early …." goes the chart-caller's comment on Equibase. "Refused to be hurried" would be a less formal description. But he wasn't alone, as second-home West Coast and the ironically named third No Dozing came from well out of it. It may be worth noting the name of fifth-placed Time To Travel for excursions outside prime time, for he did best of the front runners.
Wherever Senior Investment goes, he will be fun to watch. This was his eighth start, and his best performance, it isn't hard to believe in him as a slow-learner.
Read James Willoughby's previous Derby trial analyses
1. Los Alamitos Cash Call Futurity (Mastery)
2. Jerome (El Areeb)
3. Sham Stakes (Gormley)
4. Lecomte Stakes (Guest Suite)
5. Holy Bull (Irish War Cry)
6. Withers (El Areeb)
7. Robert B. Lewis (Royal Mo)
8. Swale Stakes (Favorable Outcome)
9. Sam F. Davis (McCraken)
10. San Vicente (Iliad)
11. Southwest Stakes (One Liner)
12. Risen Star (Girvin)
13. Gotham (J Boys Echo)
14. Fountain of Youth (Gunnevera)
15. San Felipe (Mastery)
16. Tampa Bay Derby (Tapwrit)
17. Rebel Stakes (Malagacy)
18. UAE Derby (Thunder Snow)
19. Sunland Derby (Hence)
20. Louisiana Derby (Girvin)
22. Wood Memorial (Irish War Cry)
23. Blue Grass (Irap)
24. Santa Anita Derby (Gormley)
25. Arkansas Derby (Classic Empire)