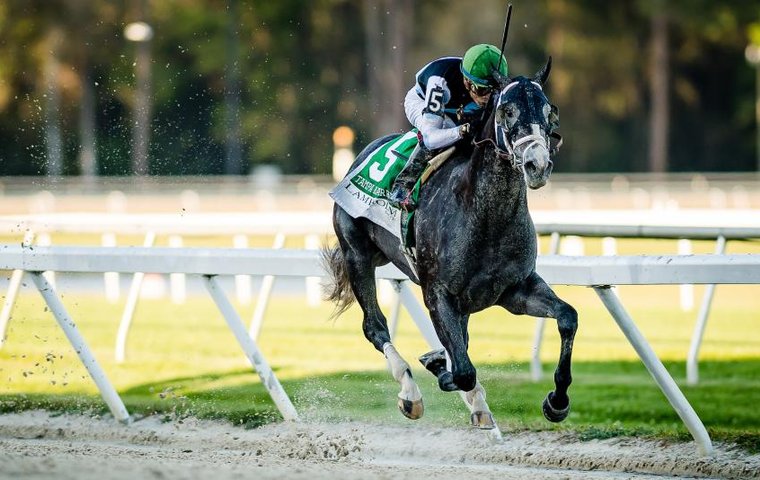 James Willoughby is assessing each of the trials on the Road to the Kentucky Derby using the tools available to him via the TRC Global Rankings algorithm. Here is his verdict on the Tampa Bay Derby.

Trial number: 16 of 27
TRC trial rank: #14
Trial name: Tampa Bay Derby
Grade: 2
Our Grade: 2
Course: Santa Anita
Date: March 11, 2017
Distance: 8.5f
Going: Fast
Winner: Tapwrit
Winner Expected RPR: 112.5
Winner Actual RPR: 111
Winning Trainer: Todd Pletcher (TRC Global Ranking: #6)
Winning Jockey: Jose Ortiz (#20)
Winning Owner: Bridlewood Farm Et Al (Unranked)
Winning Sire: Tapit (#4)
Analysis
Tapwrit is a colt who is growing in stature on the Road to the Kentucky Derby. Each time he runs, the unbiased observer cannot help liking him more.
When defeated by the impressive McCraken in the Sam F. Davis Stakes, also at Tampa Bay Downs last time, we pondered what might happen when Tapwrit got a sterner test of stamina. Could he reverse the form, even though spotted 6lb by the winner?
Well, with McCraken sidelined temporarily with an injury, we didn't get to find out. In his absence, Tapwrit certainly lived up to the idea that he is a long-winded runner, putting this one to bed by four lengths by sustaining a strong pace off the turn. You can see this resolute racing character clearly in the video below.
Stamina will not be an issue in the Kentucky Derby and it may be premature to assume he isn't pacey enough, even though his Racing Post Rating of 111 (still behind McCraken's 112, quite rightly) points in that direction.
The Equibase chart details fractions of 23.42 – 23.23 – 23.92 – 25.18 – 6.61 (26.44 pro-rated), which represent steady deceleration up front, as is typical of many good times on dirt. Tapwrit was perfectly rated just off them, and, using this near-ideal set-up, kept on well to clock a stakes record. It shouldn't be forgotten that recent Derby heroes Street Sense (won, 2007) and Super Saver (third, 2010) also competed here.
Tapwrit is likely going to need to show a bit more foot mid-race, or else emulate the style of Giacomo's victory at Churchill Downs in 2005, but we simply need to see him tackle nine panels first to make that judgment more accurately, for even that trip will see him ascend the ratings scale.
Tapit, the sire of the winner, really is a world-class sire and has only the brilliant Deep Impact, Galileo and Dubawi in front of him in the TRC Global Rankings. We rate him as the best sire in the world in dirt races, and the hallmark of his stock is strong running, even though he can get one-turn horses too.
This is a colt with a very strong pedigree – his dam was a G1 winner – and he will be finishing strongly at Churchill Downs, wherever that lands him. It just might see him reach the frame – if he can produce the necessary improvement for tackling further.
Read James Willoughby's previous Derby trial analyses
1. Los Alamitos Cash Call Futurity (Mastery)
2. Jerome (El Areeb)
3. Sham Stakes (Gormley)
4. Lecomte Stakes (Guest Suite)
5. Holy Bull (Irish War Cry)
6. Withers (El Areeb)
7. Robert B. Lewis (Royal Mo)
8. Swale Stakes (Favorable Outcome)
9. Sam F. Davis (McCraken)
10. San Vicente (Iliad)
11. Southwest Stakes (One Liner)
12. Risen Star (Girvin)
13. Gotham (J Boys Echo)
14. Fountain of Youth (Gunnevera)
15. San Felipe (Mastery)