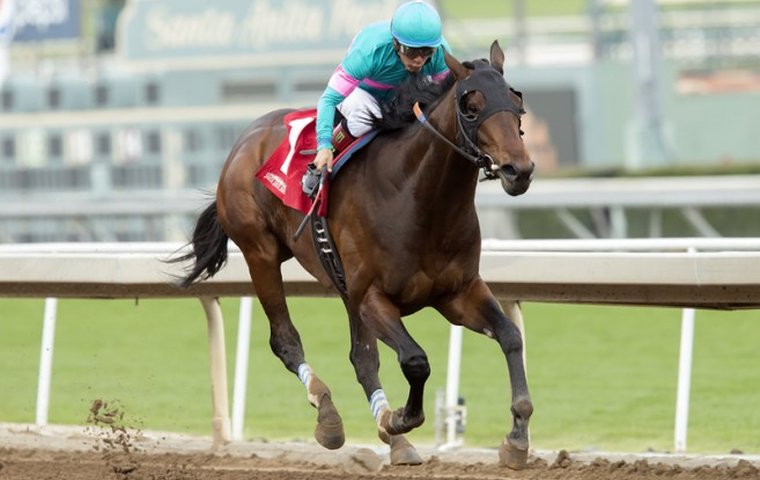 Using the tools available to him via the TRC Global Rankings algorithm, James Willoughby is assessing each of the trials on the Road to the Kentucky. Here he looks at last Saturday's Robert B. Lewis Stakes at Santa Anita.

Trial number: 7 of 27
TRC trial rank: #10
Trial name: Robert B. Lewis Stakes
Grade: 3
Our Grade: 2
Course: Santa Anita
Date: Feb 4, 2017
Distance: 8.5f
Going: Fast
Winner: Royal Mo
Winner Expected RPR: 113.9
Winner Actual RPR: 112
Winning Trainer: John Shirreffs (TRC Global Ranking: #168)
Winning Jockey: Victor Espinoza (#22)
Winning Owner: Mr & Mrs Jerome S Moss (#126)
Winning Sire: Uncle Mo (#7)
Analysis
This is usually a strong Grade 3 on Racing Post Ratings, and Royal Mo is probably capable of competing in higher grade. It is clear from the YouTube video below that he is a big unit and getting a clear run at things on the rail in front suited him – he is a really strong-galloping horse and it's not difficult to see him getting into trouble in a big field.
The Equibase chart states he set a "pressured pace", but split-times of 23.86 – 23.51 – 24.13 – 25.34 – 6.64 (pro-rata 26.56) hardly speak of much dynamism in his game. This is a staying horse who won't be seen at his best until he gets a full ten furlongs to compete over. Even then, a few may have his legs.
Runner-up Irap ran well in the blinkers; he was disposed of much more easily by Mastery in the Los Alamitos Futurity.
Read James Willoughby's earlier Derby trial analyses
1. Los Alamitos Cash Call Futurity (Mastery)
2. Jerome (El Areeb)
3. Sham Stakes (Gormley)
4. Lecomte Stakes (Guest Suite)
5. Holy Bull (Irish War Cry)
6. Withers (El Areeb)