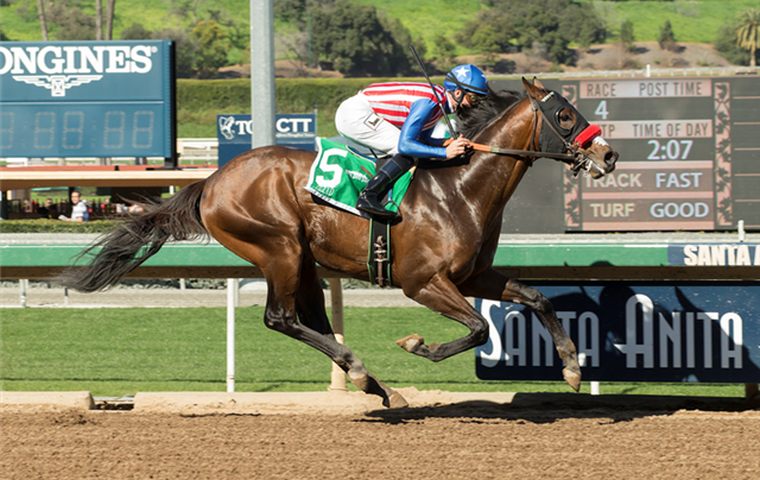 Officially, it may not be a points-scoring leg on the Road to the Kentucky Derby, but TRC still considers the G2 San Vicente Stakes potentially very informative and it is certainly part of our build-up series. Using the tools available to him via the TRC Global Rankings algorithm, James Willoughby is assessing each of the trials along the way. Here are his thoughts on the latest edition of the San Vicente.

Trial number: 10 of 27
TRC trial rank: #19
Trial name: San Vicente Stakes
Grade: 2
Our Grade: 3
Course: Santa Anita
Date: Feb 12, 2017
Distance: 7f
Going: Fast
Winner: Iliad
Winner Expected RPR: 109.3
Winner Actual RPR: 112
Winning Trainer: Doug O'Neill (TRC Global Ranking: #58)
Winning Jockey: Flavien Prat (#47)
Winning Owner: Khaleem Shah Inc (#29)
Winning Sire: Ghostzapper (#18)
Analysis
A second Derby trial winner of the week by Ghostzapper, and a second highly talented colt. Racing Post Ratings (RPR) may not reflect it quite yet, but Iliad may be the most naturally gifted horse to have won a leg of TRC's Road To The Kentucky Derby series in 2017.
The Equibase chart catalogues the splits of 21.89 and 22.19 for the first half-mile, which Iliad seemed to find a walk in the park.
Last year, this race went to future Kentucky Derby winner Nyquist, but there must be a question whether Iliad will stay the trip at Churchill Downs, simply because he has such exceptional speed.
It's going to be fun to see him again, that is for sure, and it hasn't escaped our attention how many trial winners are eclipsing the Winner Expected RPR (see table above).
If one has to scan the video for negatives, then Iliad's head is just a shade higher than ideal in the closing stages, especially when we are projecting a three-furlong step up in distance for him if he is to win a Kentucky Derby.
Never mind that for now, however, for this is one seriously gifted Thoroughbred.
Read James Willoughby's earlier Derby trial analyses
1. Los Alamitos Cash Call Futurity (Mastery)
2. Jerome (El Areeb)
3. Sham Stakes (Gormley)
4. Lecomte Stakes (Guest Suite)
5. Holy Bull (Irish War Cry)
6. Withers (El Areeb)
7. Robert B. Lewis (Royal Mo)
8. Swale Stakes (Favorable Outcome)
9. Sam F. Davis (McCraken)