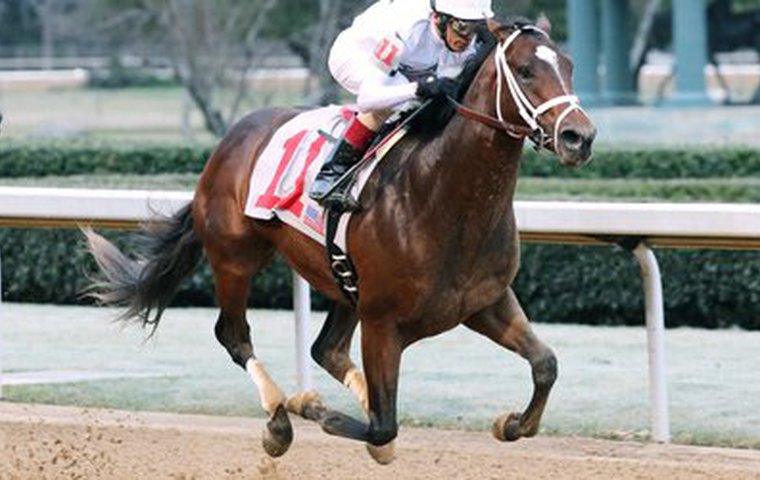 Using the tools available to him via the TRC Global Rankings algorithm, James Willoughby is assessing each of the trials along the Road to the Kentucky Derby. Here are his thoughts on the latest edition of the Southwest Stakes.

Trial number: 11 of 27
TRC trial rank: #15
Trial name: Southwest Stakes
Grade: 3
Our Grade: 3
Course: Oaklawn Park
Date: Feb 20, 2017
Distance: 8.5f
Going: Fast
Winner: One Liner
Winner Expected RPR: 111.2
Winner Actual RPR: 114
Winning Trainer: Todd Pletcher (TRC Global Ranking: #7)
Winning Jockey: John R Velazquez (#13)
Winning Owner: WinStar Farm / China Horse Club Et Al (#13)
Winning Sire: Into Mischief (#75)
Analysis
The notable aspect of One Liner's win was his response to pressure. He really is a genuine colt for, as the video below reminds us, he was off the bridle virtually every step of the way in this fast-run race. The Equibase chart details splits of 22.93 – 23.62 – 24.43 – 24.39 – 6.48 (pro-rated 25.92) which describe perfectly what a war of attrition this was.
One Liner is now unbeaten in three starts. His career started at Saratoga in July over five and a half furlongs. Watching him here, it is hard to believe he could win over such a short distance, but this, of course, is eloquent testimony regarding his class.
This much was underlined on his second start at Gulfstream, when the son of Into Mischief followed up in a six-furlong allowance race, again characterising his victory by strength and tenacity in the closing stages.
It is possible that One Liner is still a bit green. Certainly, he appears to be learning all the time in his races, and reaching a Racing Post Rating of 114 on his third start makes him the equine equivalent of a Mike Trout or Bryce Harper in terms of precocity.
With normal development, he seems sure to make into a top-notch runner. On this point, it is notable that trainer Todd Pletcher spoke about fitting two more races in before Churchill Downs, if possible.
But, germane to our intentions in this serious, the question is whether he can make that transition by the first Saturday in May. As we have noted repeatedly, there can be zero doubt now this is one of the strongest years for Derby horses for a long time, so much so that it is fair to say that U.S. racing has confirmed its upward trajectory from recent doldrums. One Liner will be in deeper next time, but it is hard to be negative about a colt with a profile like his. Longer distances will be very much in his wheelhouse and he adds yet another key player to the Derby trail.
Finally, it is worth giving credit to the runner-up Petrov. He sat closer to the strong pace than the winner, and if the pair were to meet again over this distance, it would not be for sure that the result would be the same. One Liner does appear to own more distance-potential, but Petrov is a horse to be positive about over the next few weeks.
Read James Willoughby's earlier Derby trial analyses
1. Los Alamitos Cash Call Futurity (Mastery)
2. Jerome (El Areeb)
3. Sham Stakes (Gormley)
4. Lecomte Stakes (Guest Suite)
5. Holy Bull (Irish War Cry)
6. Withers (El Areeb)
7. Robert B. Lewis (Royal Mo)
8. Swale Stakes (Favorable Outcome)
9. Sam F. Davis (McCraken)
10. San Vicente (Iliad)