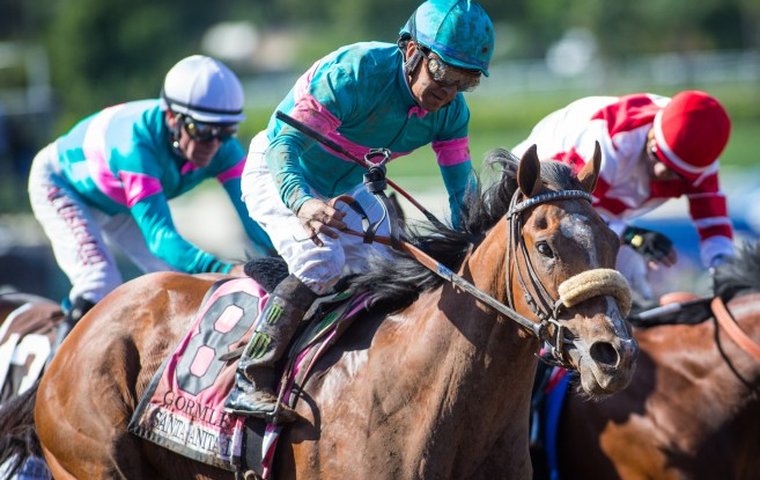 TRC classes the Santa Anita Derby as the #1 Kentucky Derby trial, but did last Saturday's edition live up to that billing? James Willoughby, who is assessing each of the Derby preps using the tools available to him via the TRC Global Rankings algorithm, gives his verdict.

ROAD TO THE KENTUCKY DERBY SERIES
Trial number: 24 of 27
TRC trial rank: #1
Trial name: Santa Anita Derby
Grade: 1
Our Grade: 1
Course: Santa Anita
Date: April 8, 2017
Distance: 9f
Going: Fast
Winner: Gormley
Winner Expected RPR: 118.3
Winner Actual RPR: 116
Winning Trainer: John Shirreffs (TRC Global Ranking: #138)
Winning Jockey: Victor Espinoza (#25)
Winning Owner: Mr & Mrs Jerome S Moss (#76)
Winning Sire: Malibu Moon (#62)
Analysis
Gormley looked a perfect type for this race when he won the G3 Sham Stakes, also at Santa Anita, in January. He won only narrowly from American Anthem but was conceding 6lb to Bob Baffert's runner there, and we commented how that is often underrated in conventional U.S. racing analysis. The other factor was the trip: the one-mile journey of the Sham is too short for Gormley now.
Gormley duly got the job done on Saturday, but this was a race that left many feeling confused as to who was the best horse to contest it. While the winner is one of those super-game horses who tends to be damned with faint praise, you could make a case that Royal Mo should have won had he not been parked out widest in a wild three-horse battle for the lead. And you could make a stronger one still that Reach The World was badly affected by having to run very wide under Mike Smith.
The reader is going to have to make his or her own mind up with the tools of the YouTube video above and the Equibase chart. All trips here should be viewed, as usual, in the context of the fractions, for, unlike many of the staging posts on the Road To The Kentucky Derby, this was run in a manner to mock up the big race itself: splits of 22.66 – 23.89 – 24.37 – 26.63 – 13.61 (pro-rated 27.22). Make no mistake, they were walking at the end by the standards of top-class horses.
So, the belated, wide flourish of Reach The World was helped by him setting up in the backfield early, while second-placed Battle Of Midway and the aforementioned third Royal Mo mixed it early with the overhyped American Anthem. As for Gormley, he was in a good spot in the second flight, but he still had to work hard late to angle around runners, and once again it was heart that won him the race.
We have to speculate whether Gormley will improve again at Churchill Downs, for he is not going to win the Derby running to a Racing Post Rating of 116, which he has produced three times now. As Blue Grass winner Irap had done earlier in the day, he paid a compliment to the injured G2 San Felipe winner Mastery, having exited that race well beaten in fourth on his previous start.
Perhaps it will turn out that, as anticipated, this was Gormley's zenith for now, but there will be no more genuine an individual lining up in the Run For the Roses.
Read James Willoughby's previous Derby trial analyses
1. Los Alamitos Cash Call Futurity (Mastery)
2. Jerome (El Areeb)
3. Sham Stakes (Gormley)
4. Lecomte Stakes (Guest Suite)
5. Holy Bull (Irish War Cry)
6. Withers (El Areeb)
7. Robert B. Lewis (Royal Mo)
8. Swale Stakes (Favorable Outcome)
9. Sam F. Davis (McCraken)
10. San Vicente (Iliad)
11. Southwest Stakes (One Liner)
12. Risen Star (Girvin)
13. Gotham (J Boys Echo)
14. Fountain of Youth (Gunnevera)
15. San Felipe (Mastery)
16. Tampa Bay Derby (Tapwrit)
17. Rebel Stakes (Malagacy)
18. UAE Derby (Thunder Snow)
19. Sunland Derby (Hence)
20. Louisiana Derby (Girvin)
22. Wood Memorial (Irish War Cry)
23. Blue Grass (Irap)