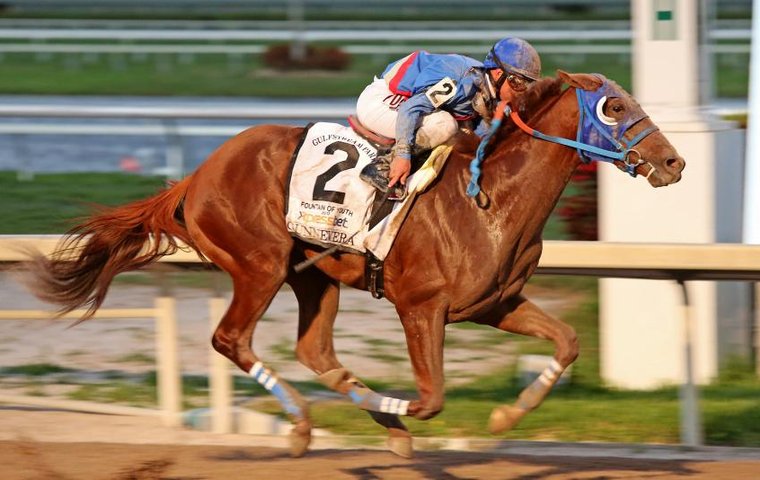 It looked in advance to be the best trial so far on the Road to the Kentucky Derby, so what did we learn from Saturday's Fountain of Youth Stakes at Gulfstream? James Willoughby, who is assessing each of the trials using the tools available to him via the TRC Global Rankings algorithm, gives his view.

Trial number: 14 of 27
TRC trial rank: #9
Trial name: Fountain of Youth Stakes
Grade: 2
Our Grade: 2
Course: Gulfstream Park
Date: March 4, 2017
Distance: 8.5f
Going: Fast
Winner: Gunnevera
Winner Expected RPR: 114.4
Winner Actual RPR: 116
Winning Trainer: Antonio Sano (TRC Global Ranking: #241)
Winning Jockey: Javier Castellano (#6)
Winning Owner: Peacock Racing Stables LLC (#313)
Winning Sire: Dialed In (#223)
Analysis
When Gunnevera ran second to Irish War Cry in the G2 Holy Bull over course and distance, he did not look in the same league as the winner. However, that was a paceless encounter in which the winner barely encountered a straw in his path, whereas this was a truly full-blooded affair, which suited the deep closer Gunnevera. For his part, Irish War Cry ran terribly – admittedly after attending the searching pace – and trailed in a distant seventh.
What to make of Gunnevera? First of all, he earned a Racing Post Rating of 116, which is the joint-best with Gormley on the Road To the Kentucky Derby so far (this is the best trial run to date, based on historical data). Because this race was an outlier in terms of the pace collapse – as you can review from the YouTube video above – it might just be a good idea to see the son of Dialed In do it again.
However, there is also no sense this was a fluke, for Javier Castellano had dead-aim on the leaders from a long way out here, and longer distances should theoretically suit the winner even more. Presumably, we will see him next in the G1 Florida Derby – the 'regional final' for this puzzling series of races in South Florida.
It is well worth crediting the second- and third-place finishers here. They do not deserve rating so highly as the winner, but both had excuses.
Practical Joke's rider, Jose Ortiz, had to slam on the breaks when his mount was in tight quarters before halfway, and the middle-move seen from the Into Mischief colt – into the teeth of the gallop – was impressive.
Third-home Three Rules, meanwhile, did best of the front runners and clung on grimly for third against the rails. So far, he has failed to parlay some impressive numbers from his juvenile campaign into a big win at three, but, make no mistake, he would be a dangerous type to leave alone in front, based on this showing.
Finally, a word on those fractions. Reading from the Equibase chart, you might think splits of 23.43 – 23.75 – 25.19 for the first six furlongs were perfectly manageable for the leaders. However, by this stage of the afternoon, the Gulfstream track may have been playing slow, for they finished up in 25.48 – 6.40 (pro-rated 25.60), which is a clear sign of an unsustainable pace, particularly considering the winner was a closer who looked full of run in the final quarter.
It may be worth nothing that Gunnevera's Beyer of 97 was no better than respectable.
Read James Willoughby's previous Derby trial analyses
1. Los Alamitos Cash Call Futurity (Mastery)
2. Jerome (El Areeb)
3. Sham Stakes (Gormley)
4. Lecomte Stakes (Guest Suite)
5. Holy Bull (Irish War Cry)
6. Withers (El Areeb)
7. Robert B. Lewis (Royal Mo)
8. Swale Stakes (Favorable Outcome)
9. Sam F. Davis (McCraken)
10. San Vicente (Iliad)
11. Southwest Stakes (One Liner)
12. Risen Star (Girvin)
13. Gotham (J Boys Echo)