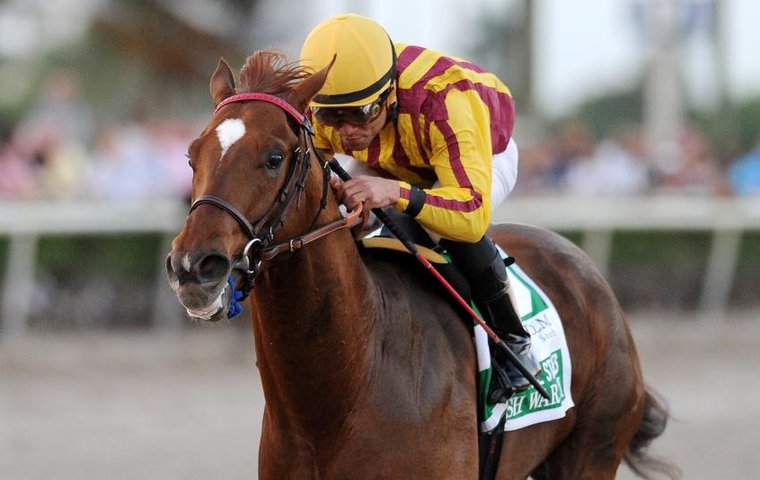 The Road to the Kentucky Derby really stepped up a gear at the weekend, with three prep races that are part of the qualification process, plus another trial that isn't, but probably should be. Using the tools available to him via the TRC Global Rankings algorithm, James Willoughby is assessing each of the trials along the way. Today he looks at all four of last week's contests. Here is his analysis of the Holy Bull.

Trial number: 5 of 27
TRC trial rank: #11
Trial name: Holy Bull Stakes
Grade: 2
Our Grade: 2
Course: Gulfstream Park
Date: Feb 4, 2017
Distance: 8.5f
Going: Fast
Winner: Irish War Cry
Winner Expected RPR: 113.6
Winner Actual RPR: 114
Winning Trainer: Graham Motion (TRC Global Ranking: #31)
Winning Jockey: Joel Rosario (#19)
Winning Owner: Isabelle De Tomaso (Unranked)
Winning Sire: Curlin (#8)
Analysis
Irish War Cry was visually impressive and posted a Racing Post Rating of 114 which is close-up behind the best of the trial winners so far, Gormley (116). The time of 1:42.52 was quick too, but, as the Equibase chart shows, he encountered perfect circumstances for a time trial, never encountering a straw in his path and being guided through almost perfectly even 12s.
Surely the main point to make about this horse is not the strength of the form or the time, but the fact he has so much speed for one by Curlin. He has tactical versatility and a change of gear, and, if he has inherited his sire's galloping trait, he will be formidable over nine furlongs plus. Just look at him go through his paces off the home turn, which you can review from the YouTube video above. Much greater tasks await him than this cakewalk, but he is an exciting prospect for the Florida Derby.
The runner-up, Gunnevera, ran well, but third-placed Classic Empire was an epic disappointment. A colt who already had a temperament question over him, lingering from his unseating his rider in the Hopeful Stakes as a 2-year-old, he looked sweaty and edgy beforehand and didn't run a lick.
Every horse deserves another chance, not least a tip-top Breeders' Cup Juvenile winner, and Florida isn't every horse's playground, but let's be honest: not many will run to the windows to make a confident investment on him next time after this miserable effort.
Read James Willoughby's earlier Derby trial analyses
1. Los Alamitos Cash Call Futurity (Mastery)
2. Jerome (El Areeb)
3. Sham Stakes (Gormley)
4. Lecomte Stakes (Guest Suite)