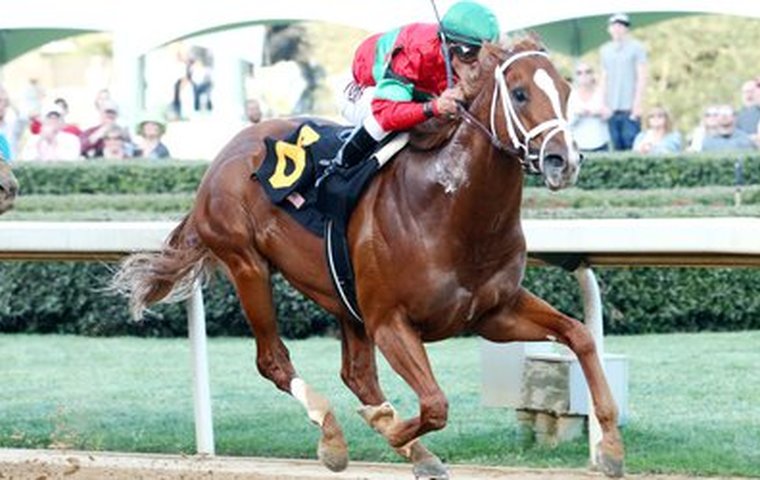 James Willoughby is assessing each of the trials on the Road to the Kentucky Derby using the tools available to him via the TRC Global Rankings algorithm. Here is his verdict on Saturday's Rebel Stakes at Oaklawn Park.

Trial number: 17 of 27
TRC trial rank: #4
Trial name: Rebel Stakes
Grade: 2
Our Grade: 2
Course: Oaklawn Park
Date: March 18, 2017
Distance: 8.5f
Going: Fast
Winner: Malagacy
WinnerExpected RPR: 116.6
Winner Actual RPR: 111
Winning Trainer: Todd Pletcher (TRC Global Ranking: #6)
Winning Jockey: Javier Castellano (#5)
Winning Owner: Samaya U.S. Stable (Unranked)
Winning Sire: Shackleford (#289)
Analysis
Malagacy has a quick, relentless stride, which gives him the air of a tenacious horse. If you review his performance in the video below, he comes off as having charge of the race a long way out.
In the U.S., the discipline of 'trip handicapping' is firmly established, and horses who sit a good trip throughout a race are supposed to be downgraded, but sometimes its advocates seem too inflexible in the way the doctrine is applied. Having sat second behind the well-named leader Uncontested, Malagacy clearly had dead-aim on that one turning in and surged ahead to score a decisive win. Downgrade him for professionalism and application? Not so fast.
Okay, fractions of 23.03 – 24.01 – 24.31 – 25.45 – 6.20 (24.80 pro-rated) which can be read from the Equibase chart are more interesting than the one-dimensional deceleration shown in other Kentucky Derby trials: Malagacy kept on really strongly. But that fourth quarter may also be evidence that his rider was able to rate his effort while others – notably the woefully disappointing American Anthem – were caught wide.
That Malagacy's performance was worth a Racing Post Rating of 'only' 111 must be considered strongly; this is a couple of lengths off relevancy yet. It wasn't a great field he defeated, and a sterner test is expected in the G1 Arkansas Derby before Churchill Downs. We will find out next time whether he will benefit from nine furlongs as much as one or two others around, but he is a smart colt going the right way, that is for sure.
Malagacy did not appear until this January at Gulfstream Park, where he won a sprint maiden by more than 15 lengths. There is a lot of improvement he could make.
Read James Willoughby's previous Derby trial analyses
1. Los Alamitos Cash Call Futurity (Mastery)
2. Jerome (El Areeb)
3. Sham Stakes (Gormley)
4. Lecomte Stakes (Guest Suite)
5. Holy Bull (Irish War Cry)
6. Withers (El Areeb)
7. Robert B. Lewis (Royal Mo)
8. Swale Stakes (Favorable Outcome)
9. Sam F. Davis (McCraken)
10. San Vicente (Iliad)
11. Southwest Stakes (One Liner)
12. Risen Star (Girvin)
13. Gotham (J Boys Echo)
14. Fountain of Youth (Gunnevera)
15. San Felipe (Mastery)
16. Tampa Bay Derby (Tapwrit)