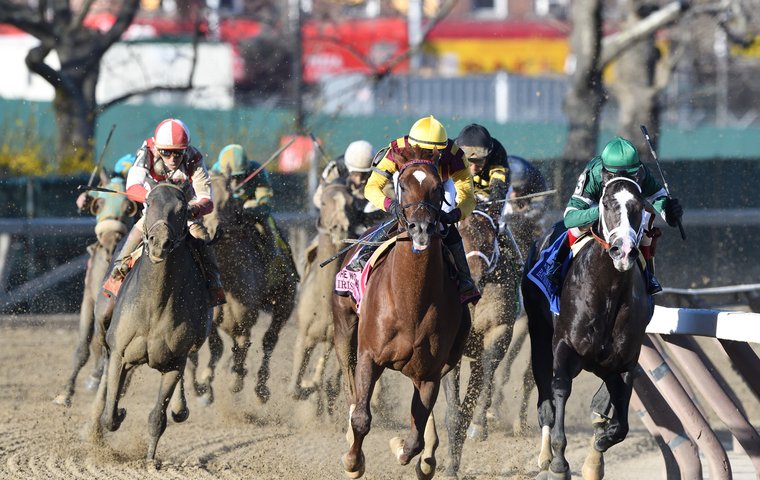 Did the Wood Memorial on Saturday throw up a likely Kentucky Derby winner? James Willoughby, who is assessing each of the Derby preps using the tools available to him via the TRC Global Rankings algorithm, gives his verdict.

Trial number: 22 of 27
TRC trial rank: #6
Trial name: Wood Memorial Stakes
Grade: 2
Our Grade: 2
Course: Aqueduct
Date: April 8, 2017
Distance: 9f
Going: Fast
Winner: Irish War Cry
Winner Expected RPR: 115.3
Winner Actual RPR: 118
Winning Trainer: Graham Motion (TRC Global Ranking: #36)
Winning Jockey: Rajiv Maragh (#140)
Winning Owner: Isabelle De Tomaso (#424)
Winning Sire: Curlin (#8)
Analysis
This thoroughly convincing win of Irish War Cry's deepens the mystery of what happened to him in the G2 Fountain of Youth Stakes in March. After all, on the same Gulfstream track he had looked a smart horse in the previous month's Holy Bull.
When it comes to future races, perhaps we shouldn't forget that he stopped quickly then. When a horse disappoints so badly once, he may always do it again. But, if any performance can make up for such a debacle, this was the one.
Breaking from the outside post, the Graham Motion-trained colt did not have an easy trip. He was forced to navigate a wide trip to the back stretch, thereafter easing himself not just closer to the front but closer to the rail, so that turning for home he was in the perfect striking position, if good enough. And this time, where he had stopped in Florida, he looked to be just getting started in New York.
It is worth focussing on that middle move when reviewing the video above. Horses find it easiest to make ground when the average speed of the race is low, which in dirt racing is nearly always at the end – unless Arrogate is the winner! But one of the hallmarks of Thoroughbred class is the ability to withstand the interior fractions of a race, particularly to make ground from an adverse situation to change the winning probability in favour.
The Equibase chart puts this very well. "Irish War Cry … drew up and latched on to the runner-up as the half was being completed, chiselled away at the deficit, arrived at the three-eighths pole on nearly even terms, inched his way to lead the field into the stretch by a narrow margin, was almost at the eighth pole before asked for his best, gave it and kicked away."
It's hard to write chart comments better than that.
A move like this next time could see Irish War Cry in the winner's circle at Churchill Downs. If he fires, he must go well.
What of the vanquished? They say it is expensive to make excuses for beaten horses, but those who did that for Irish War Cry were in the money here. So, we should give third-placed Cloud Computing another chance, perhaps. It's true he was caught a bit wide, but he should not have been spinning his wheels so far out against fractions of 23.50 – 23.84 – 24.49 – 25.84 – 13.24 (26.28 pro-rated) even at Aqueduct.
Runner-up Battalion Runner, by contrast, likely delivered a peak effort and is progressing nicely. He had the advantage of making the running, which, regardless of the strength of the pace, is really that of saving ground. And when headed, he held firm.
U.S. sires: strength in depth
Finally, a word provoked by the winning sire, Curlin. Obviously, he is one of the world's best stallions – reflected by his position at #8 in the latest iteration of our numbers, but the fact that he is a strong influence for horses who take after their father in preferring two turns is significant.
Currently also in our top 10 are similar types in Tapit, Uncle Mo, Medaglia d'Oro, Candy Ride and Hard Spun. That is tremendous strength in depth, even before the likes of American Pharoah and Arrogate come on stream.
Read James Willoughby's previous Derby trial analyses
1. Los Alamitos Cash Call Futurity (Mastery)
2. Jerome (El Areeb)
3. Sham Stakes (Gormley)
4. Lecomte Stakes (Guest Suite)
5. Holy Bull (Irish War Cry)
6. Withers (El Areeb)
7. Robert B. Lewis (Royal Mo)
8. Swale Stakes (Favorable Outcome)
9. Sam F. Davis (McCraken)
10. San Vicente (Iliad)
11. Southwest Stakes (One Liner)
12. Risen Star (Girvin)
13. Gotham (J Boys Echo)
14. Fountain of Youth (Gunnevera)
15. San Felipe (Mastery)
16. Tampa Bay Derby (Tapwrit)
17. Rebel Stakes (Malagacy)
18. UAE Derby (Thunder Snow)
19. Sunland Derby (Hence)
20. Louisiana Derby (Girvin)
21. Florida Derby (Always Dreaming)