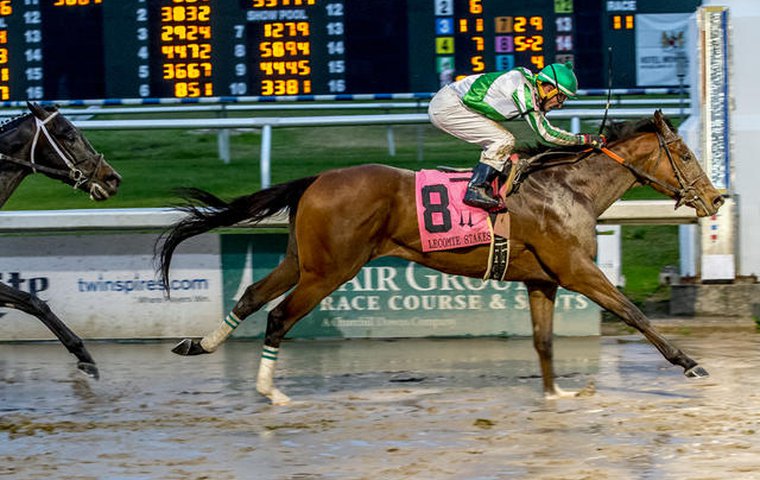 The Road to the Kentucky Derby moved onto Fair Grounds on Saturday with an edition of the G3 Lecomte Stakes that was well up to standard. Using the tools available to him via the TRC Global Rankings algorithm, James Willoughby is assessing each of 27 trials along the way. Here is his verdict on the Lecomte.

Trial number: 4 of 27
TRC trial rank: #25
Trial name: Lecomte Stakes
Grade: 3
Our Grade: 3
Course: Fair Grounds
Date: Jan 21, 2017
Distance: 8.3f
Going: Muddy
Winner: Guest Suite
WinnerExpected RPR: 107.2
Winner Actual RPR: 108
Winning Trainer: Neil Howard (TRC Global Ranking #161)
Winning Jockey: Robby Albarado (#143)
Winning Owner: W S Farish Et Al (#76)
Winning Sire: Quality Road (#65)
Analysis
Like most horses bred by the former U.S. ambassador to Britain, Will Farish, Guest Suite has some illustrious forebears. His third dam is Weekend Surprise no less, which makes him easy to entertain as a potential Kentucky Derby winner on its own.
The son of Farish's brilliant miler Quality Road, Guest Suite was getting tired in the closing stages here, no doubt the latent effects of a swift 23.05 second quarter on a tiring, muddy track. The Equibase chart chronicles the effects of the duel between Phat Man and Running Mate, which did neither the latter, nor some of those trailing, much good. "Sent hard…" is Running Mate's comment. Enough said.
A check of the race video confirms that the viewer would be harsh to judge Guest Suite's comparatively steady finish as evidence of a lack of stamina. With his pedigree, the track and the run-of-the-race in mind, the chances are that he will go longer distances with little trouble.
A Racing Post Rating of 108 is close to the figure of 107.2 we projected using historical data, and it looks certain this likeable type will improve on that number. He certainly needs to, however, with a vintage line-up beginning to marshal themselves for Churchill Downs, headed by the mighty Classic Empire, who may be seen out again soon.
THIS WEEK'S TOP TEN
Trainers in France
| | |
| --- | --- |
| 1 - Andre Fabre | 1012pts |
| 2 - Jean-Claude Rouget | 992 |
| 3 - Alain de Royer-Dupre | 970 |
| 4 - Freddy Head | 963 |
| 5 - Francis-Henri Graffard | 929 |
| 6 - Carlos Laffon-Parias | 928 |
| 7 - Francois Rohaut | 927 |
| 8 - Pascal Bary | 926 |
| 9 - Pia Brandt | 916 |
| 10 - Criquette Head-Maarek | 910 |
According to TRC Global Rankings algorithm. Includes runs in all Group and Graded races worldwide in the last three years