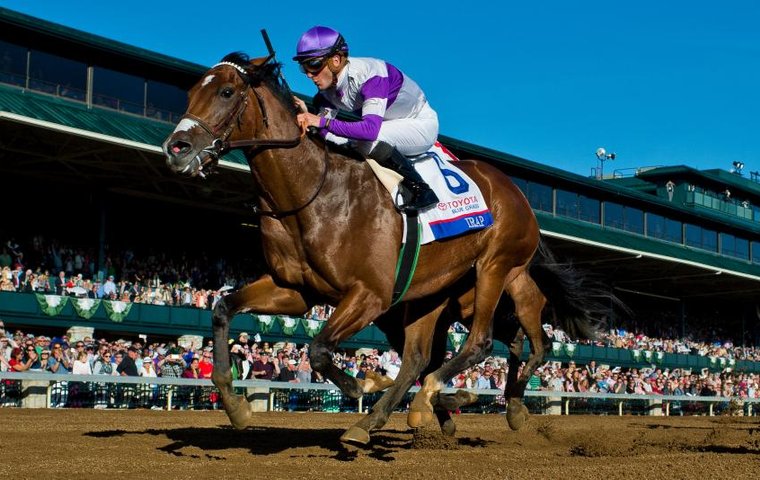 What to make of the shock result of Keeneland's Blue Grass Stakes on Saturday? What clues, if any, did it throw up for the Kentucky Derby? James Willoughby, who is assessing each of the Derby preps using the tools available to him via the TRC Global Rankings algorithm, gives his verdict.

Trial number: 23 of 27
TRC trial rank: #8
Trial name: Blue Grass Stakes
Grade: 2
Our Grade: 2
Course: Keeneland
Date: April 8, 2017
Distance: 9f
Going: Fast
Winner: Irap
Winner Expected RPR: 114.8
Winner Actual RPR: 115
Winning Trainer: Doug O'Neill (TRC Global Ranking: #54)
Winning Jockey: Julien Leparoux (#23)
Winning Owner: Reddam Racing (#43)
Winning Sire: Tiznow (#228)
Analysis
It is just as well all results are not so difficult to predict as this one: Irap came into the race with a Racing Post Rating of just 102 and emerged 13 points higher. His victory was therefore revelatory: not just regarding his strengths but also the weaknesses of his opponents and the races they have been contesting.
Before we digest those implications, let's review the crucial tactical section of this win: the second quarter. Using the YouTube video below, focus on the first half of the back stretch, noticing how the jockeys on the front two were able to gear down their horses a shade, particularly Julien Leparoux on Irap. For corroboration, access the Equibase chart: the splits were 23.79 – 24.55 – 24.02 – 24.99 – 13.04 (26.08 pro-rated) – the bold fraction is an outlier.
This, together with trainer Doug O'Neill taking off the blinkers which Irap may not have faced on his last two starts, proved the key to victory: for the first time since the G1 Los Alamitos Futurity in December, Irap was able to really relax into the beat of his stride.
And that race is significant: the winner, Mastery, is easily the most talented 3-year-old in America, and was flattered again when another of his recent victims, Gormley, won the Santa Anita Derby across the country. What a desperate shame, then, that we may not see the injured Mastery again.
Finally, then with a clear shot at the front and the stars aligned, Paul Reddam's talented colt was able to reveal his latent potential. He isn't a likely Derby winner from all that we know on balance and what his victory seemed to do was brutally expose not only his opponents but some of the races they had been running in.
For example: the G3 Sam F. Davis Stakes at Tampa 1-2, McCraken and Tapwrit, were seemingly put in their place, finishing only third and fifth respectively. Both found their chances somewhat damaged in that crucial second stanza to which we have referred: McCraken because he likes a better set-up than was provided here; Tapwrit because he needs a stronger gallop.
And that last comment also applies to J Boys Echo, who could not muster anything like the same rally that had powered him to victory in the G3 Gotham at Aqueduct. But was he exposed, or that race? For his victim there, Cloud Computing, who, took the author, had shaped in tremendous style, suddenly looked paceless in the Wood Memorial.
Practical Joke ran really well in second in the Blue Grass, for all that he did not quite match his G1 Champagne Stakes form at Belmont, according to Racing Post Ratings. Nevertheless, he could be regarded as the moral winner here from a tactical standpoint, having been forced wide, and he wasn't given too hard a race.
When you try to make the most prescient analysis of a race like the Blue Grass, it pays to form tepid impressions, to shy from deterministic arguments, to hedge your bets as to what might happen in future. The winner was better than 30-1 and what had seemed real about his opponents' talent now appears in doubt. But it is just one race, just one impression, and we have reason to think we know what shaped these unlikely events: the pace.
The 2017 Blue Grass was a reminder of one of racing's eternal rejoinders: that's why they run the races. And that's why we keep watching too. The inevitability of a tour de force from an Arrogate or an American Pharoah is simply an illusion: anything can happen out there, and anything will.
Read James Willoughby's previous Derby trial analyses
1. Los Alamitos Cash Call Futurity (Mastery)
2. Jerome (El Areeb)
3. Sham Stakes (Gormley)
4. Lecomte Stakes (Guest Suite)
5. Holy Bull (Irish War Cry)
6. Withers (El Areeb)
7. Robert B. Lewis (Royal Mo)
8. Swale Stakes (Favorable Outcome)
9. Sam F. Davis (McCraken)
10. San Vicente (Iliad)
11. Southwest Stakes (One Liner)
12. Risen Star (Girvin)
13. Gotham (J Boys Echo)
14. Fountain of Youth (Gunnevera)
15. San Felipe (Mastery)
16. Tampa Bay Derby (Tapwrit)
17. Rebel Stakes (Malagacy)
18. UAE Derby (Thunder Snow)
19. Sunland Derby (Hence)
20. Louisiana Derby (Girvin)
21. Florida Derby (Always Dreaming)
22. Wood Memorial (Irish War Cry)