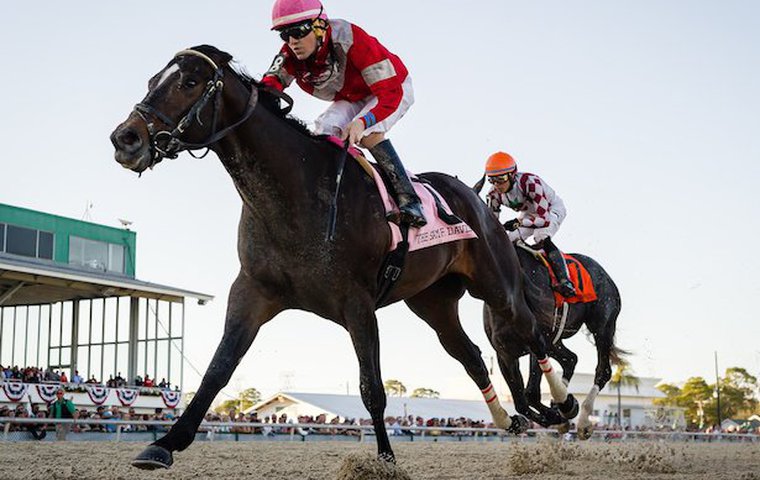 The Road to the Kentucky Derby continued at the weekend with two more significant stop-offs. Using the tools available to him via the TRC Global Rankings algorithm, James Willoughby is assessing each of the trials along the way. Here is his analysis of the Sam F. Davis Stakes at Tampa Bay Downs.

Trial number: 9 of 27
TRC trial rank: #27
Trial name: Sam F. Davis Stakes
Grade: 3
Our Grade: 3
Course: Tampa Bay
Date: Feb 11, 2017
Distance: 8.5f
Going: Fast
Winner: McCraken
Winner Expected RPR: 104.3
Winner Actual RPR: 112
Winning Trainer: Ian Wilkes (TRC Global Ranking: #124)
Winning Jockey: Brian Joseph Hernandez Jr (#85)
Winning Owner: Whitham Thoroughbreds LLC (#215)
Winning Sire: Ghostzapper (#18)
Analysis
This was a proper test and McCraken kept his unbeaten record with style. Breaking from a wide stall, he picked his way into the contest under a skilled Brian Hernandez ride, looped the field (the Equibase chart has him four wide) on the turn and drew ahead.
Study the video closely to see where he won the race over runner-up Tapwrit: the latter finished strongly and will improve a good deal over further, but McCraken had more speed and acceleration.
Once again with a horse carrying a weight penalty (six pounds) in the U.S., McCraken's performance is likely to be underrated in terms of merit. On Racing Post Ratings, he's not far behind the best of his division on 112 – and with more to come. All this said, it must be observed that he is less likely to benefit from ten furlongs than some, however.
McCraken's sire, the 2004 Breeders' Cup Classic winner Ghostzapper, is enjoying a fine time at present, with McCraken and Sunday's G2 San Vicente winner Iliad both displaying strong Kentucky Derby credentials (more of Iliad here tomorrow). And his son Shaman Ghost earned $1.75 million when runner-up to Arrogate in the Pegasus World Cup less than three weeks ago.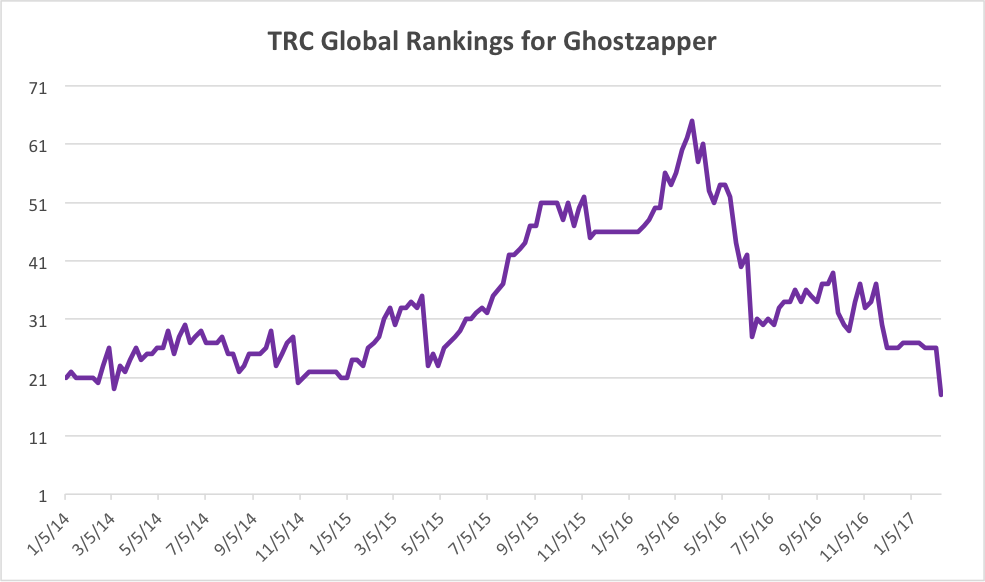 Understandably then, Ghostzapper, who stands at Adena Springs, Kentucky, has climbed to joint #18 in the world stallion rankings (up from 26 last week) after a six-point gain. As can be seen from the graph of his trajectory in the rankings, his progeny's success over the last 12 months have meant a striking return to form for the son of Awesome Again.
Also climbing is McCraken's trainer, Ian Wilkes, whose four-point gain lifts him from 145 to 124 in the trainers' standings. Rider Brian Hernandez gained four points too, which moves him up ten places to #85 in the global jockeys' rankings.
Further rises for Wilkes, Hernandez and Ghostzapper may be on the way.
Click here for a list of the week's biggest points gainers.
Click here for a list of the week's group and graded winners.
Read James Willoughby's earlier Derby trial analyses
1. Los Alamitos Cash Call Futurity (Mastery)
2. Jerome (El Areeb)
3. Sham Stakes (Gormley)
4. Lecomte Stakes (Guest Suite)
5. Holy Bull (Irish War Cry)
6. Withers (El Areeb)
7. Robert B. Lewis (Royal Mo)
8. Swale Stakes (Favorable Outcome)