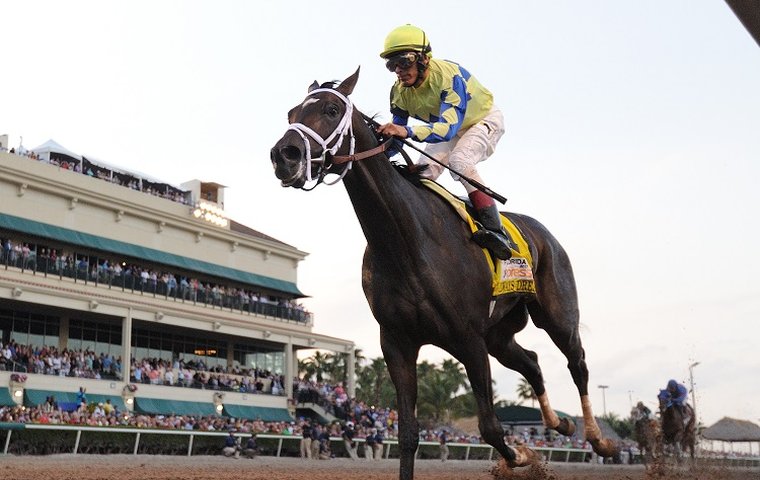 The Road to the Kentucky Derby is entering the straight, with just a few choice trials remaining. And a particularly strong candidate emerged at Gulfstream Park on Saturday, according to James Willoughby, who is assessing each of the Derby preps using the tools available to him via the TRC Global Rankings algorithm.

Trial number: 21 of 27
TRC trial rank: #3
Trial name: Florida Derby
Grade: 1
Our Grade: 1
Course: Gulfstream Park
Date: April 1, 2017
Distance: 9f
Going: Fast
Winner: Always Dreaming
Winner Expected RPR: 117.4
Winner Actual RPR: 115
Winning Trainer: Todd Pletcher (TRC Global Ranking: #5)
Winning Jockey: John Velazquez (#16)
Winning Owner: Brooklyn Boyz Stable Et Al (Unranked)
Winning Sire: Bodemeister (#294)
Analysis
With Mastery sidelined, the Kentucky Derby found its new presumptive favourite when Always Dreaming drew off to win the Florida Derby by five lengths, doubling his margin through the final furlong. He's not a flashy colt, but he is a very good one indeed, and the trip will suit him at Churchill Downs.
It was surprising that Always Dreaming did not meet the Racing Post Ratings par we have constructed for the Florida Derby of 117.4. Not that much should be read into his recording only 115 for he could not have won by much further on the speedy Gulfstream surface, and the form rating reflects more the strict mechanics of its computation than any lack of top-end class in the winner.
Still, Beyer Speed Figures were also conservative in awarding Always Dreaming a figure of 97, which is strange because it is hard to believe that a race of this class could be won so easily off fractions which provided a good basis for a time trial without the winner needing to run that fast.
The Equibase chart details they went 23.28 – 23.80 – 23.67 – 24.19 – 12.53 (25.06 pro-rated), which is solid stuff. It can easily be seen that the winner put in a solid last three furlongs, which, if the distance-back numbers in the chart can be trusted, third-placed Gunnevera gained only two and a half lengths into, despite having the advantage of saving energy early.
The mechanics of awarding Always Dreaming a merit racing, on whatever scale, are the only reason to be concerned about his Derby prospects. He did everything right here and should improve again for the experience, and one just does not see his combination of speed and stamina very often. Recall the power of his winning surge from the video here.
What of the disappointing Gunnevera, for that is what he was? Made favourite on the back of his six-length Fountain of Youth win, our worry as to whether the pace meltdown on that occasion favoured him somewhat grows more intense. True, he was dropped in miles behind after Javier Castellano switched him from a wide draw, but a prospective Derby winner would surely own a better middle-move than he showed here.
With the final round of trials to come, it is really only One Liner, the Southwest Stakes winner, who can be said to have impressed more. If Classic Empire rediscovered his Breeders' Cup Juvenile Form then all bets are off, but that is a significant 'if' at present.
We have said all along that this is going to be a good Derby in terms of quality. Even with Mastery out of action, it is worth sticking to that view, mainly because there is a lot of strength and depth out there.
With all due respect to McCraken and Malagacy, Always Dreaming and One Liner very much head that list, but we haven't had all the evidence yet.
Read James Willoughby's previous Derby trial analyses
1. Los Alamitos Cash Call Futurity (Mastery)
2. Jerome (El Areeb)
3. Sham Stakes (Gormley)
4. Lecomte Stakes (Guest Suite)
5. Holy Bull (Irish War Cry)
6. Withers (El Areeb)
7. Robert B. Lewis (Royal Mo)
8. Swale Stakes (Favorable Outcome)
9. Sam F. Davis (McCraken)
10. San Vicente (Iliad)
11. Southwest Stakes (One Liner)
12. Risen Star (Girvin)
13. Gotham (J Boys Echo)
14. Fountain of Youth (Gunnevera)
15. San Felipe (Mastery)
16. Tampa Bay Derby (Tapwrit)
17. Rebel Stakes (Malagacy)
18. UAE Derby (Thunder Snow)
19. Sunland Derby (Hence)
20. Louisiana Derby (Girvin)