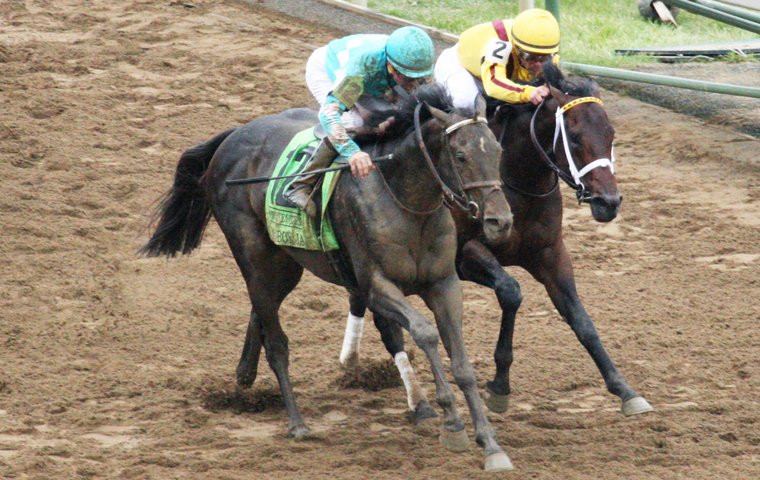 TRC analyst James Willoughby, who has been assessing the key trials on the Road to the Kentucky Derby, has developed a soft spot for My Boy Jack, but after his gutsy Lexington Stakes victory he is forced to be realistic about the colt's prospects on May 5.

ROAD TO THE KENTUCKY DERBY 2018
Episode 26: Lexington Stakes (April 14, Keeneland, Grade 3, 8.5f)
Winner: My Boy Jack
Jockey: Kent Desormeaux (TRC Global Rank #46)
Owner: Don't Tell My Wife Stables Et Al (#423)
Trainer: Keith Desormeaux (#116)
Sire: Creative Cause (#108)
Result: click here
Is he fun to watch, or what? The My Boy Jack show rolled on from Fair Grounds to Keeneland, from desperate loss to uplifting win, both characterised by his familiar late charge. Last time, we called out jockey Kent Desormeaux for charting a course akin to Lane 8 in the 400m – without the benefit of a start. But we never left the fan club, and Kent more than made amends to brother-trainer Keith and to My Boy Jack's supporters too.
Kent first problem was an outside draw. Determined not to get hung out so wide again, he quickly steered the son of Creative Cause to the rail, minimising path distance on the vital first turn. Up front, however, the leaders had set off evenly. A bunch of five attended the pace, but Greyvitos got it without too hard a fight and clicked off the first quarter in 23.28.
As the field sorted itself out running down the back, My Boy Jack landed in a spot around 11 lengths off the pace. Having started a well-backed $5 chance, he would have been twice that had live betting been available. Kent was going to have to make the kind of run normally seen from only Le'Veon Bell.
Needless to say, My Boy Jack was a willing partner. After a second quarter in 23.83, he picked up five lengths around the far turn, aided by the leaders slackening through 24.91. Behind him, a horse with similar latent predilections, Pony Up, was trying a similar tactic, but, while jockey John Velazquez found blockers on the inside, Kent swept around the right end and had the goal-line in sight.
By the turn-in, My Boy Jack was running so hard that he took the corner in stages, and by now a fresh leader had emerged in Telekinesis. It looked for all the world that the massive effort expended in the middle section of the race would see the challenger stopped short of paydirt. But, managing to summon deep reserves of energy after steadying himself, My Boy Jack reached the only important line-of-gain in a horse race a head in front (see video below).
The clock stopped in 1:44.22, which converts to a Beyer Speed Figure of only 90. No surprise there. It was a heck of a performance from the winner, but a lousy way to go about running a time trial.
Last time, we posed the question of whether My Boy Jack was Derby class. That still remains a huge doubt, not least because of the standard of opponent at Churchill Downs – clear run or not. In any other year, romantic aspirations for a colt like this might be allowed to flourish, but the cold light of day this year is particularly chilling.
Further down the road, it would be great to see My Boy Jack take his act to a higher level. And the astute analyst ought to take note of the third, Pony Up, too.
Previously in this series
1. Sham Stakes (McKinzie)
2. Lecomte (Instilled Regard)
3. Jerome (Firenze Fire)
4. Smarty Jones (Mourinho)
5. Holy Bull (Audible)
6. Withers (Avery Island)
7. Robert B Lewis (Lombo)
8. Sam F Davis (Flameaway)
9. Risen Star (Bravazo)
10. Southwest (My Boy Jack)
11. Fountain of Youth (Promises Fulfilled)
12. Road to the Kentucky Derby Stakes (Gronkowski)
13. Patton Stakes (Mendelssohn)
14. Fountain of Youth (Bolt D'Oro)
15. Gotham (Enticed)
16. Tampa Bay Derby (Quip)
17. Rebel (Magnum Moon)
18. Louisiana Derby (Noble Indy)
19. Florida Derby (Audible)
20. UAE Derby (Mendelssohn)
21. Burradon Stakes (Gronkowski)
22. Santa Anita Derby (Justify)
23. Blue Grass Stakes (Good Magic)
24. Wood Memorial (Vino Rosso)
25. Arkansas Derby (Magnum Moon)