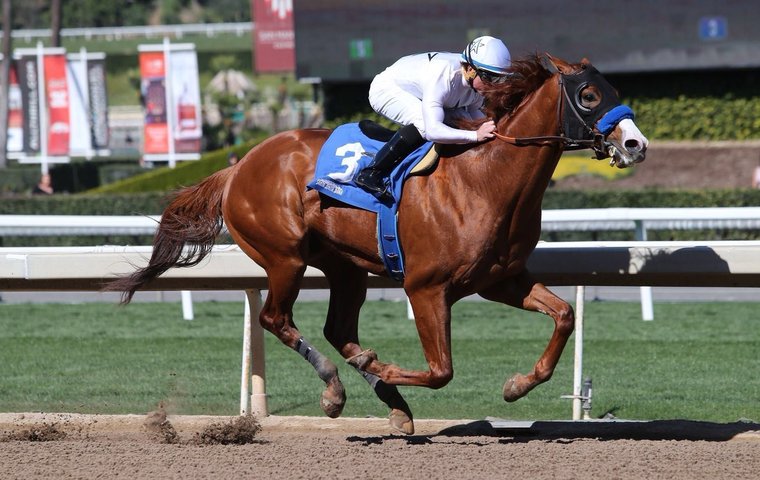 A new favorite in the American market for the Kentucky Derby burst through at Santa Anita on Saturday – but is his position justified? TRC analyst James Willoughby gives his verdict.

ROAD TO THE KENTUCKY DERBY 2018
Episode 22: Santa Anita Derby (April 7, Santa Anita, Grade 1, 9f)
Winner: Justify
Jockey: Mike Smith (TRC Global Rank #4)
Owner: China Horse Club Et Al (#9)
Trainer: Bob Baffert (#2)
Sire: Scat Daddy (#7)
Result: click here
Most horses are big and powerful as Justify cannot carry their strength. They are hopeless one-pacers, or else hard-charging tearaways weak as a kitten off the bridle. But not this horse: like Usain Bolt v Humans, Justify v Thoroughbreds is not a fair fight.
From the moment Mike Smith took Justify to the lead, he was out there running a time trial. The high-class Bolt d'Oro chased him in vain throughout (see video below), but not even he could land a glove on a heavyweight with this reach and punching power. Justify could have gone round again – seemingly at the same speed – and he crossed the line with the authority that good horses do.
As a time trial, the race was slow by absolute measure but really fast considering the conditions. There is so much more to using the information of the clock than the raw time, and this is an example.
Since 2002, only last year's winner Gormley has run slower than 1:49.72, which Justify achieved via fractions of 23.96 – 23.89 – 24.76 – 24.41 – 12.70 (pro-rated 25.40).
He never broke :24 for a quarter, but such was the tiring nature of the Santa Anita track that this is not surprising. Allowing for the speed of the surface using the measuring stick of all the dirt races on the card, it is soon apparent that Justify ran faster than most horses would be able. He was awarded a Beyer Speed Figure of 107 – 1pt higher than Mendelssohn in the UAE Derby.
Could the transatlantic symmetry here be any better? Any real difference between 107 and 106 is subsumed by estimation error, both Justify and Mendelssohn are by Scat Daddy and both are trained by our #1 continental trainers – Aidan O'Brien in Europe and Bob Baffert in the U.S.
Given the zeal to find a successor to their late sire, both colts are competing for the first prize in the Kentucky Derby – times 100.
But, as Road to the Kentucky Derby has chronicled, this is one of the strongest renewals of the Derby for years. There is no way that Justify will get another 'solo' at Churchill Downs without running hard to get there. Here, again, we see similarity with Mendelssohn, who will also compete for the lead on the basis that he didn't have to take a grain of kickback on his sole start.
When you watched the Santa Anita Derby live, an early thought was that Bolt d'Oro would be in a more favourable spot when the pair meet again for all the marbles. Chasing a powerful, sole front-runner down is not an easy spot, certainly compared to when that rival is harried by another with similar designs on the lead.
For this reason, Bolt d'Oro should not be written off. But Justify simply looks a more better model than him, or most any other horse for that matter.
Justify didn't just beat Bolt. He is Bolt, in equine form.
Previously in this series
1. Sham Stakes (McKinzie)
2. Lecomte (Instilled Regard)
3. Jerome (Firenze Fire)
4. Smarty Jones (Mourinho)
5. Holy Bull (Audible)
6. Withers (Avery Island)
7. Robert B Lewis (Lombo)
8. Sam F Davis (Flameaway)
9. Risen Star (Bravazo)
10. Southwest (My Boy Jack)
11. Fountain of Youth (Promises Fulfilled)
12. Road to the Kentucky Derby Stakes (Gronkowski)
13. Patton Stakes (Mendelssohn)
14. Fountain of Youth (Bolt D'Oro)
15. Gotham (Enticed)
16. Tampa Bay Derby (Quip)
17. Rebel (Magnum Moon)
18. Louisiana Derby (Noble Indy)
19. Florida Derby (Audible)
20. UAE Derby (Mendelssohn)
21. Burradon Stakes (Gronkowski)