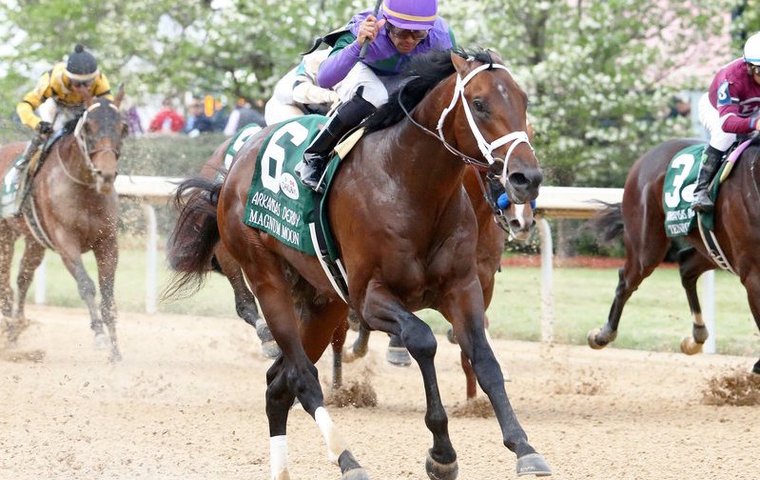 What to make of Magnum Moon's dramatic drift to the right in Saturday's Arkansas Derby. TRC analyst James Willoughby, who has been assessing the key trials on the Road to the Kentucky Derby, gives his view.

ROAD TO THE KENTUCKY DERBY 2018
Episode 25: Arkansas Derby (April 15, Oaklawn Park, Grade 1, 9f)
Winner: Magnum Moon
Jockey: Luis Saez (TRC Global Rank #52)
Owner: Lawana L & Robert E Low (#489)
Trainer: Todd Pletcher (#11)
Sire: Malibu Moon (#23)
Result: click here
"Get ready, Kentucky. There's a bad moon on the rise!"
Oaklawn announcer Vic Stauffer's reference to the key lyric of 1969 hit single Bad Moon Rising was particularly apposite. For Magnum Moon is just as progressive as was the song's originator Creedence Clearwater Revival – and maybe just as likely to come off the rails in spectacular style.
Literally, in the colt's case. If they decided to run the Kentucky Derby the wrong way round, Magnum Moon would be a certainty. Just as in the Rebel Stakes, he spoiled a deeply impressive performance by edging persistently right, leaving the analyst with no option but to repeat the same caveat over his prospects.
At the same time, Magnum Moon restated the depth of his talent. Make no mistake: a horse has to be seriously talented to do this while crushing a Grade 1 field (see video below). If trainer Todd Pletcher and jockey Luis Saez can sort his meandering out between them, the sky really is the limit.
Running into the far turn, Magnum Moon did not appear to be travelling quite as easily as the runner-up, Quip, who impressed us as a talented and straightforward colt in the Tampa Bay Derby. Maybe this is a clue as to what contributed to the winner's later antics, for he doesn't lack speed as much as sheer concentration.
He changed legs adeptly enough coming out of the turn but from that point on leaning became edging, which became bearing out and finally almost hanging. He ended up in the middle of the track, in isolation from his opponents in two dimensions.
For the win, Magnum Moon received a Beyer Speed Figure of 98, which was a point higher than in the Rebel. His Racing Post Rating of 116 was 4lb higher, but similarly makes him a contender with something more to find at Churchill Downs than several of his celebrated foes.
The question is: what could he have achieved, if running in a straight line. Geometry students will know from the Pythagorean theorem that, strictly in terms of ground loss, the extra distance amounts to no more than the proverbial hill of beans, but a greater concern in these situations is the loss of momentum perpendicular to the winning line: by going sideways, a horse divides the effort between forward and sideways and risks a loss of balance.
It will be fun to watch Magnum Moon in the Derby because he is just so good, but it may not be as fun to ride him, nor to be in his proximity for an opponent at vital stages. His tendency seems ingrained and to combat it too severely could risk affecting him mentally. Who knows? These are the hard questions for the horseman.
Quip did young trainer Rodophe Brisset proud. He travels enthusiastically and keeps on best he can. Comparing him to Magnum Moon is like comparing a young running back to Bo Jackson or Earl Campbell. In short, he should continue to give a good account, and is a decent bet to pick up prizes below the top level because of his generosity.
Solomini came home well for third and seemed to confirm his scouting report coming into this. He cannot run with the big boys in the heat of the battle, but his performance level is repeatable and maybe be haven't seen the one that flatters him yet. He has now been placed on his last five starts in four Grade 1s and a Grade 2.
We don't normally venture too far down the field in these analyses, but a word for fourth-placed Combatant is warranted. He lost ground wide and kept on nicely to reach the frame in his third classic trial.
Previously in this series
1. Sham Stakes (McKinzie)
2. Lecomte (Instilled Regard)
3. Jerome (Firenze Fire)
4. Smarty Jones (Mourinho)
5. Holy Bull (Audible)
6. Withers (Avery Island)
7. Robert B Lewis (Lombo)
8. Sam F Davis (Flameaway)
9. Risen Star (Bravazo)
10. Southwest (My Boy Jack)
11. Fountain of Youth (Promises Fulfilled)
12. Road to the Kentucky Derby Stakes (Gronkowski)
13. Patton Stakes (Mendelssohn)
14. Fountain of Youth (Bolt D'Oro)
15. Gotham (Enticed)
16. Tampa Bay Derby (Quip)
17. Rebel (Magnum Moon)
18. Louisiana Derby (Noble Indy)
19. Florida Derby (Audible)
20. UAE Derby (Mendelssohn)
21. Burradon Stakes (Gronkowski)
22. Santa Anita Derby (Justify)
23. Blue Grass Stakes (Good Magic)
24. Wood Memorial (Vino Rosso)