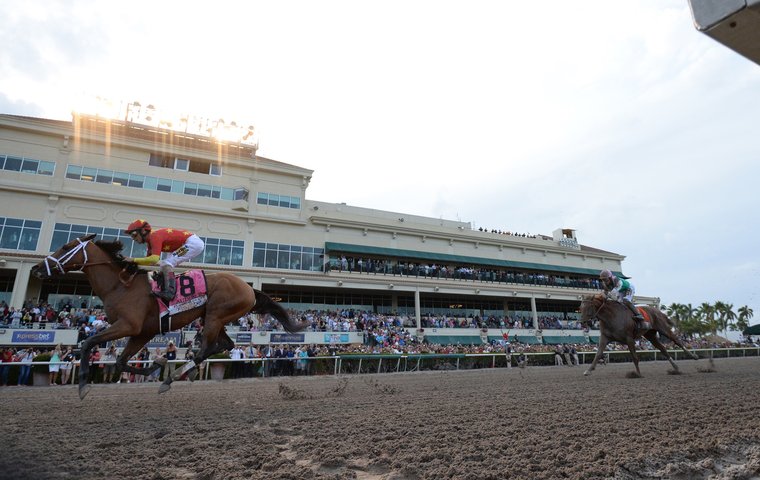 After a key weekend on the Road to the Kentucky Derby, TRC analyst James Willoughby assesses Audible's win in Saturday's Florida Derby in the latest in his series on the trials for the Run for the Roses. Tomorrow, he turns his attention to Mendelssohn's mighty UAE Derby victory on the same day.

ROAD TO THE KENTUCKY DERBY 2018
Episode 19: Florida Derby (March 31, Gulfstream Park, Grade 1, 9f)
Winner: Audible
Jockey: John Velazquez (TRC Global Rank #18)
Owner: China Horse Club Et Al (#11)
Trainer: Todd Pletcher (#12)
Sire: Into Mischief (#53)
Result: click here
This race could well prove very strong form. Audible's visually impressive G2 Holy Bull could have been one of those dirt races in which everything dropped right for the winner. In adding this imposing score to his resume, however, he has removed all doubt over his authenticity: this is a high-class colt in the making.
In a very strongly-run race set up by Promises Fulfilled running the first quarter in under 22 seconds, Audible never really looked in any danger. He lost a couple of places down the back stretch because Johnny Velazquez was more sensitive to the tempo than some of his colleagues, but the manner in which he chewed up ground relentlessly into the turn was very impressive.
What makes this a race to be really enthusiastic over is the runner-up Hofburg, a well-bred Juddmonte colt who was asked a big question early in his development and nearly came up with the answer. As he continues to thrive. He could be anything.
But Audible put him and the rest away with a powerful surge running into the straight (see video above). He looks a banker to be suited by an extra furlong at Churchill Downs, and trainer Todd Pletcher seemed uncharacteristically enthused by what he had seen after the race.
The fractions were 21.95 – 24.42 – 25.31 – 25.28 – 12.52 for a final time of 1:49.48. This wasn't historically sharp because the other races on the card proved the track was a little slow by Gulfstream standards. Even then, he received a Beyer Speed Figure of 99, which, if you were to factor in ground loss, would come out very similar to Mendelssohn's rail-skimming 106 at Meydan.
See how evenly Audible finished, just as in the Holy Bull. Again, last time he had enjoyed a pause mid-race as he raced prominently, but this time he cracked out those closing splits while racing four-wide on the turn.
Looks alone don't win on the first Saturday in May, but Audible certainly won't come up short in that regard. He seems to have a perfect all-round game, with the pace to contend early and the change of gear off his cruising speed to run those huge 'turn-time' splits running down to the furlong-pole.
The Florida Derby has been won by a raft of good horses since Unbridled in 1990: Holy Bull, Thunder Gulch, Unbridled's Song, Monarchos, Empire Maker, Barbaro, Scat Daddy, Big Brown, Quality Road, Orb, Nyquist and Always Dreaming.
In a few years' time, we could be adding Audible's name to the roll call of illustrious names. The Derby field looks vintage this year, and, even though Mendelssohn and Bolt d'Oro and various budding wonder horses will be tough to beat, this colt has a big shot to do it.
Previously in this series
1. Sham Stakes (McKinzie)
2. Lecomte (Instilled Regard)
3. Jerome (Firenze Fire)
4. Smarty Jones (Mourinho)
5. Holy Bull (Audible)
6. Withers (Avery Island)
7. Robert B Lewis (Lombo)
8. Sam F Davis (Flameaway)
9. Risen Star (Bravazo)
10. Southwest (My Boy Jack)
11. Fountain of Youth (Promises Fulfilled)
12. Road to the Kentucky Derby Stakes (Gronkowski)
14. Fountain of Youth (Bolt D'Oro)
15. Gotham (Enticed)
16. Tampa Bay Derby (Quip)
17. Rebel (Magnum Moon)
18. Louisiana Derby (Noble Indy)