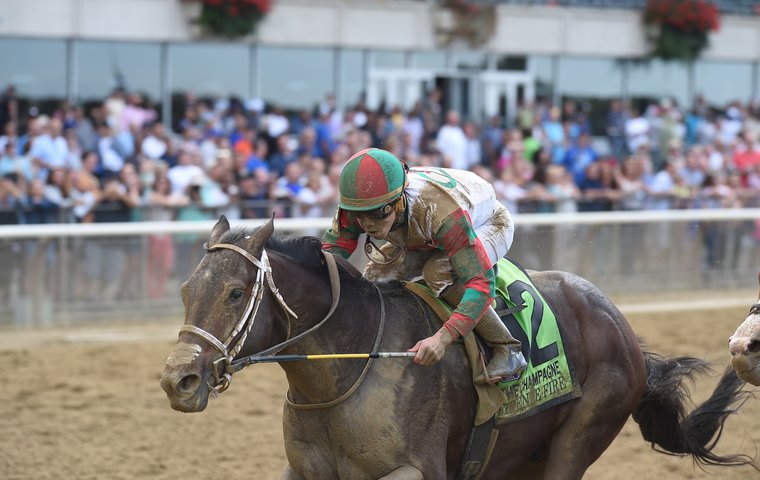 Continuing James Willoughby's Road to the Kentucky Derby series, in which he analyses the trial action along the way, here he looks at Saturday's Jerome Stakes at Aqueduct.

ROAD TO THE KENTUCKY DERBY 2018
Episode 3: Jerome Stakes (January 13, Aqueduct, listed, 1m)
Winner: Firenze Fire
Jockey: Manuel Franco (TRC Global Rank #137)
Owner: Mr Amore Stable (#463)
Trainer: Jason Servis (#149)
Sire: Poseidon's Warrior (#344)
The Jerome has fallen on hard times as a contest and lost its Grade 3 status this year entirely on merit. With the exception of Grade 1 winner Firenze Fire, this group did not look much on paper, but the result produced a very interesting couple of performances.
On a muddy track, the race looked like it was run like a workout until the home straight. But this was a little deceptive because conditions demanded that the riders were profligate. Indeed, the fractions here were 25.01 – 25.80 – 25.91 – 26.16, which is an even pace suiting the runner-up Seven Trumpets, a Churchill Downs allowance winner having his first start for West Point Thoroughbreds.
Firenze Fire went off at shorter odds than 1/2 and gave his supporters palpitations until getting up to head the enterprisingly ridden Seven Trumpets late. In truth, Firenze Fire had a much more difficult trip than the runner-up, having to loop the field and make up nearly four lengths on the cloying surface (see video below).
Because freezing weather had affected training schedules in New York, and the first two lacked a recent run, there is reason to think that both may improve a good deal. It is tempting to think that Seven Trumpets was flattered, but it may have been lack of sharpness that caused him to tire and he owns nice tactical versatility.
This is a race that some will dismiss as a Derby trial because of the tempo, but Firenze Fire and Seven Trumpets are eligible to get a fair bit better. It will be interesting to see them again on the trail to the Grade 2 Wood Memorial in April.
Previously in this series
1. Sham Stakes (McKinzie)
2. Lecomte (Instilled Regard)
4. Smarty Jones (Mourinho)