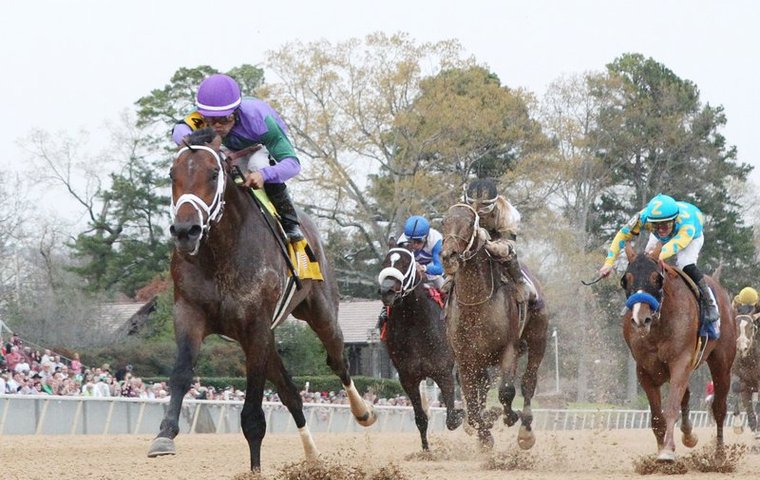 TRC analyst James Willoughby, who is assessing the action on the Road to the Kentucky Derby, was suitably impressed after last weekend's big trial, the Rebel Stakes, but there was one aspect of it that still has him scratching his head.

ROAD TO THE KENTUCKY DERBY 2018
Episode 17: Rebel Stakes (March 17, Oaklawn, Grade 2, 8.5f)
Winner: Magnum Moon
Jockey: Luis Saez (TRC Global Rank #66)
Owner: Lawana L and Robert E Low (Unranked)
Trainer: Todd Pletcher (#13)
Sire: Malibu Moon (#24)
Result: click here
The way that Magnum Moon took command of this competitive Derby trial marks him down as a very good colt in the making. If only he had run straight to the line, enthusiasm for his prospects could have been unbridled.
A final time of 1:42.68 for the distance of eight and a half furlongs was achieved via fractions of 23.42 – 23.73 – 24.11 – 25.13 – 6.29 (pro-rated 25.36). This isn't a truly brilliant mark; it was awarded a Beyer Speed Figure of 97, which is less than Bolt D'Oro and Mckinzie's 101 in the San Felipe, and less than stablemate Audible's 99 in the Holy Bull. However, it is plenty good enough for an unbeaten colt having only his third start.
This romp was not a shock to anyone. The son of Malibu Moon – who got 2013 Derby winner Orb – had to start second favourite to Solomini, given that colt's smart form, but he was a solid second favourite after a Tampa allowance win, which Magnum Moon turned into an exercise gallop.
But back to the time, the standard of the performance, that is. First, Magnum Moon was fully three-wide on the first turn in the hottest part of the race (see video below). That is where ground-loss stings, for path distance is a component of speed, which is a component of work done. The extra energy a horse has to use while wide on the first turn exceeds that which it might waste on the second turn because the tempo of dirt races is higher early.
Not only did Magnum Moon overcome this, but, when he hit the front early in the straight, he basically did not much after. In terms of his merit, this liberates the analyst to add a good length or two to the numbers, but why he did it is a more vexing question.
On these matters, some are inclined to shrug their shoulders and file similar meanderings in the tray marked 'imponderables'. Fair enough: it is good analysis to worry about the variables with the most effect on future outcomes, which in horse racing are class and speed. At the same time, when a horse bears out and flicks its tail, as Magnum Moon did, it tends to stick in the memory.
When you think about the adrenaline a horse must experience during a race, the fact it can focus on something else other than full-out effort speaks to an outsized talent. But you just don't know if it also means the beginning of a chronic issue that rarely features in classic winners.
For now, the sage thing to do is note that Magnum Moon did it and move on. Of this we can be more certain: this colt is very good.
Solomini's defeat left questions not only about him, but also those featuring in his past performances. The overriding impression here was that he simply isn't the same model as Magnum Moon. If this race was the NFL Combine for horses, there is no way that Solomini would be chosen ahead of Magnum Moon in the upcoming draft.
Sure, Solomini was tight for room off the turn and had to change running lanes to the inside. But he didn't impose himself at any jump; the moment Magnum Moon surged off the turn, this one looked over. Not only is this a worry for Solomini, but also for his running-mates in the tightly fought Los Alamitos Futurity, Mckinzie and Instilled Regard.
The son of Curlin will drop down boards because of this race – and so he should.
Previously in this series
1. Sham Stakes (McKinzie)
2. Lecomte (Instilled Regard)
3. Jerome (Firenze Fire)
4. Smarty Jones (Mourinho)
5. Holy Bull (Audible)
6. Withers (Avery Island)
7. Robert B Lewis (Lombo)
8. Sam F Davis (Flameaway)
9. Risen Star (Bravazo)
10. Southwest (My Boy Jack)
11. Fountain of Youth (Promises Fulfilled)
12. Road to the Kentucky Derby Stakes (Gronkowski)
14. Fountain of Youth (Bolt D'Oro)
15. Gotham (Enticed)
16. Tampa Bay Derby (Quip)