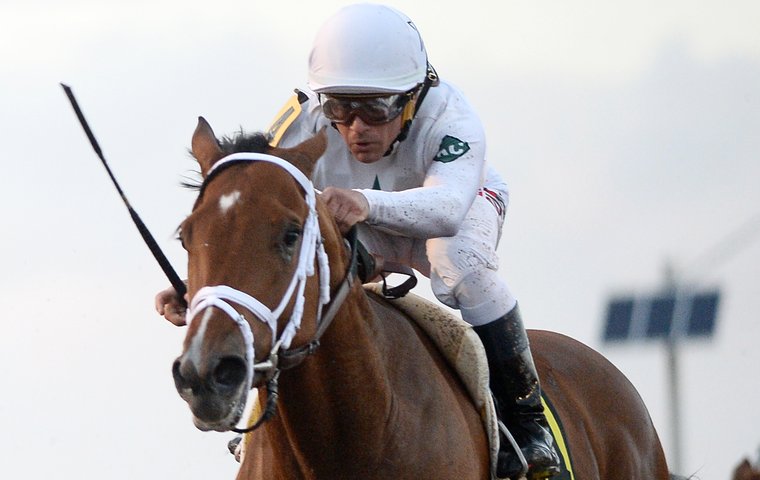 It's too early for a real picture to be emerging, but three more trials over the weekend meant the Road to the Kentucky Derby is gaining momentum. James Willoughby analyses what happened.

ROAD TO THE KENTUCKY DERBY 2018
Episode 5: Holy Bull Stakes (February 3, Gulfstream, Grade 2, 8.5f)
Winner: Audible
Jockey: Javier Castellano (TRC Global Rank #6)
Owner: WinStar Farm Et Al (#10)
Trainer: Todd Pletcher (#10)
Sire: Into Mischief (#55)
Result: click here
With all due respect to McKinzie, Mourinho and Instilled Regard, Audible stamped himself the year's first deeply impressive winner of a Kentucky Derby trial when romping in the Holy Bull. Like most horses WinStar have anything to do with (this is another they own in partnership with China Horse Club), he looks the part physically and is a spectacular athlete in full flight.
Audible won by 5½ lengths (see video below) on a track graded fast, and a colt simply cannot do this in a Grade 2 without being loaded with talent.
The class of the race behind him is open to some question, it must be said, for hot favourite Enticed barely picked up his feet for Godolphin and came home a weary fourth. And there will doubtless be tougher nuts to crack than placed horses Free Drop Billy and Tiz Mischief.
As the greybeards say, however, a horse can only beat what is put in front of him. Audible did not take over the running until the race had reached its three-quarter point, and from then he smashed the field up so comprehensively it seems churlish to find anything against him.
But this is the role of the analyst. And, after all, there are a couple of steps for Audible to navigate before Churchill Downs that may render it premature to assert that he is the next Super Saver in the same silks.
The most important step comes from one of the axioms of pace analysis: when a horse distributes his energy evenly, he will almost invariably run the best time of which he is capable. And because this is not true for most horses in most races, the danger is that such a smooth run through the fractions can lead to a flattering impression.
We will see, because there is also the danger of being trapped by inflexible thinking when it comes to applying similar truisms. For the record, Audible attended pace of 23.59-23.55-24.86-23.89-6.03. The final time of 1:41.92 translates to one of the year's best figures around two turns on the Beyer Speed Figure scale, but can Audible do it again when running harder early?
This is the crux: the softest part of the race came when he took over, and there is no getting away from the fact that this was a dreamlike time trial for the son of G1 winner and 2008 Santa Anita Derby runner-up Into Mischief. The latter stands for $100k at Spendthrift because he has produced runners such as Practical Joke and Vyjack, who were really easy runners to like last year. This is another.
It would be wrong to dismiss Audible because of the splits, however, as other runners behind him found the pace sufficient to slow them down sharply in the closing stages. This is a very talented runner and one it will be fun to watch again. We are not all-in with him, but prepared to make a sturdy opening bet.
Episode 6: Withers Stakes (February 3, Aqueduct, Grade 3, 9f)
Winner: Avery Island
Jockey: Joe Bravo (TRC Global Rank #36)
Owner: Godolphin (#2)
Trainer: Kiaran McLaughlin (#22)
Sire: Street Sense (#48)
Result: click here
The rangy Avery Island is a Derby horse in appearance and has a pedigree to match – the son of Street Sense and an A.P. Indy mare will finish strongly at Churchill Downs.
Will he be quick enough to hold his place though? On the evidence of fractions 23.32-23.76-24.49-25.91-13.53, it has to be in serious doubt. If you line these numbers up with other races at shorter on the card, the resulting time-based information just doesn't suggest Avery Island is a Derby horse yet.
The fact the 2018 Withers had to be shifted from its usual spot and a mile and a sixteenth on the inner track really suited the winner. The time before, he had been blasted nearly five lengths by Catholic Boy in the G2 Remsen. On that occasion, he was forwardly placed enough, but did not have much room approaching the straight and could not pick up well enough to trouble the winner.
Avery Island doubtless improved on that here (see video above). He looked strong in the stretch and turned the typical late charge of former G1 winner Firenze Fire away handily enough. In the process, he looked more like the colt we had seen in the G2 Nashua last autumn.
Visually, there is a lot to like. But, even allowing for the typically dull Aqueduct track, the data isn't yet telling us he is the real deal, and it seems like there are much better horses out West.
For Firenze Fire's part, this was a bit disappointing. His finishing effort lacked the strength it had possessed on a number of previous occasions, and he mustered a relatively slow final eighth compared with expectations. Enthusiasm for him has to be tempered a little now; maybe he is going to be best closing into a fast pace back at a mile.
Marconi, Coolmore's $2m grey, ran a good first race in stakes company, but he looks a bit of an awkward customer and needs to grow up. That can happen in a moment with 3-year-olds, so he is worth another chance in theory.
Episode 7: Robert B. Lewis Stakes (February 3, Santa Anita, Grade 3, 8.5f)
Winner: Lombo
Jockey: Flavien Prat (TRC Global Rank #20)
Owner: Michael V Lombardi (Unranked)
Trainer: Michael Pender (Unranked)
Sire: Graydar (#481)
Result: click here
The TRC Global Rankings of Lombo's owner, trainer and sire peg him as something of a Cinderella horse on this year's Kentucky Derby trail. But his win was very much for real (see video below). He made all in fractions of 23.40-23.86-24.94-26.14-7.07, so it is easy to see that this was not the easiest race for him in terms of pace, even though he had all the usual benefits of a dirt runner making all.
There are going to be much stiffer tasks ahead of this colt, that is for sure. He's a worthy, gutsy Graded stakes winner and open to further improvement, but you fancy there is a lot more required before he impresses as a potential Derby winner.
Previously in this series
1. Sham Stakes (McKinzie)
2. Lecomte (Instilled Regard)
3. Jerome (Firenze Fire)
4. Smarty Jones (Mourinho)