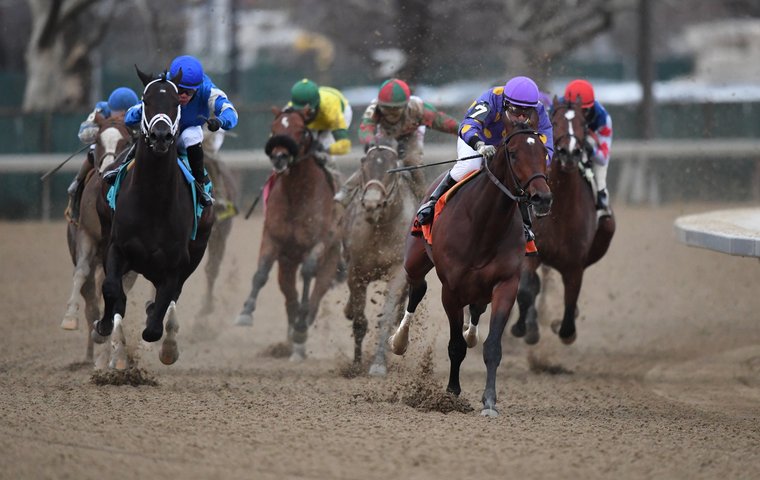 Will Enticed be even better around two turns; does Quip have any realistic chance at Churchill Downs? TRC analyst James Willoughby gives his verdict on two of last weekend's trials.

ROAD TO THE KENTUCKY DERBY 2018
Episode 15: Gotham Stakes (March 10, Aqueduct, Grade 3, 1m)
Winner: Enticed
Jockey: Junior Alvarado (TRC Global Rank #102)
Owner: Godolphin (#2)
Trainer: Kiaran McLaughlin (#22)
Sire: Medaglia d'Oro (#7)
Result: click here
Aqueduct's track was tiring and dull for one of the Derby trials that can be all over the map in terms of its influence. Since 2011 winner Stay Thirsty went on to win the Travers, horse like Hansen (2012), Vyjack (2013) and last year's winner, J Boys Echo, have put together uneven careers which subsequently fell short of the top league.
Now that the Gotham has been reduced to its former distance of a mile, its influence could fall further still, for the leading classic aspirants will be pointed towards two-turn contests at this stage. But one horse who could do the race some good is Enticed.
Last year, we flagged up subsequent Preakness winner Cloud Computing as a highly promising horse after he made a premature move down the back stretch in the hottest part of the race. Well, there was nothing premature about the effort of Enticed, who, with his choppy stride and head stuck on at a rakish angle, is not exactly poetry in motion. But he must have a serious engine, for this distance is surely on the short side for him, and he clocked a decent time of 1:38.24 in the circumstances.
These were familiar Aqueduct winter fractions: 23.14 – 23.29 – 25.34 – 26.47. Early leader Old Time Revival was a sitting duck turning for home as the winner made his wide swoop, but it took Enticed a long time to get there (see video above), considering the levels to which the tempo had dropped. However, 50 yards out it was over: with his rivals subdued, Enticed coasted over the line. Had you viewed only the last few seconds, the whole thing might have looked like the end of a tour de force.
When Enticed won the G3 Kentucky Jockey Club Stakes in November, it didn't look much of a race. And this opinion seemed worth retaining following his tame effort behind Audible in the G2 Holy Bull. Now, the race looks a lot better: in addition to this recommendation, third-placed Promises Fulfilled rubber-stamped it a week ago in the G2 Fountain of Youth and the seventh, Quip, shocked the G2 Tampa Bay Derby.
Enticed is an improving colt with plenty of ability who will be suited by getting back around two turns. He has to convince he has the mid-race explosion to live with the best when he gets in a more dynamic event than afforded by the Aqueduct surface.
Episode 16: Tampa Bay Derby (March 10, Tampa Bay Downs, Grade 2, 8.5f)
Winner: Quip
Jockey: Florent Geroux (TRC Global Rank #13)
Owner: WinStar Farm Et Al (#10)
Trainer: Rodolphe Brisset (Unranked)
Sire: Distorted Humor (#95)
Video and result: click here
It is not often that the word 'Unranked' appears next to a trainer's name in Road to the Kentucky Derby. So, 34-year-old Frenchman Rodolphe Brisset – a second-season trainer with only 90 starters to his name – instantly becomes the Cinderella story of the 2018 race.
Whatever Brisset's capabilities with a classic horse turn out to be, there is at least one reason to put your faith in him: WinStar Farm, our world #10 owner, already has.
Unlike some colts on the Derby trail, Quip has a really nice way of going. He races enthusiastically without pulling hard, runs the turns with good balance, and extends his neck and head in a linear fashion when asked to stretch. That is a plus going forward, but on the debit side was the advantage he gained from yet another lovely ride from Florent Geroux.
Geroux had Quip – who was racing in the red-and-yellow livery of part-owner China Horse Club – on the shoulder of the eventual third World Of Trouble throughout. When that colt started to stretch the field running out of the back, he gradually allowed Quip to intensify his effort. He got there late enough so that his chin wasn't hanging out for a haymaker, and early enough to get first jump on late-closing Flameaway.
Quip has got to find plenty more to stamp himself a blue-chip contender for Churchill Downs. He didn't have so easy a trip in November's G2 Kentucky Jockey Club Stakes and could not cope as a result. Even beating Flameaway again next time could be problematic.
Flameaway comprehensively confirmed G3 Sam F. Davis Stakes running with Vino Rosso, who was, not surprisingly, strongly fancied to beat him. The first three were clear, but this is form to be filed under 'solid' and not 'spectacular'.
Previously in this series
1. Sham Stakes (McKinzie)
2. Lecomte (Instilled Regard)
3. Jerome (Firenze Fire)
4. Smarty Jones (Mourinho)
5. Holy Bull (Audible)
6. Withers (Avery Island)
7. Robert B Lewis (Lombo)
8. Sam F Davis (Flameaway)
9. Risen Star (Bravazo)
10. Southwest (My Boy Jack)
11. Fountain of Youth (Promises Fulfilled)
12. Road to the Kentucky Derby Stakes (Gronkowski)
14. Fountain of Youth (Bolt D'Oro)