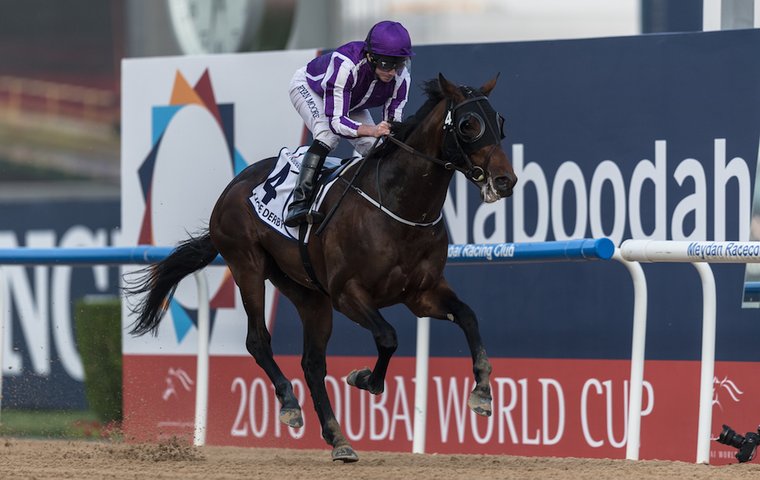 Like most observers, TRC analyst James Willoughby was mightily impressed by Mendelssohn's performance in the UAE Derby. But how does he think it will translate to the cauldron of the Kentucky Derby?

ROAD TO THE KENTUCKY DERBY 2018
Episode 20: UAE Derby (March 31, Meydan, Group 2, 9.5f)
Winner: Mendelssohn
Jockey: Ryan Moore (TRC Global Rank #1)
Owner: Coolmore Partners (#1)
Trainer: Aidan O'Brien (#1)
Sire: Scat Daddy (#7)
Result: click here
There is a stanza of the video after a minute of the UAE Derby (see below) had gone which is more informative about Mendelssohn even than the devastating 18½-length win he produced here to live up to everything expected of him on his debut on dirt: while powering along to the beat of his stride, every single opponent can be seen behind him in desperate trouble.
The high-class dirt horse can do that to his foes. And, make no mistake, that is what Mendelssohn is. Not a potential high-class horse or a high-class horse in the making. For, whatever happens next is just one of the infinite iterations that belong to the future; what happened here is definitive.
History says that, without freak conditions, winning Group races by margins like these either defines the opponents as utterly unworthy of a race of this status, or it crowns a runner as a champion. Well, this field contained rivals with official ratings of 113, 112, 111, 110, 107, 105, 104 and 101.
Whatever the influence of the rail bias, whatever the impact of pace or ill-racing luck in behind, a horse who utterly humbles a roster of triple-digit rivals by the margin Mendelssohn achieved has to be 125+ on the same scale. Or else handicapping is relegated to an exercise in playing with numbers.
Mendelssohn will head to the Kentucky Derby as the most credentialed European-trained dirt horse since wildly impressive Breeders' Cup Juvenile winner Arazi started favourite in 1992. Of course, that ended badly, as Arazi – drawn 17 of 18 – faded in the stretch into eighth. Between the two races, he had gone through knee surgery.
We know of no even vaguely similar problem dogging Mendelssohn. He has loads of early pace, two or three gears to put the race away and a really attractive lazy-but-game style that tends to make him complicit with Ryan Moore's strategic imperative.
A clean run round at Churchill Downs is that much more likely if a horse has superior pace, but nothing can be taken for granted. Let's not get bogged down in imponderables and focus on the undeniable: Mendelssohn is one heck of a horse. He will force most of his rivals out of their game plan in the Kentucky Derby. The only way to beat him? That might be to call an Audible.
Where does Mendelssohn's huge winning margin rank?
Episode 21: 32Red Burradon Stakes (March 30, Newcastle, Listed, 1m, Tapeta)
Winner: Gronkowski
Jockey: Jamie Spencer (TRC Global Rank #95)
Owner: Phoenix Thoroughbreds (Unranked)
Trainer: Jeremy Noseda (Unranked)
Sire: Lonhro (#83)
Result: click here
A late change of plan for Gronkowski saw him rerouted from a tilt at the Blue Grass Stakes or Wood Memorial in favour of this softer option. It was a shrewd move, guaranteeing him a place in the stalls for the Kentucky Derby as the winner of the European Road to the Kentucky Derby initiative.
Unraced beyond a mile, with no experience of dirt and form not within ten lengths of contending, Gronkowski has a mountain to climb at Churchill Downs.
Previously in this series
1. Sham Stakes (McKinzie)
2. Lecomte (Instilled Regard)
3. Jerome (Firenze Fire)
4. Smarty Jones (Mourinho)
5. Holy Bull (Audible)
6. Withers (Avery Island)
7. Robert B Lewis (Lombo)
8. Sam F Davis (Flameaway)
9. Risen Star (Bravazo)
10. Southwest (My Boy Jack)
11. Fountain of Youth (Promises Fulfilled)
12. Road to the Kentucky Derby Stakes (Gronkowski)
14. Fountain of Youth (Bolt D'Oro)
15. Gotham (Enticed)
16. Tampa Bay Derby (Quip)
17. Rebel (Magnum Moon)
18. Louisiana Derby (Noble Indy)
19. Florida Derby (Audible)