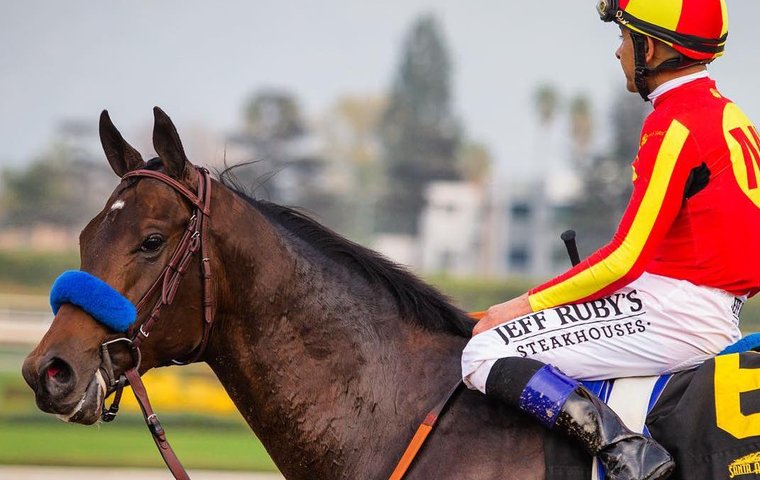 James Willoughby's analyses of each stop on the Road to the Kentucky Derby in 2017 produced several gems, most notably his enthusiasm for Cloud Computing, the horse who went on to take the Preakness. Here he takes his first step on the 2018 Road with a look at last Saturday's Sham Stakes at Santa Anita.

ROAD TO THE KENTUCKY DERBY 2018
Episode 1: Sham Stakes (January 6, Santa Anita, Grade 3, 1m)
Winner: McKinzie
Jockey: Mike Smith (TRC Global Rank #5)
Owner: Pegram Et Al (#52)
Trainer: Bob Baffert (#2)
Sire: Street Sense (#75)
The big, athletic McKinzie looks the type of horse who is easy to dream on: his stride has power and range and, when he levelled out in the straight here, it was all over very quickly. If you knew he was unbeaten after three starts, it would easier to get giddier still.
But, just before reaching that state, there are a couple of factors to consider. Primarily, that he is a lucky boy to be unbeaten at all. In the G1 Cash Call Los Alamitos Futurity before Christmas, he was run over in cold blood by stable companion Solomini, the Breeders' Cup Juvenile runner-up, and awarded the race only because that one bumped the eventual third, Instilled Regard, in the straight.
On that occasion, jockey Mike Smith had worked out one of his trademark outside-in trips, which he did again here (see video below).
McKinzie, who deserves to be credited for the lost ground and more, patently finds distances short of nine furlongs inadequate for him, not least because the tight bends of U.S. racing barely accommodate his ground-devouring stride.
To the debit, however, it was most disconcerting to see him flash his tail outside the furlong-pole on more than one occasion. This kind of reaction to the heat of battle is usually underplayed by horsemen, but it often pays for horseplayers to take note. Was McKinzie hurting? Was he reacting to the tough race last time? Is he running too hard for one who lacks the necessary foundation of seasoning and conditioning on only his third start?
From the point of view of estimating McKinzie's merit, the form looks strong for the level. Third-placed My Boy Jack, the Keith Desormeaux-trained colt, was beaten more than seven lengths, which is twice the distance he finished behind the Aidan O'Brien-trained Mendelssohn in the Breeders' Cup Juvenile Turf. Then again, drawing conclusions from a single data point is no wiser in horse racing than other sports. After all, who cares that Auburn beat Alabama 26-14 in November now that the Crimson Tide are National Champions again?
So long as his tail flashing doesn't prove macabre, McKinzie is a great prospect for longer distances than a mile. To repeat a common refrain, we will need to see more of him before it is possible to assert he is the leader of the caravan on the road to the Kentucky Derby, rather than just one of a talented bunch of pilgrims.